Broncos vs. Patriots: Former Denver Coach McDaniels Won't Stop Tebow's Magic
January 14, 2012

Chris McGrath/Getty Images
While it's true Josh McDaniels used to be the head coach of the Denver Broncos, it's also safe to say that most of the schemes and ideas have been changed since his departure.
Not only has newly anointed coach John Fox installed his own defensive schemes, the offense is a completely new creation just for Tim Tebow.
No matter where McDaniels is sitting for the game, he will not be able to stop Tebow's magic carpet ride. With that in mind, the former Broncos coach will be upstairs helping the offense for the New England Patriots, according to ESPN NFL Insider Adam Schefter.
That's right folks, McDaniels has been hired as the Patriots offensive coordinator and will have his first game back on the Patriots staff in the divisional round of the playoffs against his former team.
You couldn't script this kind of storyline any better.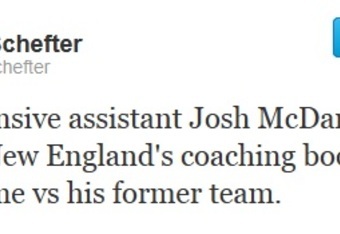 As good as the Patriots have been all season, there were a few games in which the Patriots were lucky to walk away victorious. One of those games was not against the Broncos, though.
Now the idea that McDaniels will somehow play a role in helping the Patriots hold an advantage over the Broncos is as ridiculous as they come, especially considering the massive overhauls to the management system in Denver.
The Patriots didn't need McDaniels then, and he won't make that big of a difference now. The only way that his presence will become an issue will be if and when the Broncos win. There will be questions in New England about the amount of supposed insider information that was being used and how much of the losing game plan falls on McDaniels' shoulders.
With a chink in the defensive armor for the Patriots and a man on fire in Tebow, there may be nothing for McDaniels, Belichick or any of the Patriots to do but hold on as they become the latest victim of the Tebow barrage.
It was a 41-23 loss to the Patriots that almost unraveled the dream season for Denver, but the show isn't over yet. Tebow will become a god among men if he can pull out the upset of the century against New England.
My heart is racing just thinking about it.
Check back for more on the National Football League as it comes, and check out Bleacher Report's NFL Page to get your fill of all things football.