Chicago Bulls Turning Back the Clock: Is an NBA Championship on the Horizon?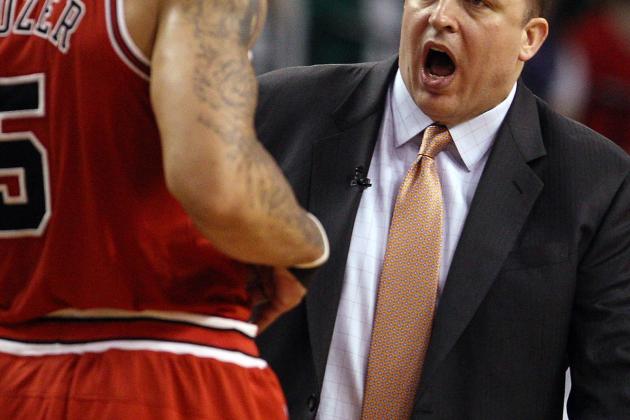 Elsa/Getty Images

DISCLAIMER: I don't want to be held accountable for jinxing the Chicago Bulls if they don't win it all. I just wanted to grab your attention. Hopefully, I was successful.
We are approximately 20 percent done with the NBA regular season and the Bulls hold an 13-3 record. It's not like they have been playing "cupcake" teams either, holding a 7-3 road record facing the likes of the L.A. Clippers, Los Angeles Lakers, Orlando Magic and Boston Celtics.
There's no doubt about it, they have looked as impressive as anyone. But in this condensed, 66-game season, weird things can happen. Just ask the 1998-1999 New York Knicks who somehow snuck into the finals as the Eastern Conference eighth seed.
I don't want to say I'm concerned about this team. The players are extremely talented, they play great defense and they want to win. Let me reiterate that last part: they want to win. But nonetheless, I see things that could turn into potential flaws.
Jerry Reinsdorf, I'm not doing anything this summer if you're looking for interns and if you appreciate what I have to say.
Begin Slideshow

»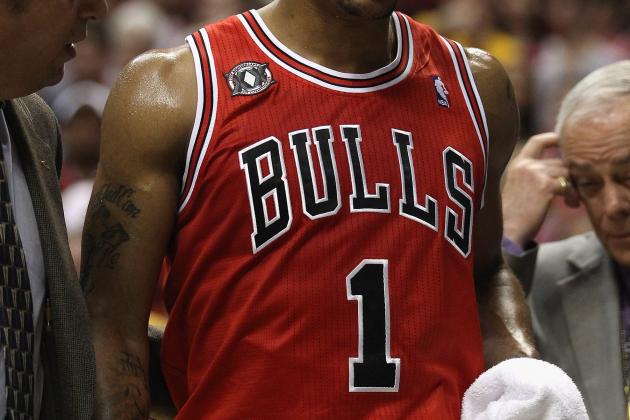 Jonathan Daniel/Getty Images

So far this season, players have been dropping like flies. The Bulls already have seen their backcourt decimated with Rip Hamilton, C.J. Watson and Derrick Rose all missing games.
To this point, the Bulls have been able to overcome this obstacle by sticking to Tom Thibodeau's strict defensive schemes and letting their MVP take over late. This formula, however, will only provide success during the regular season. And let's face it, anything short of a championship would be considered a disappointment for the Bulls.
In order for the Bulls to overtake the heat, C.J.,Rip and D-Rose need to be fully healthy. If this means them sitting out another 10 games, so be it. Frankly, I couldn't understand why the Miami coaching staff continued allowing D-Wade to play through nagging injuries. It will only be detrimental to their championship pursuit.
But it's not my problem. Bulls coaching staff, good work and don't rush anybody back.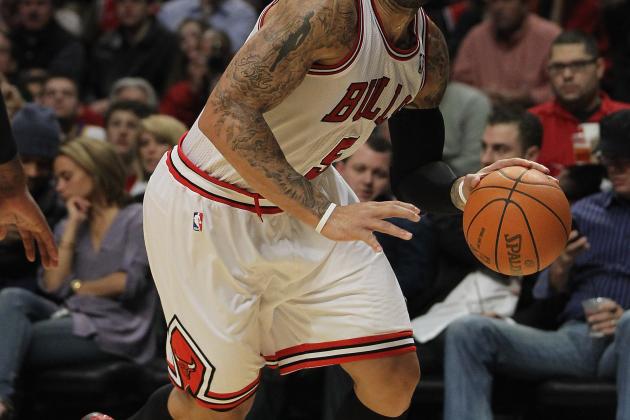 Jonathan Daniel/Getty Images

Carlos Boozer is not a bust. He's just not the same dude he was three or four years ago. His athleticism along with his so-called array of back-to-the-basket moves seems to be lost somewhere in the mountains of Utah.
Nonetheless, the Bulls are stuck with him and his five-year, $75 million contract. So let's make lemonade out of lemons. With Derrick Rose on the floor, Boozer can be a legitimate No. 2 option running the pick and pop.
When he's on, the man can connect on midrange jumper/fadeaway after jumper/fadeaway. Whatever you want to call his patented shot. Expecting Booz to be the No. 1 option when Rose is not on the court is just nonsense.
I think we've seen around ugly stat lines of Boozer to see that he needs Rose to be successful. Without Deron Williams in Utah, who knows what Boozer's stats would have looked like. As long as he continues to hit his shots and plays decent team defense, I could care less that the Bulls might have signed him out of desperation after losing out on Lechoke and his good friends in Miami.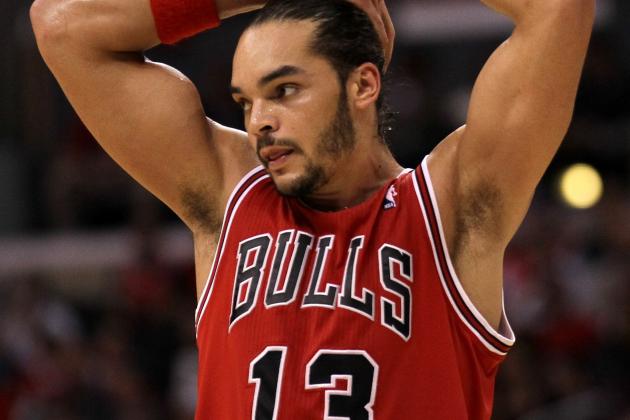 Stephen Dunn/Getty Images

Joakim Noah is an energy player. For the Bulls, he's the life of the party on the court. However, his goofiness and likability will only get him so far.
He doesn't possess the coordination or natural scoring ability to play the game at less than 100 percent. If he doesn't have his energy, he cannot be effective on a consistent basis. There have been many moments where Noah looks gassed on the court, on the verge of passing out. For a professional athlete, this is unacceptable.
At crucial moments in the fourth quarter, Noah and his five-year, $65 million is often sitting on the pine. For the Bulls to contend, the team needs him to gobble up boards and alter shots around the paint. If not, you will see Omer Asik (a very capable backup) on the court in moments where Noah's extra athleticism and grit would be a welcome sight.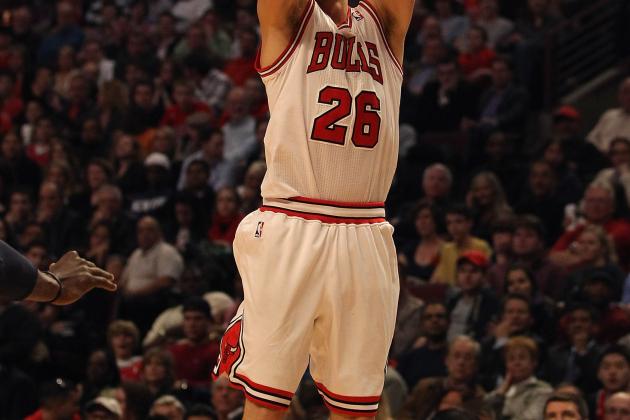 Jonathan Daniel/Getty Images

Coming off a subpar shooting year, Kyle Korver has definitely been better this season, shooting 45 percent from downtown. But with him, it's not that percentages that matter.
Korver is streaky-good. When he's on, it's "Hot Sauce" time according to Bulls color analyst Stacey King. When he's off, he's a liability on the court adding little else on the defensive side of the court.
The Bulls don't pay the man $5 million a year to look like Ashton Kutcher. They paid to him to make shots. Coupled with the fact that the back court is so banged up, he needs to make his presence felt and not go blank from downtown in his last four games (0-8).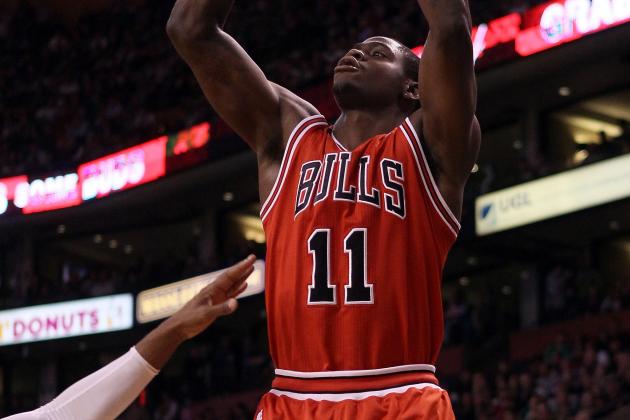 Elsa/Getty Images

It's Ronnie Brewer for God's sake. Take a look and watch his form. It ain't pretty, but somehow, some way the ball is going through the cylinder.
To put it in perspective, Brewer is shooting 53.8 percent from downtown compared to his lifetime average of 25.1 percent. I know it's a small sample size (7-13), but if he can somehow keep up a decent percentage (38-40 percent), it's a big score for the Bulls.
But really, it's about time we see Rip healthy and in the starting five, relegating Brewer to his backup role. And ultimately, his defensive tenacity and ugly, yet improved jump-shooting will be a luxury off the bench.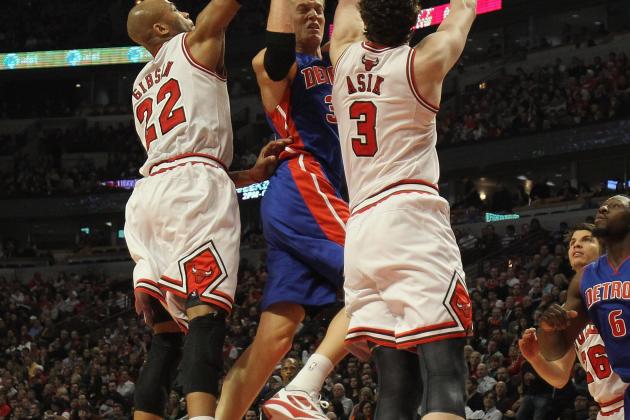 Jonathan Daniel/Getty Images

You know what's going to be sad? I'll answer my own question. In a couple years, Taj Gibson will be looking for a contract and a chance to start and the Bulls will say bye bye.
He'll probably get like $6 million a year for the Suns and be mediocre for the rest of his career. Right now, the Bulls need to cash in on his services by allowing him to play his high-energy game for about 22 minutes a night. Good thing Coach Thibs is intelligent.
Gibson is just a terrific asset for a championship contender: somebody who knows his role and who brings 110 percent every night. Until they get paid, of course. Keep it up Taj.
The Turkish Hammer alters the game in so many ways, swatting shots and taking up space. Add in the fact that he might have the lowest voice of anyone on this planet and you've got a pretty intimidating big man.
If he ever learned simple coordination, he could be an effective offensive player at the very least. But let's not get greedy. He's doing everything the Bulls could ever ask for out of a European project.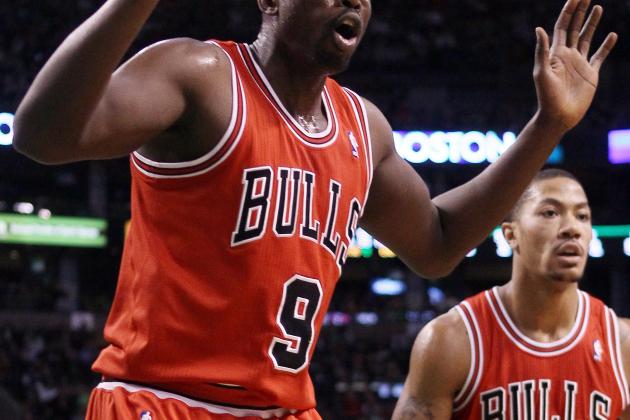 Elsa/Getty Images

Well not every minute. But you get the jist of what I'm trying to say. The Former Duke Blue Devil and potential first-time All-Star is averaging 39.3 minutes a game this season.
Ever since last season, we've taken for granted the fact that he's always on the court defending tough perimeter opponents, slashing to the hoop and grabbing boards. Just recently, he's had consecutive 15+ rebounds games against the Boston Celtics and Washington Wizards. Bulls fans have seemingly forgotten about his injury prone past and assume that he'll be on the hardwood.
Like a jockey in the Kentucky Derby, the Bulls are just milking every ounce of energy out of their horse. Just remember that horses can't run forever. Thibs, cut Deng's minutes a bit, give them to Brewer or Butler and save his legs for the playoffs. Thank you.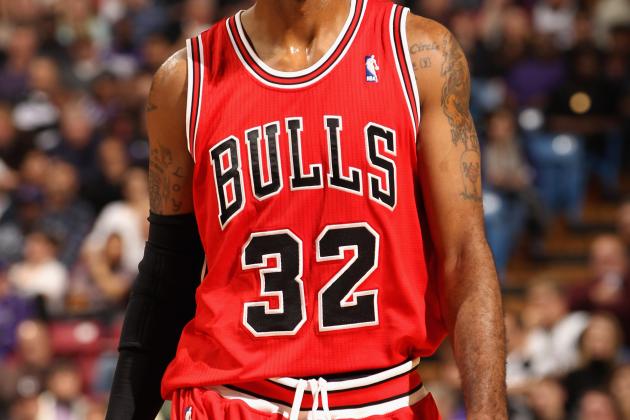 Ezra Shaw/Getty Images

Yes, I'm just being over-dramatic. The Bulls coaching staff shouldn't have ever let him play in that Detroit game any animosity or history aside.
He sat eight games and now it will take eight games or so for the veteran to mesh into the Bulls lineup. He might be the missing piece. He's great at creating space for himself to get off shots. I love his grit and style, but he needs to be able to take pressure off Rose.
Look for Hamilton to chip in 15-17 points once he's cooking. I still hate the mask though. But I'll live with it if it means a Bulls championship.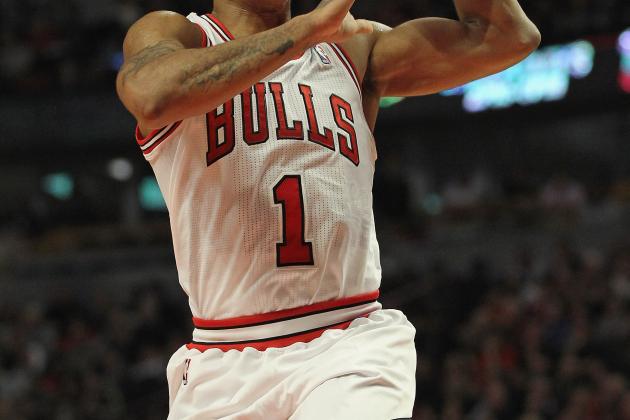 Jonathan Daniel/Getty Images

Yes, yes he can. Derrick Rose is the man to put it quite simply. He's just "too big, too fast and too strong" to be stopped. Sorry Stacey King for stealing your thunder twice.
Any given game, he can overcome a subpar three quarters to put the team on his back for the fourth quarter. Against Boston, Rose hit two crucial threes and converted a crazy, acrobatic layup in the fourth to seal the game for Chicago.
The scariest thing about Rose: he's only going to get better and, more importantly, he wants to be better. More accurately, he wants to be the best. He's the face of an organization that has seen the best and how rare a talent like his truly is. I
f the surrounding pieces do what they're paid to do, the city of Chicago has a winner. So Bulls fans, turn the clock back to 1998, sit back and enjoy the ride.