Gina Carano and 10 Other Women WWE Should Sign Right Now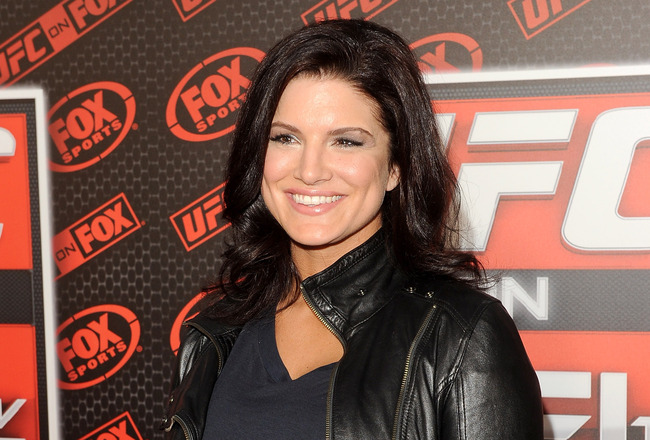 Jason Merritt/Getty Images
MMA fighter and star of Haywire, Gina Carano is one of the baddest women on the planet. If WWE is serious about the powerful part of their "sexy, smart and powerful" mantra, then signing Carano should be a top priority.
WWE has typically chosen Divas for their looks over their skills, but Carano is proof that the two qualities can coexist.
The smoking hot and physically imposing MMA fighter would bring in a new audience and her fighting skills would make the transition to wrestling relatively easy. The only question is whether Carano would consider such a move.
Hollywood pays better; MMA offers more legitimacy.
But if you're reading this, Ms. Carano, pro wrestling fans are some of the most dedicated, loyal and adoring fans in the world.
Even if Carano were to say yes to WWE, they shouldn't stop there. The stale Divas division needs a complete overhaul. A wealth of talent waits to be mined in MMA, Shimmer, Japan and Mexico.
Sara Del Rey
Sara Del Rey is the best female wrestler in the world right now. In the ring, she gives you everything you want: speed, athleticism, power and showmanship.
It's not her talent that's prevented her from getting a shot with WWE. More than likely it's that she doesn't look like a swimsuit model.
She's wrestled in Mexico and Japan and for Shimmer and Ring of Honor. She's also one of the centerpieces of the Shimmer promotion and she'd immediately legitimize the WWE women's division.
Del Rey sometimes uses Daniel Bryan's Lebell Lock as a finisher so there could be an instant alliance there, perhaps creating a submission specialist stable.
Miesha Tate
The current Strikeforce Women's Bantamweight Champion and one of the top women fighters, Miesha Tate is an MMA lifer. Perhaps WWE can entice her with some endorsement deals and various perks.
Tate would bring an expertise in both grappling and striking to the ring. It doesn't hurt that she's beautiful either.
Would wrestling fans respond to an outsider like Tate? After she shows off her intensity and power a bit, they sure would.
Perhaps a few hardcore MMA fans would flip over to Raw to see what she was up to as well.
Tomoka Nakagawa
Tomoka Nakagawa is a spark plug of a wrestler.
Her bubbling energy and incredible athleticism would be enough to earn a spot on the WWE roster, but she's also a great heel. Her persona is that of a defiant imp and she plays that role with an infectious exuberance.
Vince McMahon may take one look at her and see only a short woman with small breasts. That has certainly not been the type of women he's recruited in the past.
But if WWE is serious about bringing a younger audience, then they'd be better off ditching some of the stripper type Divas for someone a young girl can be excited about.
MsChif
Unlike many of the generic Barbie Dolls WWE rolls out, MsChif has an actual gimmick. She's a dark, sinister heavy metal badass.
MsChif's matches, which have mostly been with Shimmer, are filled with creative submissions, high-flying and green mist spraying out of her mouth.
She doesn't have the look WWE typically seeks, but would put most Divas to shame once in the ring. Could she be the next Lita? It'd be exciting just to see her try.
Kyra Gracie
Just the Gracie name itself would bring some outside interest. Throw in her jiu-jitsu skills and the fact that she's gorgeous and WWE has more than enough reasons to give her a call.
Having her on the roster is an excuse to bring back Ken Shamrock for an appearance or two or have Royce Gracie in the audience to watch one of her matches.
Eventually she'd have to add to her grappling-heavy repertoire. But how much easier is it to train a jiu-jitsu world champion to wrestle than a model?
Cheerleader Melissa
Don't let the name fool you, Cheerleader Melissa is in many ways the antithesis of a cheerleader. She's gritty, cold and vicious.
The Divas division needs more of all of those qualities.
Melissa wrestled briefly for TNA as Raisha Saeed and Alissa Flash, but they didn't utilize her talents nearly enough. She's been floating around the independents for most of her career.
With her skills, size (5'8'', 140 lbs) and beauty, Melissa has a lot to offer any promotion.
Ayako Hamada
Being both Japanese and Mexican and the daughter of a lucha libre-inspired Japanese wrestler, it's no wonder Ayako Hamada is such a well rounded wrestler.
She blends power and high-flying and displays a natural grace in the ring. Hamada has surprising strength for someone with such a small frame.
TNA signed her in 2009 and after a few championships won and lost, they left her off TV for months. Was it a case of fans not digging her or the bookers unwilling to give her a shot?
Either way, WWE would benefit from signing her. She's a former tag partner of Kharma so that could be a likely pairing.
The exciting risk taker and excellent ring worker does a far better moonsault than Eve and delivers the best powerbomb by a female.
La Amapola
One of the better technical women wrestlers in the world today, La Amapola is a luchadora WWE needs to take a serious look at.
Amapola has twice been named Consejo Mundial de Lucha Libre Female Wrestler of the Year. In fact the CMLL believed in her so much that she kept the World's Women's Championship for 1,422 days straight.
She has a versatile repertoire that includes a mix of high flying, power moves and technical wrestling. Besides that, she exudes showmanship, turning every match into an engrossing spectacle.
She's worked with and without a mask, but it'd be great to have a mysterious masked Diva for sure.
Michelle Waterson
WWE loves to hire swimsuit models and have them sort of learn a few holds only to have them botch said moves every time out. Michelle Waterson is a swimsuit model who can actually fight.
Having appeared on reality shows Fight Girls and Bully Beatdown, Waterson brings a little recognition with her. The petite beauty is surprisingly powerful.
She comes with a nickname already in "The Karate Hottie" and a few submission holds she could use as a finisher.
Ayumi Kurihara
Ayumi Kurihara is painfully cute. WWE usually goes for sexy over cute, but might still be interested in her look.
Kurihara is certainly not just a pretty face that might bring in a younger female audience and/or Asian audience, she is a fantastic wrestler.
Her opponents in Mexico, Japan and Shimmer have felt firsthand her stiff dropkicks, beautifully brutal forearm shots and exploder suplexes. She'd certainly add to the excitement factor of Divas matches with how quick and nimble she is.
Young boys may be helpless to avoid crushing on her as well.
Note: I apologize for the saccharine music in the video. The wrestling is good, the music stinks.
Keep Reading