Dan Boyle and the Five Toughest Players in San Jose Sharks History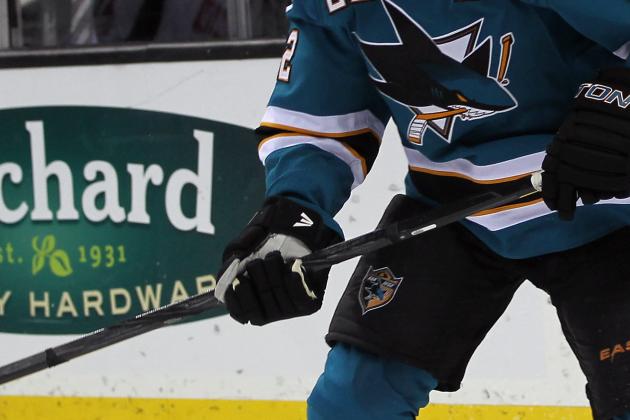 Bruce Bennett/Getty Images
Dan Boyle may not fit the stereotype, but he has proven to be tough
Dan Boyle broke his foot against Minnesota on November 10, but only the San Jose Sharks and Boyle's family knew that fact. In the month that followed, he had no goals, one assist and a minus-six rating in 12 games.
During that time, there were numerous calls for him to be traded, including from many of my colleagues here. He is washed up, he has lost a step, he is not good in his own end...
Never mind that Boyle leads the team in ice time and shots on goal, is second in assists, third in blocked shots and tied for fourth in plus-minus. Never mind that he was second in the league last year in ice time and had one of the best seasons of his career—he has obviously suddenly become terrible.
Fans often overreact to slumps without considering the potential causes. Fortunately, teams tend to be much more patient and faithful in the players they have chosen, because it pays off. In his last 14 games, Boyle has two goals, 10 assists and a plus-13 rating.
Thus, we found out that Boyle is indeed still one of the elite defencemen in the world. And his three goals, 19 assists and a plus-18 rating in the 28 games in which he has not had a broken foot have silenced his critics and showed how tough he is.
Toughness in hockey is often measured by one's penalty minutes, but that is a better measure for goons than tough guys. Not everyone is or should be a fighter, particularly if they are as skilled as Boyle.
Sometimes it is measured in physicality or hits, something the smallest player on the team is unlikely to excel in. Boyle ranks 11th on the team but is within six hits of all but six teammates, showing he has that element to his game, as well.
But nothing speaks of toughness more than playing through an injury without disclosing it, much less using it as an excuse. Especially one that hampers the very foundation of your play.
"My game is skating and I was definitely a step behind for many of those games," Boyle told David Pollak of the San Jose Mercury News in his Working the Corners blog. "It's a factor. I don't want to sit here and make excuses...I slipped up the other night," he said. "I came off the ice and I was still in the game and I wasn't thinking."
So with the All-Star Game upon us, this got me thinking—who would start for the Sharks all-time tough guy team? What elite players also show the kind of leadership and accountability to be able to play through injury?
Begin Slideshow

»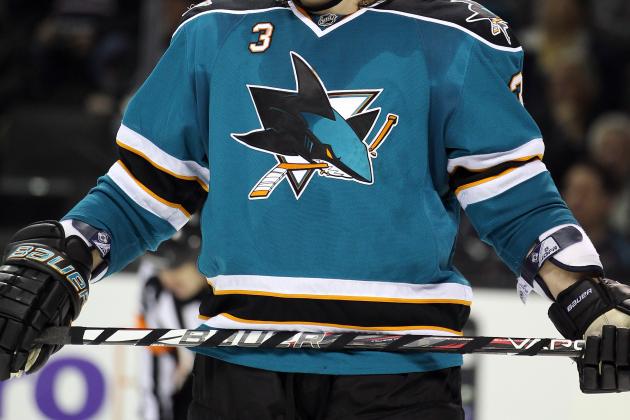 Ezra Shaw/Getty Images

Dan Boyle will be very accustomed to his defence partner, Douglas Murray.
The San Jose Sharks have had many better players on the blue line. They have even had one who was tougher. But they have not had anyone who has the balance of both Crankshaft has.
Bryan Marchment was one of the toughest (and dirtiest) players in the league in the 1990s. He had 706 penalty minutes in 334 games with the Sharks, but he only had 66 points and a plus-33 rating.
Murray is a late bloomer, becoming a top-three defenceman over the past three seasons. He already has 55 points and a plus-43 rating in 392 games and has just 329 penalty minutes. But he hits as hard as anyone in the league and does not get fighting majors because he is nigh indestructible (maybe his nickname should the "The Tick").
If you lead your team in all defensive statistics and are an intimidating presence in your own end, you are both tough and good enough to be on the ice when the opening puck drops.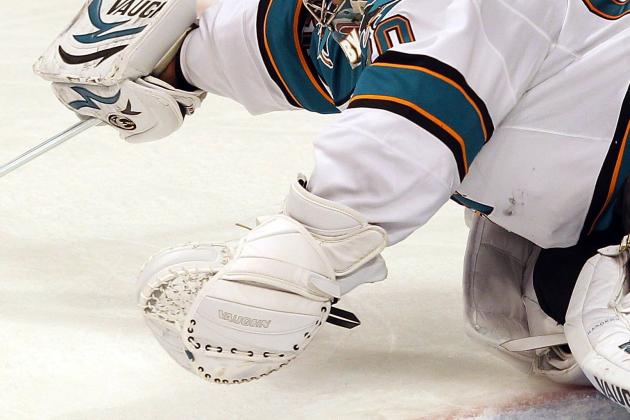 Jamie Squire/Getty Images

During the 2005-2006 season, Evgeni Nabokov was replaced in net by Vesa Toskala. The Finnish goalie never amounted to much in the league, so how could someone who was replaced by him be an all-time great for a franchise that is on its way to a 10th playoff appearance in the last 11 seasons alone?
Because Nabby was only replaced because he had a sports hernia. If you have never played with one, imagine a combination groin injury and torn abdomen at the same time. Now imagine trying to suddenly change directions on ice, kick out your leg and sprawl to make a save.
Yeah, that hurts.
Yet Nabby never made excuses. He did not even make much of it after the season, with the team having to announce his surgery to repair the injury.
He went 16-19-7 with a save percentage of .885 and gave up 3.10 goals per game. Even at 36 years old, he has never been worse than .906 and 2.71 in any other season.
Obviously, the injury hurt him. But he toughed it out to be a passable backup for the team and took his lumps being labeled an underachiever while supporting a truly lesser goalie taking his place. That was why the team signed him to a contract extension despite his troubles, and he rewarded them with three 40-win seasons.
Marianne Helm/Getty Images

With the back end solidified, another current star for the San Jose Sharks locks down the centre.
Joe Thornton is not only an elite player (582 point in 503 games with a plus-122 rating and 333 PIM as a Shark), but one who has taken more criticism than perhaps any other star. Like it is his fault his team has "only" gotten to the Western Conference Finals when he has been one of its two best players in the last two seasons.
He has taken his lumps. He also gets hit, hacked and slashed like almost no one else because the offence runs through him and he holds the puck along the halfboards or behind the net.
But that would not be enough by itself. Thornton earned his toughness credentials as a Boston Bruin in the 2004 playoffs, fighting through torn cartilage in his ribs.
Sure, he had no points and a minus-one rating in seven games. But even breathing hurt, much less reaching for the puck and taking punishment. If he played, he was a better option than someone else on the team, and he endured all of that for the team he led.
Ian Tomlinson/Getty Images

Players do not make the All-Star game for their hitting. Owen Nolan (451 points in 568 games) not only made that team, but famously scored a called-shot goal in it.
But he was a hitter. His forechecking was feared even more than his fists (934 penalty minutes), and he may be the team's best captain. His leadership and accountability translated into big goals and two upset wins in the first round of the playoffs for a fledgling franchise.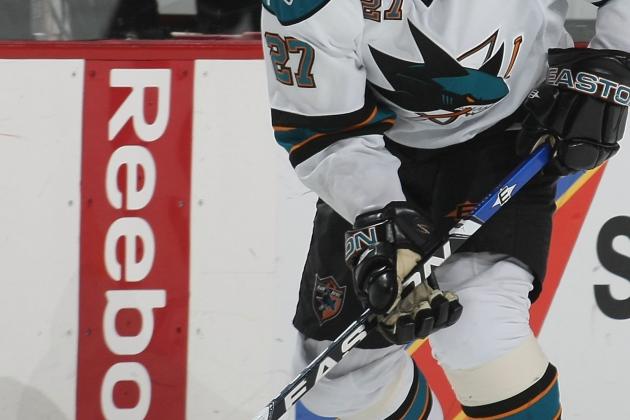 Bruce Bennett/Getty Images

Jeremy Roenick was not a member of the San Jose Sharks for long (111 games) and scored only 46 points as a member of the team. So how does he rate as one of its starters on the tough guy elite squad?
That question can be answered with another famous one for those older than most of the league: Who shot J.R.?
This was a cliffhanger question for the prime time soap opera Dallas, in which Larry Hagman played oil tycoon J.R. Ewing. J.R. was also Roenick's nickname, and unlike Ewing, he was shot more than once in 2004 alone.
In January, he took a puck to the cheek in practice that required 26 stitches. Remarkably, he had no concussion or broken orbital bone, so naturally he did not miss a game.
He was not so lucky just over five weeks later. A puck hit his jaw and broke it in 19 places, requiring surgery. But "J.R." was a key member of the Philadelphia Flyers run to game seven of the Eastern Conference Finals, where they were defeated by the eventual Stanley Cup Champion Tampa Bay Lightning.
He carried that same tenacity to San Jose, throwing his aging body at the puck carriers as a member of the checking line. But he still scored big goals, with 33 points in 69 games his first year with the team. He had 10 game winners and was the team's ace in the shootout, tying Alex Ovechkin for the league lead in deciding goals in that skill competition.