Notre Dame Football: Looking Back at the Class of 2008
January 14, 2012

Jonathan Daniel/Getty Images
When a high school football player signs his letter of intent to attend the university of his choice, he does not anticipate losing 21 games in his college career. Alas, most of the 23 players who enrolled at Notre Dame in 2008 closed their career with a 29-21 record.
By Notre Dame standards, the record is subpar, especially for a class ranked second in the country by Rivals.com. However, remember that these kids took a chance on a fledgling 3-9 team and were given the difficult task of returning the program to its glory days. Some flourished, some flopped and some will return for a fifth year write their final chapter in South Bend.
Here's a rundown of the 23 players who signed with the Fighting Irish four years ago as most of them prepare to bid a final farewell to Notre Dame. All player rankings are courtesy of Rivals.com
Robert Blanton, DB (Charlotte, NC) – No. 22 safety
Blanton was a four-year player for the Irish, making spot starts at cornerback during his first three seasons before becoming a full-time starter in 2011. His physical style provided some much-needed toughness to the Irish defense. He'll play in the Senior Bowl later this month.
Career Stats: 49 games, 26 starts, 193 tackles, eight interceptions
Braxston Cave, OL (Mishawaka, IN) – No. 4 center
Cave was born to play football at Notre Dame, growing up just miles from campus. After playing in only one game in 2008, he was a full-time special teams player in 2009. He blossomed once Brian Kelly became head coach, starting 22 consecutive games at center before an injury against Wake Forest ended his 2011 season.
He is expected back for a fifth season in 2012, being allowed a redshirt in 2008 despite his brief appearance.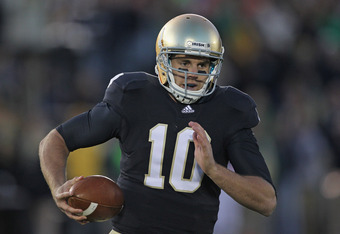 Jonathan Daniel/Getty Images
Career Stats: 35 games, 22 starts
Lane Clelland, OL (Owings Mills, MD) – No. 19 offensive tackle
Clelland never found his niche with the Irish, moving from offense to defense to special teams during his first three seasons. A torn ACL prior to the 2011 season likely ended his playing career.
Career Stats: 14 games
Dayne Crist, QB (Sherman Oaks, CA) – No. 2 pro-style quarterback
Crist's four years in South Bend had more downs than ups, beginning with a severe knee injury in mop-up duty during his redshirt freshman season. He started the first nine games of the 2010 season with limited success before another knee injury ended his season.
He saw significant action in only two games in 2011, turnover-filled losses to South Florida and USC in which he was removed from the game.
He will play his final season for former coach Charlie Weis at Kansas in 2012.
Career Stats: 17 games, 10 starts, 2327 passing yards, 16 touchdowns, nine interceptions
Sean Cwynar, DL (Woodstock, IL) – No. 12 defensive tackle
Cwynar has been a valuable role player along the Irish defensive front. He started the final four games of the 2010 season after Ian Williams was injured. His versatility was apparent during the transition from a 4-3 scheme in his first two seasons to a 3-4 alignment in 2010 and 2011.
He is likely to return for a fifth season in 2012.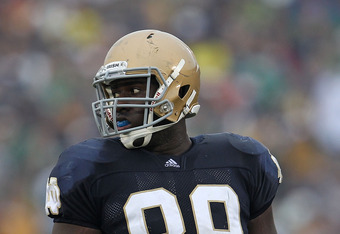 Jonathan Daniel/Getty Images
Career Stats: 36 games, seven starts, 59 tackles
Joseph Fauria, TE (Encino, CA) – No. 7 tight end
Fauria took a backseat to classmate Kyle Rudolph, appearing in three games as a true freshman before transferring to UCLA. He had 39 catches and six touchdowns for the Bruins in 2011 and is eligible to return for a fifth season in 2012.
Career Stats: three games
Steve Filer, LB (Chicago, IL) – No. 8 inside linebacker
Filer played in 45 games over the course of his four years with the Irish, mostly on special teams. He saw time as a reserve outside linebacker late in his career. Changes in scheme hindered Filer's progress as a linebacker.
Career Stats: 37 tackles, 1.5 sacks
Darius Fleming, LB (Chicago, IL) – No. 8 outside linebacker
Fleming was only one of five Irish defensive players to start all 13 games in 2011, thriving at the "Cat" linebacker position that was installed before his junior season. He played both defensive end and linebacker in the 4-3 scheme used in 2008 and 2009.
His 55 tackles ranked fifth on the team this past season.
Career Stats: 50 games, 36 starts, 158 tackles, 15 sacks
Michael Floyd, WR (St. Paul, MN) – No. 6 wide receiver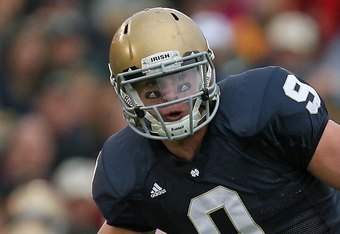 Jonathan Daniel/Getty Images
Floyd's career statistics and numerous school records pretty much speak for themselves. Despite being injury-prone, Floyd was a consistent playmaker at the wide receiver position for four seasons.
He is the school's all-time leader in receiving yards and receiving touchdowns.
Career Stats: 42 games, 41 starts, 271 catches, 3631 yards, 37 touchdowns
Mike Golic Jr., OL (West Hartford, CT) – No. 8 center
The son of a former Notre Dame defensive lineman finally saw significant action during his senior season, making four starts after Braxston Cave was lost for the season with an injury. After some struggles against Stanford, Golic played well in the bowl loss to Florida State.
He may be offered to return for a fifth season in 2012.
Career Stats: 27 games, four starts
John Goodman, WR (Fort Wayne, IN) – No. 51 wide receiver
Goodman certainly did not have the talent that classmate Michael Floyd had, but made his mark as a role player and fair catch specialist.
He is eligible to return for a fifth season in 2012, but the Irish may elect to use the scholarship on a true freshman.
Career Stats: 35 games, five starts, 28 catches, 315 yards, one touchdown
Jonas Gray, RB (Beverly Hills, MI) – No. 4 running back
Gray definitely qualifies as a late bloomer, going from 309 yards in his first three seasons to almost 800 as a senior while splitting time with Cierre Wood. His season ended with a torn ACL against Boston College.
Seen as somewhat of a disappointment heading into his senior year, Gray won over the hearts of Irish fans with a tremendous final season in South Bend.
Career Stats: 189 carries, 1100 yards, 12 touchdowns
Ethan Johnson, DL (Portland, OR) – No. 2 defensive end
Johnson was probably the most quotable player in the class. He played in 43 consecutive games before an injury sidelined him for four games in the middle of his senior season.
He played both inside and outside positions in his four years with the Irish.
Career Stats: 47 games, 37 starts, 97 tackles, 12.5 sacks
Kapron Lewis-Moore, DE (Weatherford, TX) – No. 13 strongside defensive end
Like Johnson, Lewis-Moore has had to adjust to different schemes in his time with the Irish. He went from redshirting in 2008 to starting nine games in 2009, but truly flourished in 2010 in the new 3-4 alignment.
His 2011 season ended early with an injury against USC, but he's a virtual lock to return for a fifth season in 2012.
Career Stats: 32 games, 29 starts, 140 tackles, six sacks
Dan McCarthy, DB (Youngstown, OH) – No. 14 safety
McCarthy was always a bit undersized, even for a safety, but he did see plenty of action on special teams. He missed only the Wake Forest game during the 2011 season.
The highlight of his career came in 2010 when he forced a fumble against Western Michigan.
Career Stats: 24 games, 16 tackles
Anthony McDonald, LB (Sherman Oaks, CA) – No. 11 inside linebacker
A high school teammate of Dayne Crist, McDonald came to South Bend with a lot of promise, but never quite developed into the player Notre Dame hoped he would be. Most of his game action came on special teams, but he only appeared in five games in 2011 after playing in 23 of 25 games during 2009 and 2010.
Career Stats: 28 games, 22 tackles
Brandon Newman, DL (Louisville, KY) – No. 22 defensive tackle
Most of Newman's contributions to the Fighting Irish came as a member of the scout team. He appeared in only two games, against Washington State in 2009 and against Navy in 2011.
He did not record a tackle during his career.
Career Stats: two games
David Posluszny, LB (Aliquippa, PA) – No. 34 outside linebacker
Posluszny came from a great pedigree, as older brother Paul was a star linebacker at Penn State. His production didn't quite match that of his brother, as he only appeared in 26 games during his four years.
He registered multiple tackles in only two games, one this past season against Michigan State.
Career Stats: 26 games, eight tackles
Trevor Robinson, OL (Elkhorn, NE) – No. 1 guard
Signing Robinson was a major coup for Notre Dame, as they benefited from a coaching change at Nebraska to steal him from the Cornhuskers. He was a fixture at right guard for most of the past four seasons, and will be a major loss for the Irish in 2012.
He made his 40th career start in the Champs Sports Bowl.
Career Stats: 48 games, 40 starts
Kyle Rudolph, TE (Cincinnati, OH) – No. 1 tight end
Notre Dame has turned into Tight End U., with Rudolph a key part of a long line of successful Irish tight ends. He saw immediate playing time, starting his first game as a true freshman and not missing a start until the 10th game of his sophomore season.
He finished his career with eight touchdowns before declaring for the NFL Draft after his junior season. He was a second-round draft pick of the Minnesota Vikings.
Career Stats: 29 games, 29 starts, 90 catches, 1032 yards, eight touchdowns
Jamoris Slaughter, DB (Tucker, GA) – No. 13 safety
Slaughter is a linebacker in a safety's body. The hard hitter started six total games in 2009 and 2010 before starting 10 of 13 games this past season. His best performance came in the Champs Sports Bowl, and he should be back for a fifth season in 2012 to lead what will be an inexperienced secondary.
Career Stats: 36 games, 16 starts, 90 tackles, two interceptions
Deion Walker, WR (Christchurch, VA) – No. 25 wide receiver
Walker caught one ball in his first career game against Nevada in 2009, but has not had a reception since. He did not play at all in 2010, and saw only mop-up duty against Purdue and Air Force in 2011.
His career ended without the production expected of him when he signed with the Irish.
Career Stats: seven games, one catch
Hafis Williams, DL (Elizabeth, NJ) – No. 35 defensive tackle
Williams' best season came in 2010, when he played in all 13 games and registered 11 tackles. The emergence of freshmen Louis Nix, Aaron Lynch and Stephon Tuitt in 2011 significantly reduced Williams' role.
He is eligible for a fifth season but is not expected to return. He could play elsewhere next season.
Career Stats: 24 games, 19 tackles