Michael Pineda Trade: Cashman's Patience Pays off for Yankees
January 14, 2012

Otto Greule Jr/Getty Images
The New York Yankees' quiet offseason just got loud, as GM Brian Cashman finally dropped the hot stove hammer by reinforcing the starting rotation, and reaffirming the Yankees' "winning now" mantra.
The word came via the Associated Press that Cashman had traded for Seattle Mariners pitching phenom Michael Pineda and also inked a one-year, $10 million deal with Los Angeles Dodgers ace Hiroki Kuroda. And with that, Yankee Universe is realigned for 2012.
Michael Pineda
I have been a big supporter of Pineda since last May, as I told Yankee fans to keep an eye on what I deemed to be Seattle's New Prince.
And just as I thought, Yankees top prospect Jesus Montero was part of the payment, as Montero gives a needed boost to a now anemic Mariners offense. The Yankees also added RHP Hector Noesi to secure Pineda, so if all clear their physicals, Noesi will be heading to the West Coast with Montero.
Getting back to Pineda…
At 6'7", this almost 23-year-old (birthday on 01/18) righty is hard to miss, but regardless of Pineda's build, this kid can throw.
In the minors, Pineda struck out 396 batters in just over 404 innings pitch, and he was the youngest pitcher the Mariners ever named a starter out of spring training in 2011.
Pineda made his major league début on April 5, 2011, which was also his first full season. Pineda went 9-10, posting a 3.74 ERA while giving up 133 hits, 71 earned runs, 18 home runs, walking 55 batters and striking out 173.
The first half of the season Pineda looked unstoppable, as eight of his nine wins happened prior to the All-Star break, and his ERA dipped as well, going from 3.03 to 5.12.
Overall, this kid had a stellar rookie year, even with the disappointing second half because his stuff has A-C-E written all over it.
Pineda's Pitches
Pineda's plus-fastball averages in the mid-90s. He can literally put it anywhere, and it is by far his best pitch.
Pineda also keeps batters on their toes with a deceptive slider and changeup. Over the two years, he has added a cutter and changed grips to improve his changeup to almost a full-time plus-pitch.
Pineda's choice command is improving for all of his pitches. He pounds the strike zone and avoids deep counts. He held righties to an MLB-low .184 batting average in 2011.
Pineda's Potential Problem
A serious worry about Pineda is his wild mechanics and the damage it has already done on his elbow. The elbow sidelined him for almost all of 2009 and could have very well been the reason for his second-half struggles in 2011.
At times, Pineda's motion can be awfully painful to watch, and his dominant height doesn't make things any easier.
Pineda does throw off his legs to keep pressure off his elbow, but scouts are worried that could eventually affect his rotator cup.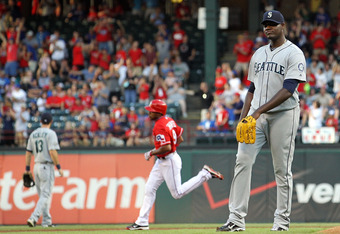 Ronald Martinez/Getty Images
Look, Giants ace Tim Lincecum was overlooked due to his mechanics, and scouts are still kicking their own butts about missing the Freak.
Sometimes what might not look pretty is actually comfortable, but in Pineda's case, the past soreness and DL stint does pose enough of a reason to keep an eye on him, as it should.
Conclusion
Montero and Noesi for Pineda is a solid move, as the Yankees still hang onto the killer B's and boost their rotation for the future.
The upside looks to be gigantic, even if Pineda does need Tommy John at some point, which would be a worse-case scenario.
Pineda is literally CC Sabathia's mini-me, as he can learn how to use his big frame effectively from the Yankees ace. And Sabathia could not be a better or nicer mentor to have.
CASHMAN'S GRADE = A- 
I was hoping for this trade to go down a year ago, but better late than never.
Cashman is a slicker mo'fo than fans give him credit for after these two moves. Nice work.