Are WBA & Golden Boy Promotions Trying to Railroad Peterson into a Rematch?
January 14, 2012

Al Bello/Getty Images
When Amir Khan and Lamont Peterson faced off, the fight became an instant favorite for 2011.  It wasn't quite Fight of the Year material, but it was one of the better prizefights that fans could have watched.
The officiating of Joe Cooper was questionable to some because of the points deducted for pushing, which led to Khan losing the fight, but these were minor quibbles.  
A great fight had taken place in a real boxing venue with real fight fans watching.  Nothing could take away from what had been a great night for boxing.
At least that is how it was for a couple days.
Then Golden Boy Promotions, who promotes Khan, started making accusations.  The referee was mistaken in taking the points which cost Khan the fight.  It may have been an eye-rolling moment with some fans groaning, but in boxing, it is par for the course.
Of course, the official decision wasn't overturned and that should have ended it.
Instead, fans got to hear even weirder allegations take place. 
All of a sudden a mysterious man in a black hat was touching scoring slips and distracting a referee. They even brought the point that he seemed to celebrate in the ring with the Peterson team after the win.  
Nothing was said outright, but it makes it seem as if Peterson's camp was using shady characters to influence the fight.
Golden Boy even went as far as to say that the IBF and WBA ringside judges, who are unofficial in terms of the fight verdict, had conflicting scores.
Every part of these arguments screams "sore loser" and should be disregarded as such.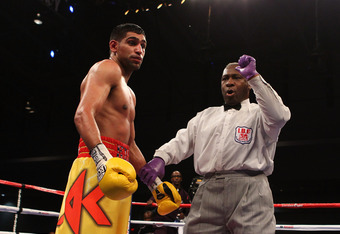 Al Bello/Getty Images
Except the WBA green-lit an immediate rematch between the two for 2012.
Of course, Golden Boy and Khan are thrilled.  They get a chance to fix a defeat that occurred in a close fight and repair Khan's reputation.
Richard Schaefer who is one of the heads of Golden Boy mentioned that Peterson didn't have to take the match.  
Normally, that would be a strange remark to make, but Peterson is one of the names that is being floated around as a possible opponent for Manny Pacquiao.  Should he get the fight, he would make the biggest payday of his career.
However, a fourth match with Juan Manuel Marquez is the most likely for Pacman's next fight, which leaves Peterson in a lurch.
He isn't a big enough name to get rid of one of his two belts.  He could remove the WBA and just fight for the IBF, but at this point in his career, it would hurt his value in those fights and for all of the less-than-respectful steps that were taken, a rematch with Khan is his most lucrative option.
The only problem is that now if he sits down at the negotiation table to take that fight, he is going to be at a disadvantage.  Golden Boy won't have to pay him as much to get it.  They may have offered him $1 million, but he had a right to demand as high a share as he could.
That might have been taken away from him now, thanks to Golden Boy's strong-arm techniques.
The promotion for the fight was great and in one swoop, Golden Boy negated all the good they did with it.
Fans deserved better than this.
And so did Peterson.
Hopefully, he holds them up for every last dollar he can, because that just might be his only option at this point.
It shouldn't have to be, but it is.
And of all the accusations made of unfair circumstances, this one seems to hold the most weight.