Jesus Montero Traded for Pineda: 5 Reasons It's the Right Move for the Mariners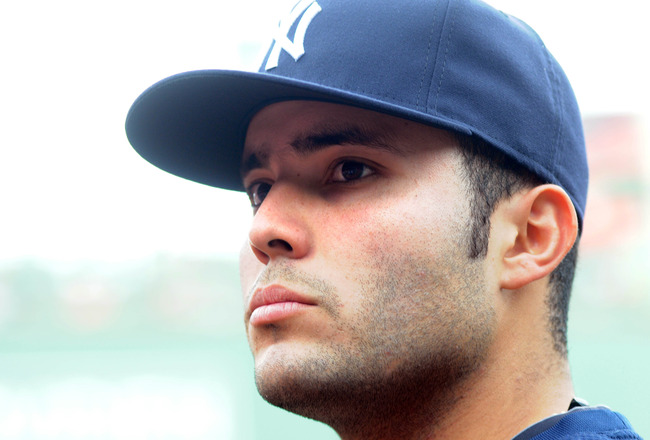 Darren McCollester/Getty Images
Friday night the Seattle Mariners announced they plan to send pitcher Michael Pineda and Single-A pitching prospect Jose Campos to the New York Yankees in exchange for the highly-touted catcher Jesus Montero and pitcher Hector Noesi (via ESPN).
The implications of this potential deal are massive for both teams, and a great debate will surely ensue in an attempt to declare one team the winner.
I call it a potential deal because it isn't official yet—per Seattle General Manager Jack Zduriencik's normal process regarding acquisitions, physicals for all of the players in the deal must be swapped before anything is made final or the team even speaks about it.
With that said, we can expect everything to check out relatively soon and the trade to go through.
I, for one, am still easing out of shock when I first heard about the deal. Michael Pineda had quickly become near and dear to my heart as a future franchise pitcher.
It's sad to see him go, but I am more concerned with how this unforeseen deal of sizable magnitude will affect the baseball scene in Seattle than I am with what Pineda's future will look like with the Evil Empire.
Here are five reasons why the Montero-for-Pineda swap is the right move for the Mariners.
The 2011 Mariners Offense Was the Worst in the Majors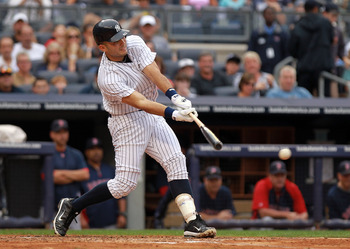 Nick Laham/Getty Images
It's no secret that the Mariners struggled horrendously at the plate in 2011. The team's top two offensive producers didn't even join the major league squad until midway through the season.
Going into the 2011-2012 offseason, Jack Zduriencik was expected to take a drastic course of action in order to ameliorate the unfortunate hitting situation. Up until now, however, his course of action could be described more aptly as unmotivated.
Of course, we know Jack Z is certainly not unmotivated, but the fact that former Tampa Bay Rays catcher John Jaso was the biggest improvement to the offense held little promise for run-deprived fans.
There was (and still is) an ongoing saga with hefty, vegetarian slugger Prince Fielder, but luckily for exasperated readers, that has quickly descended into the background. It seemed unlikely that Fielder would end up in Seattle, and now we don't have to cling to wispy hopes.
Now we can cling to the notion that Jesus Montero is the savior of our shaky, fragile batting order. The current lineup in Seattle is predominantly comprised of young players who have either just emerged from the farm system or who have been acquired in trades.
Montero obviously fits beautifully into that scheme, and he will be able to develop alongside Dustin Ackley, Mike Carp and Justin Smoak. By the end of the 2012 season, each of those players will have settled in to his respective position in the lineup and the batting order. That chunk of four would be pretty potent in the middle of the M's batting order and would form a great core of development.
Surrounding with the veteran comforts of Ichiro Suzuki, Brendan Ryan and Chone Figgins (hey, why not?) will create an enjoyable outlook on the next few years.
Expect a leap up from 30th in the majors in runs scored for 2012!
Worthy Replacements for Michael Pineda Lay in Wait
Christian Petersen/Getty Images
Like I said, we'll miss the Dominican flamethrower, but we do have other options—other options that aren't really backup plans at all. What the Mariners have stored in their farm system is a trio of gems that is just about ready to crack into the majors.
Gem No. 1: Danny Hultzen
Hultzen was drafted last year out of the University of Virginia as the second overall pick in the 2011 MLB Draft. He is a talented lefty who could make the starting rotation as soon as the beginning of this season.
Gem No. 2: Taijuan Walker
Walker is a little farther away from the major league rotation, but he is one of the top ranked pitching prospects in the league.
Gem No. 3: James Paxton (pictured)
Paxton is somewhere in between Hultzen and Walker in terms of readiness to join the big league rotation. His 2011 numbers split between Single-A and Double-A feature a 12.4 K/9 ratio and a 2.37 ERA.
By 2014 at the latest, all three of these hurlers should be fixtures in the Mariners rotation, provided they all remain in Seattle.
In the meantime, Felix Hernandez and Jason Vargas will be anchoring the rotation with Charlie Furbush, Blake Beavan, Hishashi Iwakuma and now Hector Noesi competing for the other three spots.
Coupling that upcoming trifecta with Felix Hernandez and the best of the rest of those starters almost makes me forget we had Pineda at all.
Jesus Montero Fills at Least One Hole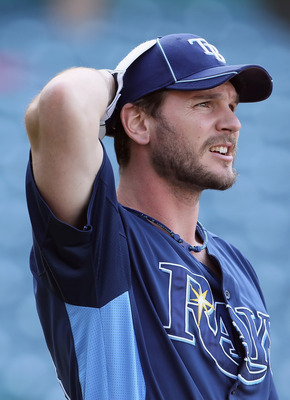 Jeff Gross/Getty Images
When Jack Zduriencik added John Jaso last November, the apparent plan was to have him platoon at the catcher position with Miguel Olivo. Jaso offers a bit more of an offensive upside to the roster since he bats from the left side of the plate, but I would hardly call the addition a perfect solution.
Bringing Jesus Montero into the mix increases the potential catcher count to three, but it is possible that he just serves as the designated hitter since his defense is not as developed as the defense of Jaso or Olivo.
It seems silly that Jack Z would have brought Jaso in just to replace him with Montero a few months later, but the exact circumstances are currently unclear (i.e. Montero could have been a very recent development that Jack Z didn't anticipate back in November).
However, due to the fact that Mike Carp is conditioning to start in left field for 2012, the DH spot is currently open. Obviously, the M's want to fill it with a very strong hitter who can significantly contribute to run production.
Montero is an excellent fit for that role, and there isn't anyone else on the team who is more likely to enhance the offense.
Whether Montero ends up filling the DH spot or takes over as the starting catcher, he will fill a much-needed role: run producer.
Michael Pineda's Talent Remains Raw and Unproven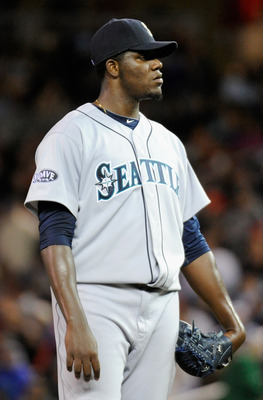 Hannah Foslien/Getty Images
For the first half of the 2011 season, the Mariners enjoyed sensational pitching out their prized rookie.
His ERA values in April, May and June, respectively, were 2.01, 2.81 and 3.03. He was selected for the AL All-Star pitching staff in July, which was an appropriate indication of his exquisite first-half performance.
Unfortunately, he was unable to put up matching numbers for the second half. That is due in part to the innings limit to which he was subjected, but it can also be partially attributed to a drop-off in his performance.
Pineda's ERA values for July, August and September were 6.75, 4.70 and 4.00. He did manage to keep his strikeout rate up, which is a good sign, but his dominance definitely faded a bit as opposing hitters started to catch onto him.
With Albert Pujols coming to the LA Angels and the Texas Rangers putting out their insanely dangerous, AL-champion offense for another year to make mincemeat of opposing pitching, the AL West is shaping up to be a scary place for a pitcher.
With Pineda going into just his second major-league season, it would be foolish to assume that he could put up the same type of first-half numbers as 2011. Incidentally, it's probably even scarier for Pineda going to Yankee Stadium and the AL East, but that's no longer our problem!
While it is widely accepted that Jesus Montero will succeed in the majors at least offensively, it is a bit less certain with Pineda. Jack Z was smart to sell Pineda high.
Like I said earlier, I'm not going to grade the Yankees on the move, but I am very interested to see how Pineda performs next year in New York.
The Pressure to Sign Prince Fielder Is Alleviated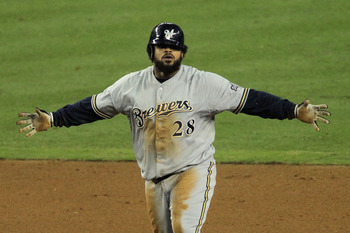 Doug Pensinger/Getty Images
And a great deal of pressure there was—coming principally from disgruntled fans who saw Prince Fielder as the best option on the market.
I was in full support of the move, advocating for it in a number of articles up until this Montero addition. As more and more of the power-hitting free agents were snatched up, I began to worry that no one would be left for the Mariners.
I obviously had no idea that Montero was an option.
Now, with a promising power hitter even younger than Fielder, we can feel a great deal more content with Jack Z's treatment of the offense issue.
Now, we don't have to worry nearly as much about what transpires in Scott Boras's meeting with the Nationals. Now, we don't have to cringe at the thought of the ownership forking over a ridiculous sum of money.
Now, we don't have to worry about what 37-year old, worn-out Prince Fielder will be like, if he will even remotely resemble the Fielder of today.
Thank you, Jesus Montero, and welcome to the Seattle Mariners.
Keep Reading

Seattle Mariners: Like this team?