NCAA Women's Basketball: Elite Women's Hoop Outperforming Even the Big Boys
January 14, 2012

Ezra Shaw/Getty Images
Elite NCAA women's basketball is simply better than the NBA is right now—by a long shot.
While NBA teams stumble to 35-point halves and the men's college game hinges on the adolescent whims of one-year wonders, cohesive teamwork and sound fundamental play can be found at the women's games.
Relegated to gyms and field houses that are sparsely populated, the women are an overlooked and underappreciated component of this game so many of us love.
The NBA does indeed treat us to the greatest athletes on the planet. They are flaunting their physicality in all its finery.
We get our share of WTF moments.
But for every ankle-breaking crossover dribble-drive, every rim-rattling assault on the goal and every in-your-face rejection into the third row, we get a second-quarter in which the teams combine for 25 points.
A team—not both, mind you, just one of them—has managed to commit fewer than 10 turnovers in an NBA game a mere 21 times in 19 days of this accelerated schedule.
In last night's game in Milwaukee' the Bucks and Pistons combined to make all 41 of their free throws. (Amazingly, it's only the second perfect-from-the-line game since the introduction of the shot clock way back in 1954.)
Before that, a single team had been perfect from the line only three times in the 158 games which Mr. Stern's league has offered to us since Christmas.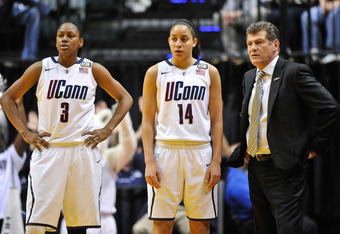 Jamie Sabau/Getty Images
And then there's the look of confusion and panic that seems to spread across a player's face when confronted with the novelty of an exotic 2-1-2 zone defense—that look seems to be saying WTF.
The men's game, particularly how it's played in the NBA, is one of elevation and power.
The women, on the other hand, play a game of angles and guile—as much a strategic struggle as a physical one.
Most fans, male and female alike, tend to ignore women's sports because, well, they're just a bunch of girls.
Then the coaches have such easily dismissible names like Geno and Muffet rather than more fitting monikers like Zen Master or Flip.
But upon inspection and reflection, it's the women, with their below-the-rim (for now) game, who are playing the best ball and, ironically, are the ones advancing the sport to the next level.
The aforementioned Muffet (McGraw of Notre Dame) saw her feisty squad work overtime to squeak past UConn and good ol' Geno (Auriemma) last weekend in a beauty.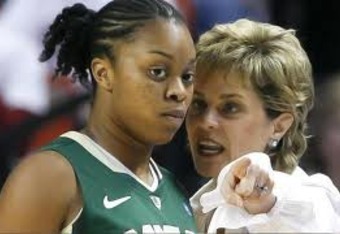 Kim Mulkey's top-ranked and undefeated Baylor Lady Bears—who had turned back the challenge of Muffet's Green Colleens in the final of the preseason NIT 94-81 back in November—gave us the Game of the Year on Dec. 18 against Geno's Lady Huskies, however.
Baylor is 6'8" junior Brittney Griner, but the Lady Bears are so much more now, too. That begins with just-cocky-enough sophomore point guard Odyssey Sims (ain't that a great name?) and goes about nine deep.
Auriemma is integrating his latest POY-to-be, freshman Kaleena Mosqueda-Lewis, with a savvy, veteran, perimeter-based unit. This No.1 vs. No. 2 figured to be a good test.
Griner's active presence, not to mention her nine blocks, pushed UConn's high-post offense outside where it responded with 11-for-29 three-point shooting and an 11-point lead.
But Sims, and especially Griner—whose level of confidence and play has risen noticeably this season—won't be easily defeated. They were not on this occasion.
For a more full account of this terrific game by yours truly, check this out.
Brittney's 25 points and nine rebounds, along with those blocks, create an impressive stat line, but pale in comparison to that of an old Griner nemesis from her high-school days.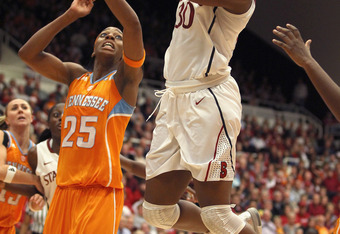 Ezra Shaw/Getty Images
On Dec. 20, Nnemkadi Ogwumike became only the seventh player in the history of Stanford women's basketball with a 40-point game.
Nneka hung a 42-point, 17-rebound (eight offensive) gem on Pat Summitt's talented and uniquely motivated Tennessee Lady Volunteers in a matchup of Top Ten teams.
Despite a slow start—in which she missed five of her first six shots and the sixth-ranked Vols built an early nine-point lead—the 6'2" senior from Houston went off on a phenomenal 12-minute run.
She converted 11 consecutive field goal attempts: jumpers, drives, fast breaks and follow-ups. 
Talk about being "in the zone," the Stanford star just about found a new one.
Maybe most impressive of all was that some of this outburst came at the expense of UT's rugged Glory Johnson, a fun player to watch and maybe the closest thing basketball has given in a while to Dennis Rodman-esque peskiness.
Face it guys, the women have Game of the Year and Performance of the Year. Even when it comes to nostalgia, basketball is currently a women's world.
And in the eyes of history, the most iconic player of the early 21st century will be Brittney Griner, not that chap from Akron.  Just wait and see.
WTF, y'all—Watch Those Females!