MLB Trade News: Brian Cashman's Pitching Fixation Leaves Offensive Cupboard Bare
January 14, 2012

Nick Laham/Getty Images
Whether you like the trade of Jesus Montero and Hector Noesi for Michael Pineda and Jose Campos or not—and to be clear, this writer does not—you have to think that Brian Cashman is absolutely relishing the role he's played in all of this.
This is the kind of deal that makes Cashman feel good about himself, the kind he would like the world to think he would make a habit of pulling off regularly if he was running a low-budget team as opposed to the richest in the game.
That Cashman gets to leave Scott Boras by the side of the road in the Edwin Jackson talks can only make the Pineda acquisition that much more rewarding for the Yankees GM. Dont think Cashman forgot about the Rafael Soriano end-around for one single moment.
And while the trade is a stunner in many regards, it cannot be said that Cashman returned anything less than the pitching equivalent of Jesus Montero in this deal. In fact, it could be said that Cashman got the better of the deal, in that there is a far greater sample size associated with Pineda than there is for Montero.
It's all very neat and logical in terms of the respective talents involved, but with that said, there is one glaring problem with it all; the Yankees simply need Jesus Montero more than they need Michael Pineda.
If you ask professional baseball people what the most critical ingredient is to winning championships, virtually all of those asked would side with the old adage that pitching wins championships.
It's the safe choice and, for the most part, it's true.
There have been a lot of great hitting teams that haven't won championships, of course, and we've never in the history of the game heard of a team with great pitching going home without the trophy. Or have we?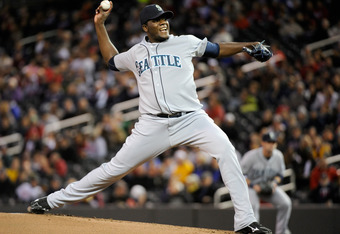 Hannah Foslien/Getty Images
Of course we have.
How about Philadelphia last year? How about Detroit last year? How about all those Braves teams from the 1990s? And the Mets teams from the 1980s, who despite having arguably the best rotation in all of baseball for several years only came away with one championship?
Again, of course we've known great pitching teams that underperformed, just as we've known great hitting teams that came away empty-handed.
In the end, this essentially means that there are no guarantees with either approach. There is no magic formula that when applied ensures that all the hopes and dreams of a franchise will come true.
Winning a championship is chaotic; it's messy, and sometimes it happens when it shouldn't, when there is no rhyme or reason to point to. Ask anyone who rooted for the Cincinnati Reds in 1990 or the Cardinals last year when they were down to their last strike something like 1,000 times.
For the Yankees of 2012 and beyond, though, winning championships will be as much about how they hit the ball as it will be about how they pitch. Cashman's fixation with developing pitching has essentially left the organization with no viable offensive assets that project to be able to help the team at any point prior to 2014 or so.
Considering that the team's left side of the infield is a combined 75 years old, and that the Yankees' first baseman has all but forgotten how to hit from the left side of the plate, it could be said, in fact it should be said, that the Yankees can expect to have major issues as soon as this year in terms of offensive production.
There are huge question marks surrounding the entire Yankee lineup, save Robinson Cano, and so removing a bat like Montero's could prove fatal.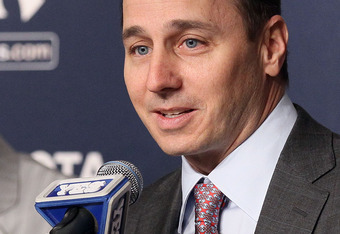 Jim McIsaac/Getty Images
It should be remembered that the Yankees lost the ALDS to Detroit not because they were out-pitched, but because they were out-hit when it mattered. If we remove Cano's six-RBI performance in Game 1 and the team's six-run rally in the eighth inning of Game 4, it becomes clear that the Yankee offense was almost transparent.
Moreover, the cleanup through sixth slot in the order all but vanished in that series, and the Yankees of 2012, as presently constituted, will return those same three players—Alex Rodriguez, Mark Teixeira and Nick Swisher—to fill those slots once again.
You have to wonder just how long the team will be able to thrive with a middle of the order that is suspect at best, possibly deficient at worst. If this was the master plan all along, and it appears it was, you then have to wonder why exactly Carlos Beltran was ignored as a possible DH option.
Again, this all comes down to Brian Cashman and his almost unhealthy fixation with pitching.
This is not to dismiss the value of solid pitching, not by any means, however if the pursuit of pitching is conducted at the outright expense of offense, then a mistake has been made. The trade of Jesus Montero for Michael Pineda is just such a mistake, and absent a mechanism to supplement their offense, the Yankees' prospects for 2012 and beyond have just dimmed considerably.
Additionally, this development has to cast a shadow over the Yankees' perception of their own internal pitching prospects, particularly Dellin Betances and Manny Banuelos. It must be considered that the organization no longer considers either to be the sure-thing prospects they were touted to be.
Betances is actually older than Pineda, and Banuelos is just under two years younger. In other words, both should at least be knocking on the door of the big club, and neither is according to virtually all commentary on the subject. Not a good sign by any measure.
2012 figured to be the year where the Yankees' stranglehold on a postseason spot would be severely challenged, and this was prior to the trade of Montero. Removing his bat and the potential it represented only serves to enhance the likelihood that this comes to pass.
It must be remembered that Montero is projected to be a 100-RBI producer year in and year out, one with power and the ability to hit for average. It's likely going to prove more difficult to replace those kinds of contributions over time than to replace the 12-15 wins that Pineda will likely contribute.
Considered another way. Montero would have had an impact on far more games than Pineda as a starter could ever hope to, and this does not bode well for the team in the coming years.
Perhaps most intriguing are the implications this trade has on the next Yankee move. Could it be that the Yankees are in fact genuinely interested in landing Yeonis Cespedes?
It is no secret that they have heavily scouted the Cuban refugee, and it would appear that their interest remains. Cespedes is nearing the point where he can be negotiated with, and perhaps this explains why the Yankees did not pursue Beltran and agreed to surrender Montero.
If this is in fact how things play out, then the Yankees have taken one mighty gamble in the process. Cespedes is a complete unknown in terms of exposure to MLB pitching, and it should be noted that there is not one example of a Cuban hitter coming into the league and lighting things up.
Perhaps Cespedes is an exception, but it's a long shot at best.
In the end, Brian Cashman got his wish. He landed perhaps the next best thing to Felix Hernandez and gave up a good chunk of the farm in the process.
We know that Cashman is happy, but it remains to be seen if that joy will be justified.