Super Bowl L: 3 Reasons Green Bay Should Host the 2016 Super Bowl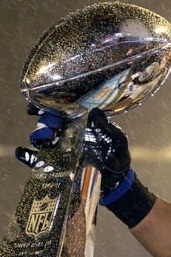 Vince Lombardi Trophy
As a new NFL owner of the World Champion Green Bay Packers—yeah I forked out $250 for a share—my first order of business is to bring the Super Bowl where it belongs: Green Bay, Wisconsin.
NFL fans know the Green Bay Packers won the first two Super Bowls. They know the Super Bowl trophy is named after Green Bay coach Vince Lombardi. They know Lambeau Field is the most iconic football stadium in the NFL. They know Green Bay is called "Title Town."
Is there really any other city in the world that represents the ideals and history of the NFL any better than Green Bay?
Here are three reasons why Green Bay, Wisconsin should host the 50th annual Super Bowl.
Begin Slideshow

»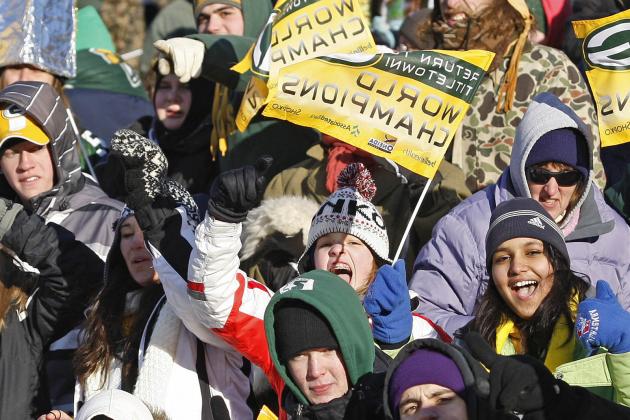 Matt Ludtke/Getty Images

Why is the biggest football game of the year played in non-existent, at-best mediocre professional football cities? Glendale? Los Angeles? Jacksonville? Yeah, yeah, warm weather, I hear you.
You think football fans won't come out to watch a great game in cold weather? Let's ask Green Bay, Pittsburgh, New England, New York, Buffalo, Chicago, Baltimore, Philadelphia Cleveland, Denver, Cincinnati and Seattle fans.
The majority of NFL fans live in "cold" weather cities, so why is it so unfathomable to play the NFL's most important game in those cities? What's wrong about having the game in a founding city in a stadium where every seat has been sold out since 1960?
Heck, these fans started one of NFL's top franchises by passing a hat for the meat-packing men who helped proliferate the game.
The Super Bowl has turned into a public relations spectacle with too-large of a percentage of attendees who would never attend a regular season game. Last year, we all had to suffer through a pre-game interview of "House" star Hugh Laurie—a Brit—saying he didn't really pay attention to who was playing. And that guy got a ticket to the game?! Think some die-hard Steelers or Packers fan might've appreciated that more?! I bet they could tell you who was playing in the game.
How about the NFL rewards real fans by letting their city host a Super Bowl?!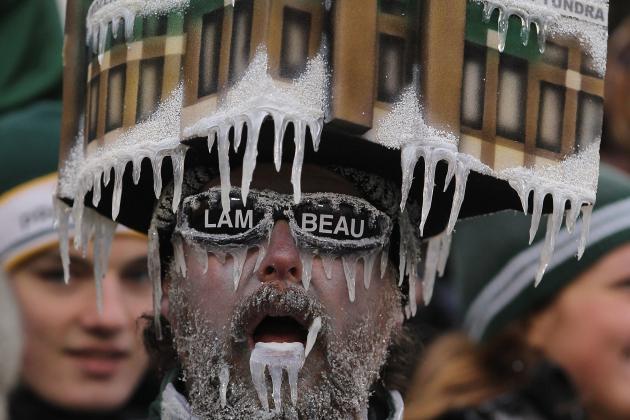 Jonathan Daniel/Getty Images

The argument against Green Bay hosting the game has two major points of contention according to the arbitrary guidelines put out by the NFL.
1. The average temperature of the host city must be above 50 degrees in early February. (For the sake of their argument, I assume this entails cities with outdoor stadiums as we're in Indianapolis this year and have been in Detroit and Minneapolis for previous Super Bowls).
The NFL's "one-time" temperature rule exception of the 2014 Super Bowl in New York/East Rutherford, New Jersey is a step in the right direction.
2. There must be 27,000 quality hotel rooms.
I retort.
1. Are we playing golf or football? Football's beauty is that it is played in any weather, sun, rain, sleet, and snow. Would Bart Starr's plunge for a last gasp touchdown in Lambeau Field's Ice Bowl be as iconic if it were 75 degrees? The "Partly Sunny" Bowl?!
By the way, it snowed in Dallas last year a day before the Super Bowl, so this temperature requirement puffs out like...a lot of hot air.
2. The city of Jacksonville brought in cruise ships to supplement their hotel shortage for the 2005 Super Bowl. Green Bay, which has 7,000 hotel rooms, could certainly do the same. I don't know what "quality" is defined by, but I gather a football fan wouldn't require much more than a roof, a bed and a TV. You want to enjoy a spa, go to Monte Carlo. You want to enjoy a football game, go to Green Bay.
As an original alternative, why not crash in the spare rooms of local residents/NFL owners? You'll never get a better pre-game bratwurst or be part of a more spirited tailgate!
Now, let's strap on the snow shoes and march it to Northeast Wisconsin for some authentic pigskin action!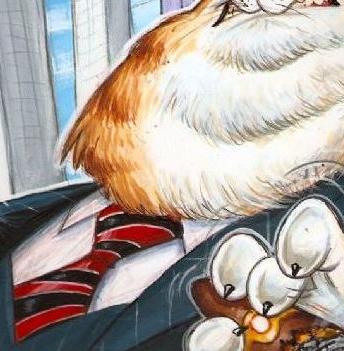 I hear all the complaints about corporations and sponsors being turned off by the weather, concerned their diamond-studded tushies might get cold while watching the game. But those types watch from heated luxury boxes anyway. Real fans don't give a frozen rat's ass what the temperatures are.
If the clueless celebrities and casual fans are weeded out by a game north of the Mason-Dixon line, I say hurrah! And if the Super Bowl parties have to be held in taverns and bowling alleys and Elks Lodges instead of fancy ballrooms and velvet rope clubs, I say, double-hurrah!
Super Bowl Week should be about football and its real fans, and for my NFL owner money, nothing says football more than Green Bay.
No place deserves the Super Bowl more than Green Bay. Let's start by turning up the heat on the NFL's grill to bring the title game back to Titletown!
Super Bowl L for Lambeau, Lombardi, and Long-time comin'!