New York Yankees Trade Jesus Montero to Seattle for Pineda, Kuroda on the Way?
January 14, 2012
Otto Greule Jr/Getty Images
According to Jon Heyman's twitter account, the New York Yankees have acquired Michael Pineda and Jose Campos from the Seattle Mariners for Jesus Montero and Hector Noesi.
The centerpieces of this deal are Montero and Pineda.
The Yankees had high hopes for Montero. After being called up in September last season, he hit .328, with four home runs and 12 RBI's.
Before being called up, he posted a .288 average, 18 home runs and 67 RBI's in 420 at bats in AAA Scranton/Wilkes-Barre.
The Mariners need hitting, and Montero can provide great power for them.
Pineda had a pretty good rookie season last year, compiling a 9-10 record and a 3.74 ERA. He struck out 173 in 171 innings.
Pineda started the season very strong, but was hit hard after the All-Star break, pitching to a 5.12 ERA.
The Yankees are getting a valuable player in Pineda, considering his potential. He turns 23 next week.
Pineda can be a valuable asset to the Yankees, who desperately need pitching.
Considering their rotation has not changed much since last year, they needed to make some sort of move. This will help them for years to come. 
Jesus Montero showed fantastic opposite-field power and would have been valuable for the Yankees—especially with the short porch in right field.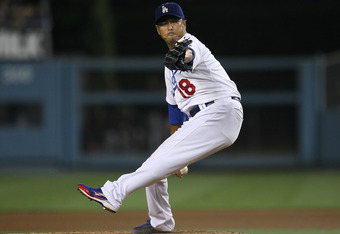 Stephen Dunn/Getty Images
There are more opportunities to find talented hitters than pitchers, so the Yankees had to make this deal considering the potential of Michael Pineda. 
Heyman also reported that the Yankees tried for Felix Hernandez first, offering a large assortment of players, but the Mariners wouldn't make a deal.
Although they gave up a great young player, New York is getting a great young pitcher in return. This deal beats a midsummer deal the Yankees might have had to make for an older pitcher.
Jack Curry of YES Network reports that the Yankees will give Hiroki Kuroda a one-year contract pending a physical. Kuroda compiled a 3.07 ERA last season as a member of the Los Angeles Dodgers.
If all goes according to plan, New York will have upgraded their pitching greatly today.