Georgia Football: Top Offensive Skill Position Players of the Mark Richt Era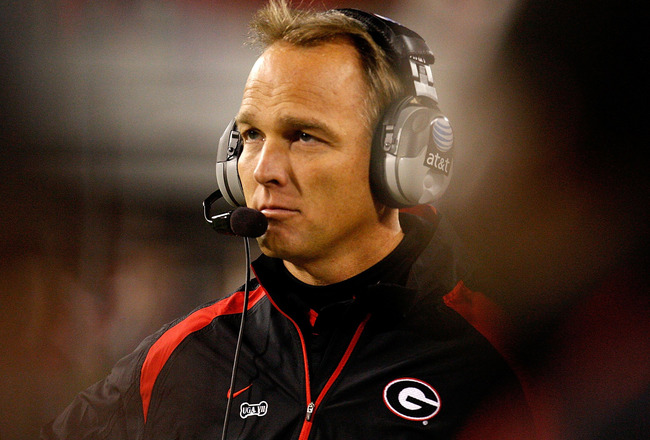 In the midst of all of the of all of the recruiting drama, and the countdown to National Signing Day, I thought that it was only appropriate that just like All-Americans, I should name another "All-Mark Richt Era" list.
This is simply the best "skill players" (I hate that term, but for the sake of this article, I am going with it) during the time Mark Richt has been head coach.
There are some obvious choices, but with all of the talent that has come through Athens, this wasn't very easy. You probably could change every name on this team with another Bulldog and it would still be an incredible group of players.
Taking a dip into recent history just cements the pipeline of talent that bleed the red and black...
QB David Greene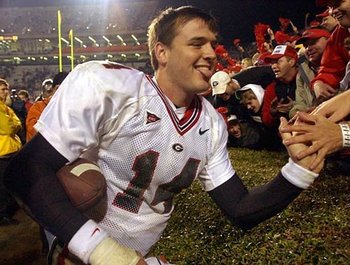 Cool and Calm..
Greene's Career:
— 42-10 as a starter
— Started 52 consecutive games
— 11,528 yards passing
— 72 passing touchdowns
— SEC Freshman of the Year
— First-Team All-SEC (2002)
David Greene started off his career as a redshirt freshman in coach Mark Richt's first year at Georgia. His career seemed to ultimately take off after the infamous "hobnail boot" game at Tennessee, when his touchdown pass to Verron Haynes gave Georgia the upset over a highly-ranked Tennessee squad.
In his second season behind center, Greene guided the Bulldogs to their first SEC Championship since 1982 and capped it off with a Sugar Bowl victory over Florida State.
Greene's time at Georgia was a golden one for Bulldog fans. It was the time of the two David's—Greene and Pollack. They had virtually grown up playing football together and they were able to make history during their time between the hedges.
2nd Team: D.J. Shockley
RB Knowshon Moreno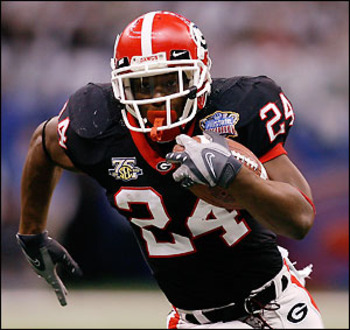 Moreno's Career:
— 498 carries for 2,736 yards
— 30 rushing touchdowns
— 2 receiving touchdowns
— 2007 & 2008 All-SEC First Team
— 2007 All-Freshman First Team
— 2007 SEC Freshman of the Year
— 2007 Sporting News Freshman Offensive Player of the Year
— 2008 second-team All-American
I think most Bulldog fans would agree that Knowshon Moreno is the best Georgia running back since Garrison Hearst. Although he only played two seasons, he put on quite the show.
His youthful running style was contagious, and he always looked like he was having fun. He popped off of the television screen from Day 1.
When quarterback Matthew Stafford turned to hand it off to Moreno, Sanford stadium and all Bulldog fans watching at home would hold there breath as they were bracing for the spectacular.
"The Leap" against Western Michigan and the crowd's reaction is proof positive why he belongs on this team.
2nd Team: Musa Smith
RB Thomas Brown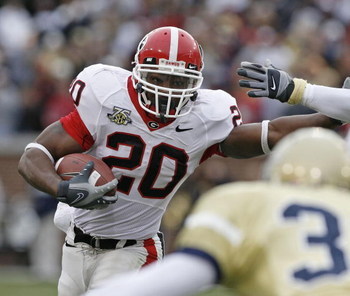 Brown's Career:
— 529 carries for 2,646 yards
— 23 rushing touchdowns
— 2 receiving touchdowns
— 2004 SEC All-Freshman First Team
I could have put Musa Smith here, but there is something about Thomas Brown that I always liked.
He wasn't flashy like Moreno, and I know he had sub-par games, but for some reason I can't remember them, and that says a lot. He was consistently good.
He also could do it all and that is why he is on here.
2nd Team: Verron Haynes
WR A.J. Green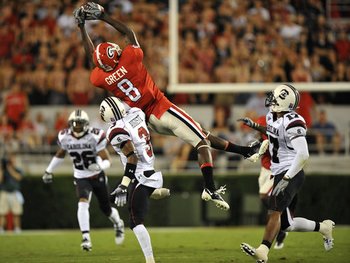 Green's Career:
— 166 receptions for 2,619 yards
— 23 touchdowns
— 2009 All-SEC First Team
— 2008 All-Freshman First Team
— 2008 SEC Freshman of the Year
In terms of talent and production, there can only be two Bulldogs to be spoken in the same breath as Herschel Walker. One is Champ Bailey, and the other is A.J. Green.
Green was as good as advertised the second he stepped onto the Athens campus. This past NFL season was proof that Green was special. He just played at another level.
Bulldog fans hopefully treasured those three years, because a talent like Green comes along about once every 15 to 20 years.
Matthew Stafford, the No. 1 overall selection in the 2009 NFL Draft, was ecstatic each day because he got to throw it to A.J. Green.
2nd Team: Mohamed Massaquoi
WR Terrence Edwards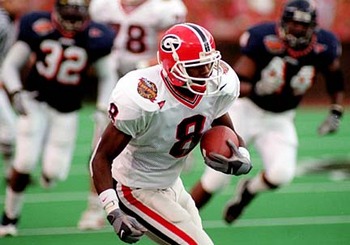 Edwards's Career:
— 204 receptions for 3,093 yards
— 30 touchdowns
If A.J. Green is the wide receiver version of Knowshon Moreno, then Terrance Edwards is the wide receiver version of Thomas Brown.
He was unbelievably productive as it seemed like he was at Georgia for 10 years.
A lot of people remember the drop against Florida in 2002 and hold that against him, but look at his production and there is no arguing how good of a player he was.
2nd Team: Fred Gibson
TE Leonard Pope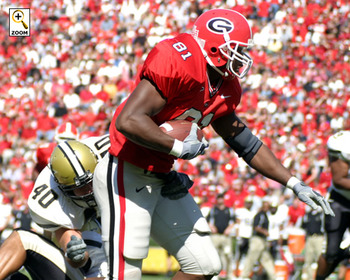 Pope's Career:
— 59 receptions for 994 yards
— Nine touchdowns receiving
— 2003 SEC All-Freshmen Team
This could have been a three-way tie between Pope, Ben Watson and Randy McMichael.
To be totally honest I drew a name out of a hat.
Not an exact science, but you can't go wrong with any of them. All three were unique.
2nd Team: Ben Watson
All-Purpose: Damien Gary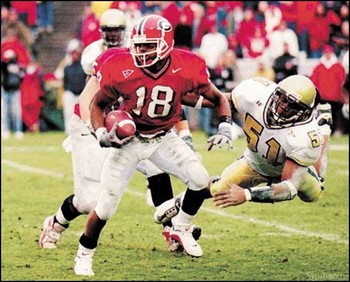 Gary's Career:
— 1,253 career punt return yards (UGA Record)
— 114 career punt returns (UGA Record)
Talk about doing it all, Damien Gary had more moves than Ex-Lax.
Along with wide receiver Terrance Edward, it seemed like he was Georgia forever. If you told me Ray Goff was his coach and I wouldn't have argued.
He was always capable of making a game-changing play. Injuries slowed him but when he was on the field he was always reliable and exciting to watch.
2nd Team: Brandon Boykin
K Billy Bennett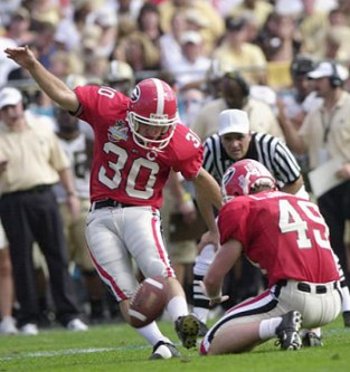 Bennett's Career:
— 409 points
— 87 career field goals
— 31 field goals made in a single season
— 2001 Freshman All-American
— 2002 All-SEC First Team
Ok. Ok. I am very hard on kickers but this was the little man that could but Billy Bennett was always clutch.
Considering the kicking woes that Georgia suffered through this season, the Bulldogs could have used Bennett consistent leg. Coutu and Walsh had bigger legs, but for some reason I just trusted this guy more.
Bennett was one of the most-decorated place kickers in Georgia history. He held 13 Georgia records, nine SEC records and seven NCAA records when his playing career ended in 2003.
2nd Team: Brandon Coutu
Keep Reading

Georgia Bulldogs Football: Like this team?