2012 MLB Free Agents: Rangers Would Be Scary with Prince Fielder in Lineup
January 13, 2012

Christian Petersen/Getty Images
The last thing the Texas Rangers need is another power bat in the middle of their lineup, as they finished second in the majors with 210 home runs in 2011.
But more power never hurt anybody, and the word from Bob Nightengale of the USA Today is that the Rangers could soon add a lot more power to their lineup: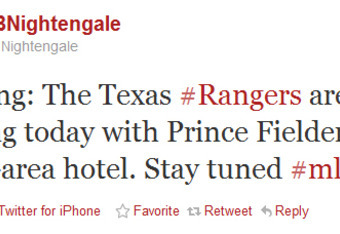 Finally! Some movement on the Prince Fielder front!
As for Nightengale's "stay tuned" tease, he recently published a full report on the situation. Nothing is known about what exactly is going on between Fielder and the Rangers, but Nightengale did point out that the Rangers have plenty of cash to throw around.
He also pointed out that the club is still in talks with Japanese hurler Yu Darvish, and that it is "unknown" whether or not the Rangers are willing to sign both him and Fielder.
But the Rangers' sudden move on Fielder is well-timed. The market for his services has been slow to develop this offseason, and there don't appear to be that many serious bidders. He could very well be Texas' for the taking, especially seeing as how the time to get a deal done was yesterday.
For the sake of our own amusement, let's consider what Texas' lineup would be like if they managed to land Fielder.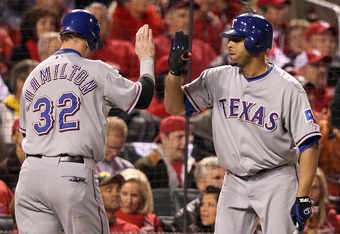 Jamie Squire/Getty Images
In a word, it would be scary. Like, really scary.
I already pointed out that the Rangers had no trouble hitting home runs in 2011. They also had no trouble scoring runs, as they scored a grand total of 855 of them. They also finished just behind the Boston Red Sox with a collective slugging percentage of .460.
If they add Fielder, all of those numbers would go up in 2012. A dangerous offense would become the best offense in the majors, and it wouldn't even be close.
To boot, Ron Washington would have no trouble working Fielder into his lineup. He already has plenty of right-handed hitters, but the addition of Fielder would present him with the chance of forming a right-left-right-left order that he could use night after night after night.
Night after night after night, the dynamite would go boom. Especially at the Ballpark in Arlington, which is a launching pad during the summer.
It's impossible not to get excited about the idea. The Rangers have already slugged their way to two straight World Series, and they could easily slug their way to a third if they add Fielder.
Naturally, we shouldn't get ahead of ourselves, as a face-to-face meeting is not exactly a signature on the dotted line.
But if these talks get to that point, the rest of the American League will cower in fear.
At the very least, we know the league's pitchers will.