Broncos vs. Patriots: 9 Rookies in the Divisional Round Spotlight
Justin Edmonds/Getty Images
Experience is priceless when it comes to the NFL Playoffs.
What the Denver Broncos lack is just that.
The Broncos will feature at least eight different rookies on the field on Saturday night, compared to the New England Patriots' one.
This will prove to be one of the biggest factors entering this Divisional Round match-up.
This game could wind up as the end of Tebowmania, or add more fuel to the media-frenzy fire that has engulfed the city of Denver over the last six months.
Let's take a look at the rookies entering Saturday evening's game and their potential impact on the outcome of what may be one of the most watched television programs in history.
Danny Aiken: Patriots' Long-Snapper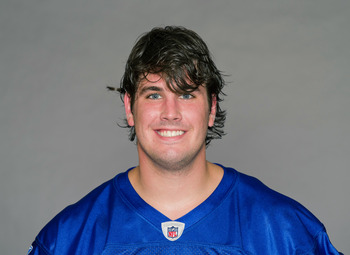 Handout/Getty Images
Danny Aiken has had a quiet year with the New England Patriots. And that's exactly how a long snapper's season should be.
The position of the long snapper is as important as any other.
A bad snap can result in points for the other team, a missed field goal or blocked punt, and possibly the loss of a game.
Aiken has remained under the radar for the year, but takes a spot in the national spotlight this weekend when the Patriots face the Broncos in Foxborough.
Plenty rests on Aiken's shoulders after having to replace Lonie Paxton—who now plays for Denver and is expected to miss the game.
One bad snap could result in a huge falter in New England's gameplan and a job opening on the Patriots' special teams unit in 2012.
Austin Sylvester: Broncos' Fullback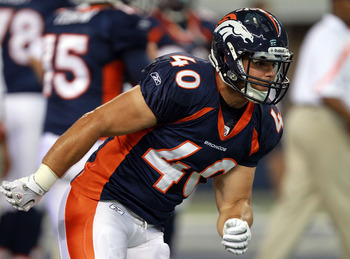 Ronald Martinez/Getty Images
Denver's starting fullback for the last two seasons, Spencer Larsen, has hit the injured reserve after sustaining a knee injury during the Broncos' loss to the Kansas City Chiefs to end the regular season.
Enter Austin Sylvester.
Sylvester has seen almost no gametime in his career—coming in only briefly to make up for the loss of Larsen on January 1st.
Denver may feel more confident in allowing the fullback position to be covered by its tight ends before giving Sylvester any extended playing time in such a crucial game.
But it's expected that he will at least see the field some, now that Larsen is officially off the squad for the year.
With a power running game like the one Denver runs, the fullback position can be crucial. The fullback is responsible not only for big blocks to start the runs and create the gaps, but also for misdirection on counter plays and as a receiving safety blanket for quarterback Tim Tebow.
Sylvester will need to come up big by displaying knowledge of the playbook and gameplan and by not making mistakes for Denver on Saturday night.
UPDATE: Austin Sylvester has been waived to make room for long snapper David Binn. Binn is the San Diego Chargers' longest tenured player in history, but was released by the team in August. He replaced Lonie Paxton as the starting long snapper as Paxton has been released from team activities due to what the team described as personal, family reasons.
Orlando Franklin: Broncos' Right Tackle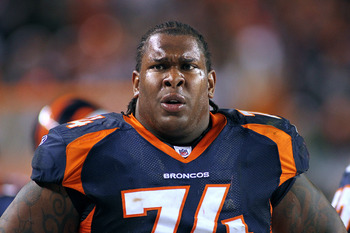 Marc Piscotty/Getty Images
Orlando Franklin was selected in the 2nd round—46th overall—by the Denver Broncos in the 2011 NFL Draft.
Since that day, Franklin has been a crucial element to Denver's power rushing attack and option offense.
On Saturday, his high draft selection and reputation are on the line as he'll rematch the Patriots and help Denver to continue its running success on the New England defense.
Franklin is one of the members on the Broncos' offensive line that helped Denver to run for almost 200 yards on New England in just the first quarter of their last meeting in Week 15.
Expect Franklin to keep up his stellar run-blocking and sack-saving pass-blocking this Saturday.
Virgil Green and Julius Thomas: Broncos' Tight Ends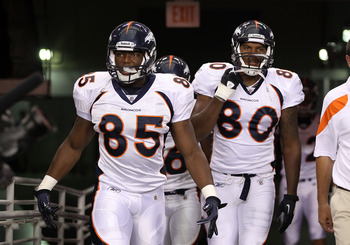 Christian Petersen/Getty Images
Denver features two rookie tight ends in the lineup for Saturday's game.
Virgil Green and Julius Thomas have had very limited roles in Denver's offense and shouldn't be expected to be much of a factor this weekend.
However, starting tight end Daniel Fells and backup Dante Rosario haven't been an essential element to Denver's success either.
Fells seems typical of fumbles, and Rosario rarely finds his way into the path of the football.
Thomas was expected to be a breakout tight end in 2011, but has yet to live up to his potential.
As a three-year basketball player in college, Thomas has converted his skills on the court to the field of NFL football and did well in the preseason.
If Fells and Rosario slip up against New England, Thomas and Green could see some more action this week and have a chance to prove their worth on national television.
Quinton Carter and Rahim Moore: Broncos' Free Safeties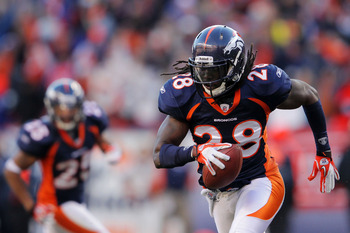 Doug Pensinger/Getty Images
Free safety, along with every other position in the secondary, will be an incredibly critical element against the Patriots this week.
This Denver secondary faces one of the greatest quarterbacks of all time in Tom Brady.
And they have to put up with Brady's terrifying arsenal of wide receivers and tight ends.
The absence of Brian Dawkins in this Denver secondary may end up as the deciding factor in this Divisional Round matchup.
It's up to free safety rookies Quinton Carter and Rahim Moore to take control of the defensive backfield, force Brady into shorter throws and keep the big play ability of receivers like Wes Welker, Aaron Hernandez and Rob Gronkowski at a minimum.
Last week against the Steelers, Carter proved he is a gamer—intercepting a Ben Roethlisberger pass.
Moore had a terrific preseason, but has been less-than-stellar for Denver during the regular season.
Both of these players have a lot of this game's pressure riding on their shoulders and Brady will be gunning for their areas of the field all night.
Von Miller and Nate Irving: Broncos' Linebackers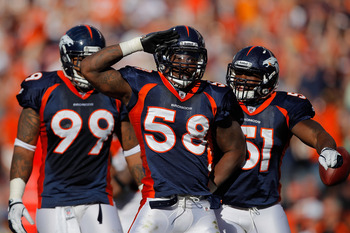 Justin Edmonds/Getty Images
Putting pressure on Tom Brady will prove to be the most important factor in Denver's defensive gameplan.
Every defense in the league knows how to beat Brady—get in his face—but few can actually pull it off.
Brady is deadly with a three-step drop against the blitz, and that's exactly why the linebacker position will be so critical in this game.
Von Miller—a defensive rookie of the year favorite—will need to be faster than Brady and his offensive line, and make contact with the quarterback frequently.
If there were ever a time for Miller to play lights-out football, it's now.
Expect Miller to combine with Elvis Dumervil for a big game as they continue their return to the pass-rushing greatness that has only recently been back in effect.
Nate Irving may finally see some substantial gametime this week after Joe Mays dropped the proverbial ball last week against Pittsburgh.
Mays consistently allowed big runs up the middle by running back Isaac Redman, and it may be time for either veteran Mario Haggan or rookie Nate Irving to help fill the gaps.
Mays has contributed to this defensive unit greatly in 2011, but if he can't get the job done on Saturday night, it may be time for a change.
Keep Reading

Denver Broncos: Like this team?