Chicago Cubs Rumors: Prince Fielder Still an Option Despite Other Moves
January 13, 2012

Christian Petersen/Getty Images
When the Chicago Cubs pulled the trigger on a deal sending young pitcher Andrew Cashner to the San Diego Padres for a young first base prospect in Anthony Rizzo, people essentially assumed that Theo Epstein and Jed Hoyer were officially taking themselves out of the race for All-Star free agent Prince Fielder.
Apparently, we were all wrong.
According to Jason Stark of ESPN.com:
"One source with ties to the Cubs brass insists the Cubs are NOT totally out on Fielder, despite the Anthony Rizzo trade. His assessment: The Cubs will "be in it till the end—just in case Scott has to do a deal somewhere" and is willing to make one on the Cubs' terms."
Would the Cubs really still be interested in adding Fielder, after acquiring what many assumed to be the future first baseman of their franchise?
If they get the right price, they should be.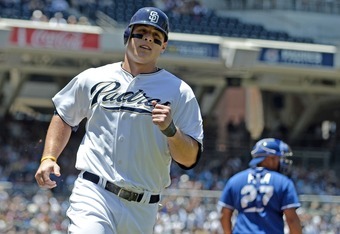 Denis Poroy/Getty Images
I am all for giving Rizzo a chance, but let's remember that he is still unproven at the major league level. In 49 games last season, the young left-hander struggled. He batted .141 with one home run and just nine RBI. While the talk has been high on him, would the Cubs be shooting themselves in the foot if they bet their future on him?
I'd say so.
Acquiring a free-agent like Fielder is a once in a lifetime opportunity for this club. While they wouldn't likely give him a long term deal, they would at least be able to buy some time to perhaps see how far Rizzo develops.
If he doesn't, players like Alfonso Soriano will be off the books, and the team could take all their freed up money to attain Fielder for the long run.
Players like Bryan LeHair don't present the best option either.
With Epstein already announcing that Rizzo will start his time in the minors, the Cubs have the flexibility to take on Fielder for the time being.
While many had assumed that it wouldn't be too long until they decided to call him up, this will give the Cubs much more time to develop the 22-year-old.
The problem is, we are dealing with Scott Boras, and who knows if he would be willing to let the Cubs make the deal. Everyone knows the value of his best remaining free-agent, but the lack of offers being made to their liking may actually end up working in the Cubs' favor.
While the Cubs have been wheeling and dealing this offseason, one area they have failed to address is finding a power-hitter to insert into their lineup. They have already lost pieces like Aramis Ramirez and Carlos Pena; adding players like David DeJesus and Ian Stewart just won't provide those numbers. 
A guy like Fielder could make up for the loss of both sluggers. It just depends at what cost.
The team is moving in the right direction with their total rebuild, so there is no reason to mess things up by handing out a huge long-term contract after everything they have been doing.
Until Fielder is finally signed, though, it looks as if the team will continue to be linked to attaining his services.
By all means, the Cubs don't have to make this move, but if they get it at the price they want, there is no reason they should hold back.
Jeff Chase is a Featured Columnist for the Chicago Cubs and Arizona State Football.