Los Angeles Lakers: Early Report Card Grades for All Key Players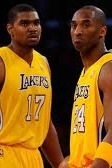 Almost a quarter of the season has passed and the Los Angeles Lakers have played well as a unit. However, it is who has performed at a high level that has been the topic of every barbershop and beauty salon from Los Angeles to Oakland.
But it isn't how a team starts, but how it finishes. Yet those rules do not apply to this group of Lakers. Few Laker teams started a season with so many questions and so little answers.
What was a Mike Brown offense going to look like? How would No. 24 respond after his 1100th knee surgery? Will Andrew Bynum make it through a season?
Will the gaping hole they have at the point destroy any championship dreams that currently exist? Is this still a championship group?
Yes, it is virtually impossible for the Purple and Gold crew to answer all those questions in just the first quarter. Yet, with any question we are now seeing the answers form right in front of our eyes. Fans
should be confident that when tested, the Lakers will pass with flying colors.
Keeping with the schoolyard theme let us take a minute and grade each Laker's performance thus far.
Begin Slideshow

»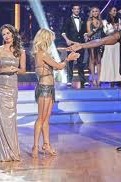 M.W.P. is teetering on uselessness. His game has looked slow and deliberate this season. There is a section of the Laker Nation who would prefer to see Peace rock another uniform. Those who have that opinion are justified in their line of thinking.
Metta has become more of a sideshow then a viable option as a basketball player. Time will tell if he is able to help the team or continue to hurt himself.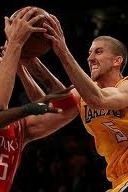 Blake has been a disappointment thus far with constant moments of adequateness. His jumpshot has been suspect and his defense active but inconsequential. The point guard was brought in to hit three-pointers and provide depth at the position, yet he has struggled to do that.
Blake at some point this season will be needed to supply the things he was brought in to do. Thank goodness for Laker fans that time is not now.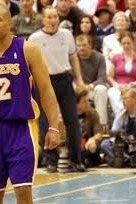 D-Fish statistically has had a horrendous year. The guard is shooting his lowest percentage from the field (.344) and is averaging his lowest made field goals since his rookie year (1.8). However, with Fisher it is always about the playoffs.
The second season is where Fisher must show up if the Lakers have any hope of making an NBA Finals run.
His defense and clutch shooting will be paramount. How the warrior starts his battles is no longer an issue, the crowd has grown accustomed to him standing victorious at the end.
This season cannot be any different.
Pau Gasol has reemerged this season, at least somewhat. The Spaniard leads the team in minutes per game (37.1) and dare we say looked aggressive at times this season. More importantly, Gasol has been poised and consistent from the start.
After a dismal late season and playoff run it was imperative Gasol establish himself as a dependable piece on the Lakers front line. The power forward has done that and regained the faith of his teammates.
How he performs down the stretch will determine where the Lakers are seeded and just how far they can go.
Gasol has always had the talent to be win games. This season he must display the heart to refuse to lose.
Murphy has been a pleasant addition to the Lakers and provided a spark early in the season. Meanwhile McRoberts has been what we expected him to be, nothing but a warm body to spell Andrew Bynum and Pau Gasol.
They have both had moments of excellence and moments of exhaustion. However, neither is a requirement for playoff success so any contribution they can make is a bonus.
Barnes has played well especially of late. However, defense is where Barnes is needed most and he has been extremely sporadic on that end. Small forwards and shooting guards have had their way against the Purple and Gold.
An early season loss to the Denver Nuggets highlighted this deficiency. In that game Al Harrington and Danilo Gallinari combined for 32-points, 15 boards and 6 steals.
That problem reared its ugly face again just four nights later against the Portland Trail Blazers. The trifecta of Wesley Matthews, Gerald Wallace and Jamal Crawford went for 64 points in a Blazers win.
Barnes has to find a way to stop—not slow down, but stop—some of the better wings in the game if the Lakers are going to win a championship.
Bryant has to play better on the defensive end. He does not have the lateral quickness or suddenness he used to possess, which is understandable.
He must rely more on game film and situational aggressive play. That said, the guard has rebounded well from his offseason knee surgery and is playing at a high level offensively.
How much of Kobe's play has been in the system and how much of it has been Kobe being Kobe is unknown.
Regardless, No. 24 has regained his scorer's touch, at least early in the season. How long he plays at this level remains to be seen. Bryant has eight games with 28 or more points and appears to be headed for another MVP-type season.
The center has performed as if he is the starting center of the upcoming All-Star game. Bynum has been active, aggressive, confident and relentless.
The Jersey native is averaging a double-double and has scored less the 10 points in only one game. The question for Bynum is if he can keep his play up.
As of today he has been arguably the top center in the league. If he continues to play at that level the Lakers can again have high hopes.