MLB Free Agency 2012: Is Omar Vizquel Close to Retirement?
January 13, 2012

Jason Miller/Getty Images
Omar Vizquel, a free agent shortstop who had played the last two seasons with the Chicago White Sox, seems close to retirement. Vizquel, 44, has searched for a team to join since the 2011 MLB season ended. Based on remarks Vizquel has made on Twitter in the past two weeks, the White Sox might have been his last stop.
Vizquel, a 23-year veteran, has tweeted recently indicating he's hopeful of signing with a team, but is unsure and open to retirement. Vizquel tweeted if he doesn't sign with a team for the 2012 season, he'll retire. He said (in Spanish), "If there isn't a contract, there's no option without beginning a new career. That of coach."
On Tuesday, the Caracas, Venezuela, native tweeted his gratitude to everyone following his prospects of signing with a team, but noted how hard it is looking at next season, saying (in Spanish), "The teams that were still aren't."
Apparently, the teams to which he had hoped to sign with weren't interested.
A few teams of note for Vizquel include the White Sox, Cleveland Indians, Miami Marlins and Boston Red Sox.
Vizquel tweeted on Tuesday that he would be interested in signing with the Indians, for whom he played 11 seasons. Vizquel enjoyed a great deal of success in Cleveland, helping the Indians to six playoff appearances in seven years and winning nine of his 11 Gold Gloves.
However, the Indians have been retooling in recent years. Cleveland has some good young players on the right side of the infield. Asdrubal Cabrera is a mainstay at shortstop. Joel Hannahan started most of the year at third base, but Lonnie Chisenhall may be moving in since he hit well with Hannahan out with a strained calf near the end of the season (.311, 10 RBI).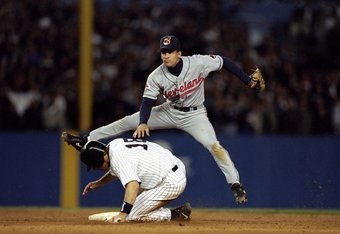 Jamie Squire/Getty Images
One possibility Vizquel entertained in a tweet is signing with the Indians for just a day. That would afford him a moment with his old team before retiring.
Vizquel indicated that he'd like to join the Red Sox. When someone asked him via Twitter, he retweeted affirmatively. The Red Sox are set at shortstop with Marco Scutaro starting and Mike Aviles backing him up, but Vizquel could pitch in at third base if Kevin Youkilis' hernia nags him.
One might think Vizquel could follow fellow Venezuelan Ozzie Guillen to the Marlins. However, Vizquel tweeted (in Spanish), "I don't believe they need me."
White Sox fans hoping to see Vizquel return to the south side of Chicago will be disappointed. He ruled out a return to the White Sox in December. Asked via Twitter mid-December if he would play for the White Sox in 2012, he said that he wouldn't.
Time is running short for Vizquel. Teams will start spring training in only a few weeks. One would wonder whether he would make his decision around that time regarding retirement if he doesn't sign.
If he retires, Vizquel's a Hall of Fame shortstop. With 11 Gold Gloves, Vizquel is one of the greatest shortstops ever. Also, Vizquel collected 2,841 hits while batting .272.
Also, seeing him go out as one of several great players to finish a career with the White Sox wouldn't be bad.