Disgruntled Montreal Canadien Mike Cammalleri Traded to Calgary for Rene Bourque
January 13, 2012

Elsa/Getty Images
Former Montreal Canadiens general manager Bob Gainey in the summer of 2009 allowed his unrestricted free agents to sign elsewhere while he went out on the market with $30 million to spend with an eye to improving his team. 
That summer he traded for Scott Gomez. He signed UFA forwards Brian Gionta, Mike Cammalleri and veteran defensemen Hal Gill and Jaroslav Spacek.
The theory at the time was that he could improve the team by cherry-picking the best available free agents. Unfortunately, the class of free agents was thin at best. He had to make a trade just to pick up a first line center of Scott Gomez's limited ability.
He reshuffled the deck while not appreciably improving the team.
Arguably the best player he brought in that year was the small, talented Mike Cammalleri. Cammalleri signed a five-year, $30 million contract. He, Brian Gionta and Scott Gomez would theoretically have played together among Montreal's top six forwards for the length of that contract.
By trading Cammalleri in the middle of his term, current GM Pierre Gauthier has acknowledged that the Gainey experiment in modern NHL team building is over and was a failure, though the returns on Scott Gomez had already made that fact obvious.
Last night in the middle of the Canadiens game with the division-leading Boston Bruins, Gauthier traded Mike Cammalleri, goaltender Karri Ramo and a fifth-round pick in the 2012 NHL entry draft to the Calgary Flames for power forward Rene Bourque, prospective forward Patrick Holland and a second-round pick in the 2013 NHL entry draft. This trade came on the heels of Cammalleri's complaints about the losing attitude in Montreal.
Mike Cammalleri was arguably one of the more offensively talented players on the Montreal Canadiens. Injuries kept him from reaching the potential that he'd showed in L.A. and Calgary. When healthy, he has managed to produce two 30-goal, 80-point seasons in the NHL, and that certainly was what Montreal was hoping to get from him.
His first two seasons in Montreal, he missed 52 regular season games due to injury. His performances in the playoffs gave a glimpse at what the speedy sniper was capable of. In the postseason for Montreal, he scored 16 goals and 29 points in 26 playoff games. He will be missed.
Cammalleri returns to Calgary where he had his best season as an NHL player with 39 goals and 82 points in 81 games back in 2008-09. If approaches that level of production again, Montreal will regret this deal.  
The principal player coming back to Montreal is Rene Bourque. The former University of Wisconsin star came to Calgary from Chicago in a deal that turned out to be just about the only successful trade former GM Darryl Sutter during his time with the Flames.
Bourque is a tough, gritty forward who will go anywhere to score a goal. Bigger and stronger than Cammalleri, he joins Max Pacioretty and Eric Cole in what is becoming a larger forward core in Montreal.
His best season came in 2009-10 when he scored 27 goals and 58 points in 73 games. He has started slow in Calgary this season with 13 goals and a mere 16 points in 38 games. A recent suspension probably didn't endear the Sutter acquisition to new GM Jay Feaster.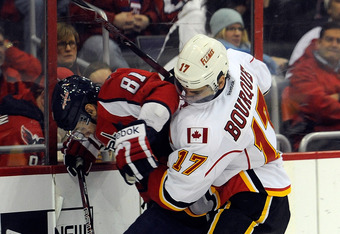 Patrick McDermott/Getty Images
The Canadiens get tougher while the Flames get more talented as a result of this deal. Both struggling teams are desperate for a first line center, so this swap of wingers does resemble more of a shuffling of the deck chairs than an attempt to plug a leak.
The Flames also pick up the rights to Finnish goalie Karri Ramo. The former Tampa Bay Lightning sixth-round pick (191st overall) did have 26 games of NHL experience before opting to play for Omsk Avangard of the KHL for the past three years.
He has put up impressive numbers in that league and is still only 24. If he can be lured back, he could add talented depth in nets for the Flames behind Miikka Kiprusoff (35), Henrik Karlsson (28) and Leland Irving (23).
The Canadiens also received Patrick Holland, a 19-year-old junior player. He has been better than a point-a-game player with Tri-City Americans of the Western Hockey League (WHL) so far this year. He didn't manage to make team Canada for the World Junior Hockey Championships this year.
The Canadiens will hopefully benefit with the second-round pick in 2013 which should be better than the fifth-round pick for this year's entry draft that the Flames picked up.
This trade looks to be more evidence that Pierre Gauthier's fingers must be removed from the levers of power in Montreal. Here is yet another move he has made that interfered with the Canadiens while they were trying to play a game. Cammalleri was taken off the ice and put in a cab in between the second and third periods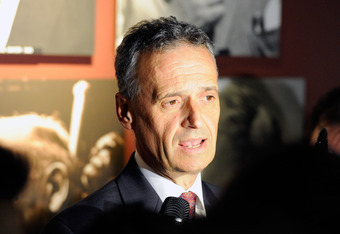 Richard Wolowicz/Getty Images
Montreal started this season as a mediocre team with a few stars on the roster and a collection of fair-to-good prospects developing to fill spots on the team. Gauthier has taken that team and with ill-considered firings and hirings plunged the team into chaos. Trading away one of their primary offensive assets is not going to make the team better.
His moves have created an atmosphere around the Montreal team which has the newly-acquired Rene Bourque joking that despite his name, he does not speak French. This does nothing to improve the team on the ice. 
The organization should fire him now before he makes any other disastrous personnel moves in an attempt to stay on as GM. This was a team with holes to fill. Now it has one more.
It would be nice if the organization could stabilize. This season is lost. If they could plug that big hole they seem to have in the general manager slot, perhaps some adept shedding of contracts, free agent signings and perspicacious drafting in the offseason can save next year in Montreal before it is too late.