Iona Gaels' Point Guard Scott Machado Is a Must-See
January 13, 2012

Sam Greenwood/Getty Images
Last year, Scott Machado was one of the most unheralded yet talented point guards in Division I. This year, the Iona Gaels' floor general leads the nation in assists (10.4 per game), so you might have heard of him.
Whether or not you're familiar with Machado and his numbers, though, you cannot fully appreciate him until you see him in person. Even TV doesn't do the senior floor general justice.
Believe me.
As a follower of the MAAC, I've known about Machado since Kevin Willard signed him out of St. Benedict's Prepatory School in 2008. I knew he averaged 4.8 dimes as a freshman, 3.9 as a sophomore and 7.6 as a junior; I knew he has progressed as a scorer each year; and I have seen him lead Iona's offensive charge in numerous telecasts.
But Thursday night, I headed north to New Rochelle to see Machado in person for the first time as he and the Gaels hosted my hometown Manhattan College Jaspers.
The Queens native exceeded my expectations from the moment I entered the Hynes Athletic Center. You see, TV broadcasts don't show warmups.
After tonight, however, I say every Iona warmup session should be taped.
Machado led the Gaels out of the locker room and nonchalantly tossed an alley-oop to commence pre-game layup lines. He flicked his wrist with such ease—seemingly paying minimal attention to the recipient.
But the feed was flawless and right in front of the rim.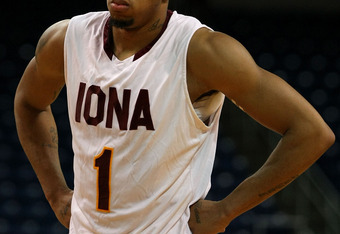 Chris Chambers/Getty Images
Then, he did this.
If you thought you saw him throw a ball off the wall, catch it off an impeccably calculated bounce and soar for a slam, you don't need to visit an eye doctor anytime soon.
Yet another reason why statistics don't mean everything, folks. 
(For the record: Machado isn't the only reason Iona's layup lines should be filmed. Gael after Gael flew in for windmills, tomahawks and the like throughout the first few rounds. It was truly a unique display.)
But for those of you still interested in stats, Iona netted 15 field goals in the first half. Machado assisted nine of them and scored two. He was responsible for 28 of the Gaels' 39 first-half points.
Still, you don't see the full picture in the box score.
Though several of Machado's assists were noteworthy, two were extraordinary.
First, the floor general connected with Michael Glover on a long fast break alley-oop. Without tipping off anyone, Machado threw a pass right to where Glover could easily snatch it out of the air and deposit it for two. 
You'll see lots of 30-foot alley-oops in the NBA, and several each year in college basketball, but how many are delivered perfectly by the passer?
Machado threw two perfect alley-oops against the Jaspers—both to Glover. Glover didn't have to adjust to a pass thrown too high or too low. He didn't need to reach behind him or extend his arms beyond comfort.
Perfection.
Also in the first half, Machado penetrated the top of Manhattan's 2-3 zone and had his eyes on a teammate on the right wing.
Everyone in the gym expected a pass to the wing. I did. The fans around me did. And, of course, the Manhattan defense did as well.
As the zone shifted to defend what appeared to be an imminent pass to the wing, Machado hurled a backhanded, no-looker to an open Taaj Ridley on the baseline for an easy layup.
Not even instant replays can truly capture what Machado did. They can't portray the astonishment of the defense and the fans alike upon realizing where the pass actually went.
Machado finished with 16 assists and just one turnover against a Jasper defense that forces 15.6 per game.
Although 6'1" NBA point guards are practically archaic, Machado might be the best floor general in the country. You just have to see it to believe it. If you do, you'll realize he has the distributing skills to play at the next level.
Time's running out, though, and I implore you: Attend an Iona game before he graduates this spring.