Is John Danks the New Ace of the Chicago White Sox?
January 13, 2012

Ed Zurga/Getty Images
From the moment that Mark Buehrle signed a four-year, $58 million deal to join the Miami Marlins, Chicago White Sox fans wondered aloud who would replace him. 
After all, they would be replacing more than a pitcher who won 13 games and posted an ERA of 3.59. They'd have to replace a mainstay in the White Sox organization for 11 productive seasons.
The search for in-house replacements was sketchy, with trade rumors involving Gavin Floyd and John Danks being thrown around. 
That would leave the oft-injured Jake Peavy as the unofficial ace of the staff. 
Nothing against Peavy, but this isn't the same Jake Peavy who won a Cy Young award for the San Diego Padres in 2007. Instead it is the Peavy who clashed with pitching coach Don Cooper about his health last season. 
Chris Sale will be new to the starting rotation and he has electric stuff. Having all of the tools is great, but making a guy your ace who's not had one major league start would be asking for trouble.
Making Sale the ace of the staff would be putting too much pressure on a young arm. While he has a bright future ahead of him, it is too much to ask of him at this point.
An interesting development happened while the trade winds swirled in and out of U.S. Cellular Field.
John Danks signed a five-year extension to remain with the White Sox. If there were a pitcher that should be traded, Danks wasn't the choice.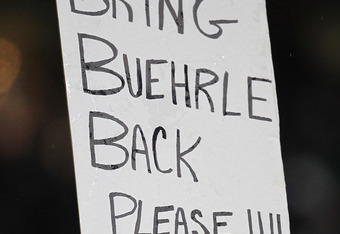 Jonathan Daniel/Getty Images
Solid left-handers are a premium in baseball. Danks signed for less money annually than both Buehrle and C.J. Wilson of the Angels, the quote-unquote top two pitchers that were on the market.
He is not only younger at 26 than Buehrle and Wilson (both 31), but he is also reaching his prime.
A career record of 54-56 is misleading for Danks; in his 12 losses last year, the White Sox scored only five runs or more once, and only five times in his 27 starts. 
He is the obvious choice to take over as ace of the White Sox.
No one in a White Sox uniform pitches with more grit than Danks does in the clutch, as evident from his two-hit shutout performance against the Minnesota Twins that propelled them into the 2008 playoffs. 
He always takes the mound raring to go. If there are any flaws to Danks, it is that his "out" pitch is undefined. 
Though that has never been a problem when he gets into jams, Danks is good as anybody at inducing ground balls. The "out" pitch that can fool a hitter is what he'll need—and it's still under construction. 
His best pitches are his nasty changeup and a slider that he rarely throws when he's ahead in the count now, often relying on his cut fastball to get outs. When he does throw the slider, the trajectory stymies opposing hitters.
That said, he has what it takes to become the ace. 
The jury is still out on whether or not he can be the clubhouse leader that Buehrle was. The intangibles are important here. Buehrle was a teacher with how he handled himself on and off of the field; can Danks fill that role? 
We may not know that yet, but Sox fans shouldn't worry much. John Danks is ready to be your ace and that is not a bad thing.