Mayweather vs. Pacquiao: How Fans Can Force the Fight to Happen Now
January 13, 2012

Ethan Miller/Getty Images
On an aside, this should be the last Pacquiao-Mayweather article I will be writing for some time.  I will write some articles about Floyd Mayweather, Jr. and I will write articles about Manny Pacquiao, but not together.  
At least not until the fight gets made.
There will also be fewer articles written about either fighter.  There are thousands of boxers competing today.  There has to be a few more stories worth writing that involve fighters who will face each other.
Every once in a while they might crop up, but only in the context of whatever fight they happen to be slated for.
And that is what boxing fans should do.
They should ignore the fight.
Part of the reason the fight hasn't happened yet is because both parties know that it is the one fight the fans crave.  For every article made, every forum post submitted and every mention it gets, the fighters and their advisers realize fans will wait.  
They can make more money postponing it and fighting other boxers than they can just squaring off against each other.
As long as the match matters to boxing fans they can use it to make money while doing the bare minimum to make it seem like it is could happen down the line.  The only way to stop them from taking advantage of us is to do one thing.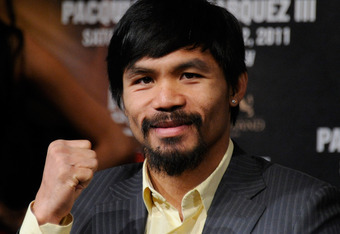 Ethan Miller/Getty Images
Stop caring.  
When that happens, it will lead to a panic from both sides because they will realize the fight will have passed them by.  If it no longer dominates boxing it will be healthier for the sport, but more damaging to both Pacquiao and Mayweather.
After all, the only reason both fighters aren't taking a match with the other is they know they can make money without them.  If fights dry up for them later they can make the match.  Fans will still pay to see it happen even if it is past due.
Unless boxing fans stop caring.  If they suddenly turn from both men and only engage them when necessary the fight would get done.  Mayweather and Pacquiao wouldn't dare fight anyone else because the lack of willingness to pay for other fights would force their hands.
A majority of fans pay to see both Pacquiao and Mayweather at this point to see them while they are still around and to see if one man looks weaker than the other did.  It's almost a way watching them in a phantom match.
It also costs twice as much as it would to see them fight each other.
The fight needs to get done, but like most things in life it will only happen when fans don't need to see it.
So let's remember that boxing is diverse and interesting and that the only people that benefit from all this posturing is Pacquiao and Mayweather.  The second it stops, a real buildup for their proposed match will start.
Until then fans have better things to talk about.