Pavel Datsyuk and the NHL's Midseason Award Winners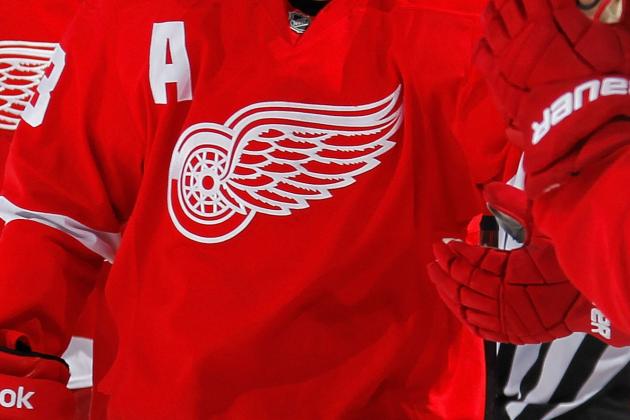 Gregory Shamus/Getty Images

At the end of every NHL season, just following the Stanley Cup Finals, the NHL conducts their annual awards for the season. These awards acknowledge many different players for their achievements. News on last years' awards can be read here.
Players are awarded for being the MVP to their team, gentlemanly play, best defensive forward, best goaltender and more.
We've just passed the midway point of the 2011-2012 NHL season and it's time to start speculating who's eligible for what awards and who's the current winner in each category.
With that said, it's time to look at the 2011-2012 Midseason NHL Awards.
Begin Slideshow

»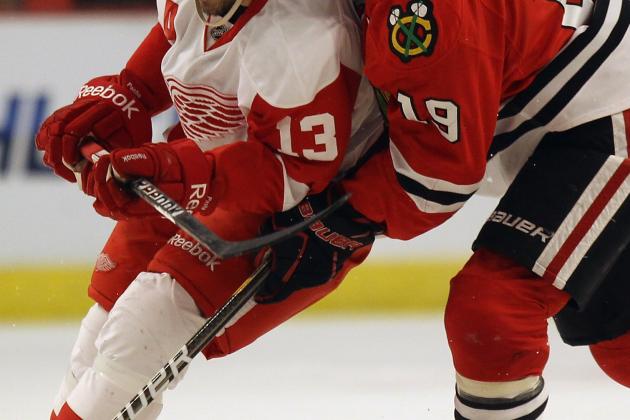 Jonathan Daniel/Getty Images

Description: The Frank J. Selke Trophy is awarded annually to the forward who shows an outstanding amount of defensive responsibility.
Patrice Bergeron: Bergeron has 36 points in 40 games. His plus-27 rating is even better.
He's in the middle of nowhere among Selke hopefuls when it comes to takeaways, with just 26 on the season, but his 57.6% faceoff percentage, 37 hits and 32 blocked shots are enough to get him in the Selke race.
Pavel Datsyuk: Datsyuk is arguably the best player in the NHL these days. With 44 points in 42 games, his offensive play certainly isn't lacking.
What's more remarkable though, is Datsyuk's defensive play. He wins 55.7% of his faceoffs and he leads the league with 60 takeaways.
He also has 49 hits to go with his 16 blocked shots, all to help his case for what would be his fourth Selke trophy in five years.
Jonathan Toews: Since being drafted to the Blackhawks, Toews has been their MVP every year. Offensively, he has 43 points in 44 games.
Defensively, he's nipping at Datsyuk's heels with 59 takeaways. His faceoff percentage is a stellar 61.4%, and he has 13 blocked shots. Toews loses ground with his 21 hits though.
Winner: Close decision between Toews and Datsyuk. They're neck and neck in takeaways. Toews has a better faceoff percentage while Datsyuk is better at hitting.
Close call, but it's likely that Datsyuk pulls away in the takeaway category as usual, so the winner of the Frank J. Selke Trophy is Pavel Datsyuk.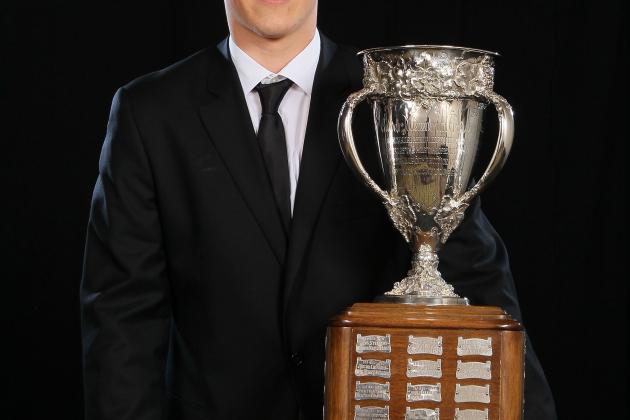 Jeff Gross/Getty Images

Description: The Calder Memorial Trophy is awarded annually to the rookie who has the best debut season in the NHL.
Ryan Nugent-Hopkins: RNH has had an amazing offensive year for the Edmonton Oilers.
He may be even in terms of plus/minus, but 35 points in 38 games is pretty damn good for an offensively challenged Oilers team.
Adam Henrique: Henrique is on Nugent-Hopkins' heels for the scoring lead among rookies. The New Jersey Devils' forward has 34 points in 40 games an posts a plus-nine rating.
Keep an eye on Henrique to see if he can pass RNH in the future.
Craig Smith: Smith may be the most underrated rookie in the league.
26 points in 42 games may not compare to Henrique and Nugent-Hopinks, but when you consider the fact that Smith plays on a Predators team that has been offensively challenged for years, it's a little better than it looks.
Winner: Henrique has certainly made the award a lot more debatable than it was a month ago, but until he can take a distinct lead in the points category, the Calder goes to Ryan Nugent-Hopkins.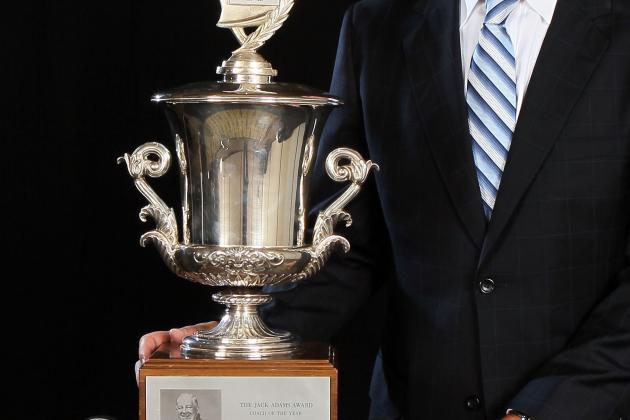 Jeff Gross/Getty Images

Description: The Jack Adams Award is awarded annually to the coach who exhibits the biggest contribution to the success of his team.
John Tortorella: Torts has done an amazing job with the Rangers this year. Although they're just a point back from the Vancouver Canucks to take the league lead, the Rangers have four games in hand on the Canucks, and hold games in hand over most other NHL teams.
Tortorella has coached the Rangers to being the second-ranked defensive team in the NHL, and they allow just two goals per game. Obviously, goaltender Henrik Lundqvist has a lot to do with that, but some credit can still be given to the coach.
Paul MacLean: Raise your hand if you thought the Ottawa Senators were going to make the playoffs this year. We shouldn't count our chickens before they hatch, but the Sens are currently in fifth place in the Eastern Conference.
Just over halfway through the season, the former Red Wings assistant has the Sens just 20 points from where they finished last season. When you make no major additions to the roster, that's a pretty big deal.
Ken Hitchcock: Talk about a turnaround. This is like a before and after picture (which is coincidental considering how much weight Hitchcock has lost):
Before: 6-7-0
After: 19-5-6
If you're confused, that's St. Louis' record before and after hiring Ken Hitchcock. Pretty amazing change huh? The Blues are currently second in the ultra-competitive Central division (who saw that coming?) and are also tied for second with John Tortorella's Rangers in team defense.
Not bad for a guy who was a blacklisted coach just a year ago, and was considering taking an assistant's role in Detroit...
Winner: No matter how good Torts has done with the Rags, the turnaround that the Blue have made makes the undeniable winner Ken Hitchcock.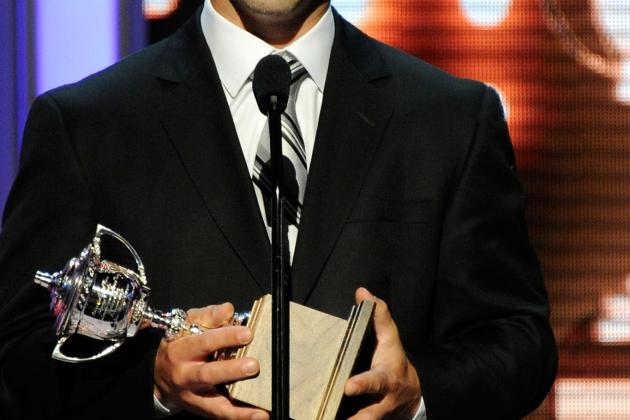 Ethan Miller/Getty Images

Description: The Lady Byng Memorial Trophy is awarded annually to a skilled NHL player who exhibits an attitude of sportsmanship and gentlemanly play.
Nominees: Unfortunately, at this time of the year, the Lady Byng winner is impossible to predict. At any point in the season, a player in contention for the trophy could get into a fight and disqualify themselves from the award.
Common nominees who you can expect to see in this years nomination for the award include Pavel Datsyuk, Martin St. Louis and Brad Richards.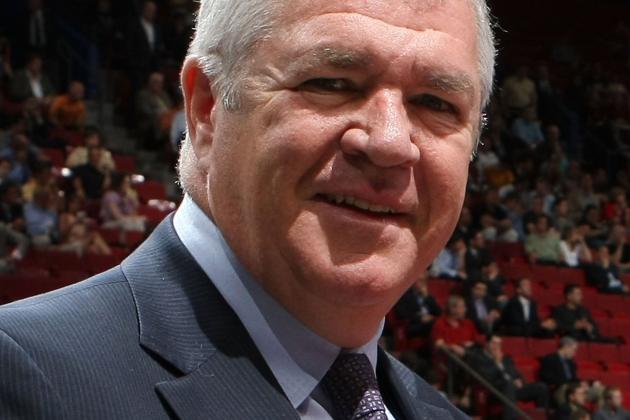 Bruce Bennett/Getty Images

Description: The General Manager of the Year Award is awarded to the general manager who does the best job at building and improving a NHL hockey team.
Brian Burke: Burke has done a pretty good job with the Leafs. Halfway through the seasons, the Leafs are seventh overall in the Eastern Conference. Not bad for a team who was a long way out of the playoffs last year.
Glen Sather: Glen Sather gets a nomination simply to make up for all the bad decisions he's made in the past.
First, there's signing Scott Gomez to a $7 million contract, even if he was crafty enough to trade him away. Then, there was the Wade Redden contract. Or you could mention the Chris Drury contract too.
All those poor choices are in the past (minus what they pay for Drury's buyout) and the Rags are on top of the East. Maybe Sather doesn't make such bad calls after all.
Dale Tallon: What didn't this guy do over the offseason? Sure, he picked up an albatross contract in Brian Campbell, but Campbell has actually played very well this season.
Other than that? He signed Ed Jovanowski. And Tomas Fleischmann. And he got Kris Versteeg.
What's the payoff? The Florida Panthers went from worst in the Eastern Conference last season to sitting atop the South East division.
Winner: No question, and no explanation need. Dale Tallon.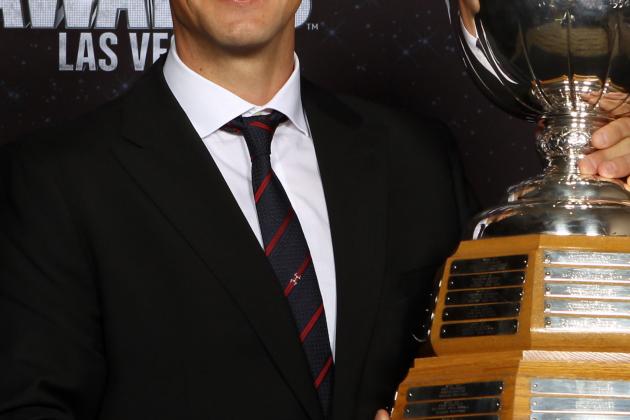 Bruce Bennett/Getty Images

Description: The James Norris Memorial Trophy is awarded annually to the league's best defenseman.
Nicklas Lidstrom: If you're looking for the fountain of youth, the first guy to interrogate for information would be Nicklas Lidstrom. At 41 years old, Lidstrom is better now than most defenders wish they could be in their prime.
This season, Lidstrom's offensive numbers have taken a bit of a dip, only posting 23 points in 43 games. Regardless, his defensive play makes up for it. He's a plus-19, and he has 16 takeaways while only surrendering the puck to the opposition 13 times.
While only posting 24 hits on the season, Lidstrom does have a nice 54 blocked shots.
If "The Perfect Human" were to win the Norris Trophy this season, it would tie him in all time Norris wins with the great Bobby Orr.
Shea Weber: I've said it before, but it doesn't hurt to repeat. Shea Weber is the best defender in the NHL under the age of 30.
Weber has an impressive 31 points in 39 games. His plus-12 rating is great considering the Predators ratings as a team. Defensively, he does have a few more giveaways (31) than takeaways (25) but his 76 hits and 59 blocked shots easily make up for it.
Erik Karlsson: This would be Erik Karlsson's first nomination for the Norris Trophy, and if he keeps up his current play, it probably won't be the last in his career.
Halfway through the season, Karlsson posts an unbelievable 43 points in 44 games. He leads defenders in takeaways, with 37, but it's still a number lower than his giveaway count, which sits at 44.
At this point in the season, Karlsson is a for-sure Norris nominee, but his hit total (33) and blocked shots (37) may hurt him as well.
Winner: Unless Lidstrom puts up an ungodly point total (Which may not be out of his realm of potential), it's unlikely he gets the Norris nod this season.
Karlsson has more points than Weber, but his plus minus in comparison to his points suggests a big difference defensively, and for defenders fighting for a defensive trophy, Weber's hit and block totals outweigh Karlsson's superiority offensively.
Therefore, the Norris winner is Shea Weber.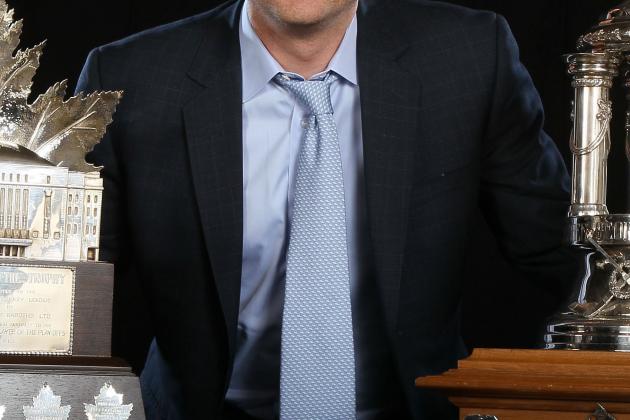 Jeff Gross/Getty Images

Description: The Vezina Trophy is awarded annually to the NHL's best goaltender.
Tim Thomas: Reigning Vezina winner and Conn Smythe Winner Tim Thomas is back at it again.
The Stanley Cup MVP currently has a .939 SV%, and he only has a mere 1.95 GPG average. Thomas has also won 18 of the 26 games he has started in.
Henrik Lundqvist: Lundqvist needs a "put the team on my back" video made in his honor. He's easily the MVP for Eastern Conference leading New York Rangers.
King Henrik's 1.89 GAA and .937 SV% are amazing, and while his save percentage is slightly under Tim Thomas', when you take into consideration his five extra starts, it's understandable.
Jimmy Howard: Howard has been sensational this year. His .924 SV% and 2.04 GAA may be distant from Thomas and Lundqvist's numbers, but Howard is still every bit Vezina worthy.
Take into consideration that he's started 36 of Detroit's 43 games, and has six more wins than Lundqvist. (7 more than Thomas)
On his current pace, Howard is slated to win 48 games. Of course, he'll start less games in the second half of the season, but that's still an outstanding number.
Winner: Unless Howard can improve his save percentage, he wont win. Lundqvist has a considerable amount more starts than Thomas, so at this point, the win would go to Henrik Lundqvist.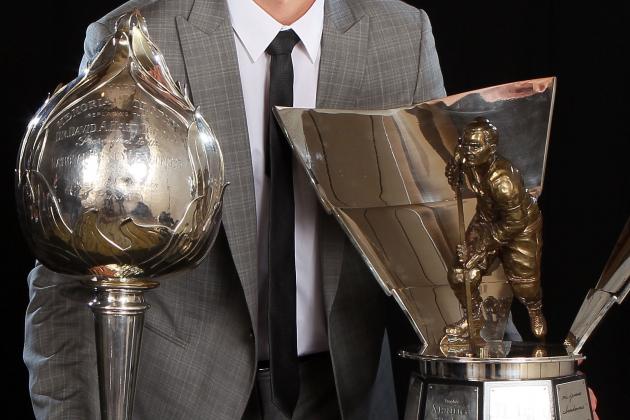 Jeff Gross/Getty Images

Description: The Hart Memorial Trophy is annually awarded to the player considered most valuable to his team.
Claude Giroux: Giroux has been absolutely outstanding this season, and he's legitimately solidifying his position as one of the NHL's best.
Currently, the forward nearly leads the scoring battle with 49 points despite playing in just 38 games this season. Despite his mere plus 3 rating, Giroux has been a force to be reckoned with on the ice this year.
Henrik Lundqvist: As it was stated earlier, Lundqvist has been the MVP of the Rangers. They'd still be a playoff team without him, but it's unlikely that they'd be doing nearly as well as they are now if he weren't providing his services.
Lundqvist currently has a .937 SV% and a 1.89 GAA.
Evgeni Malkin: Although the Penguins aren't even in a playoff spot right now, Evgeni Malkin deserves recognition.
Returning two months earlier than expected from a torn ACL, Malkin has played just 35 games this season, but in that time he's posted 45 points.
It's worth mentioning that he plays on a team that has been eaten by the injury bug moreso than just bitten. Sidney Crosby and Kris Letang have sat out a good chunk of the season with concussions, while Jordan Staal will be out until mid-February and James Neal is playing with a bone bruise.
Winner: Unfortunately for Malkin, non-playoff teams usually don't house the Hart winner.
Lundqvist is having an outstanding season, but his numbers aren't any better than Tim Thomas' were last season. If Thomas didn't win, Lundqvist certainly won't.
Therefore, your winner of the Hart trophy is Claude Giroux.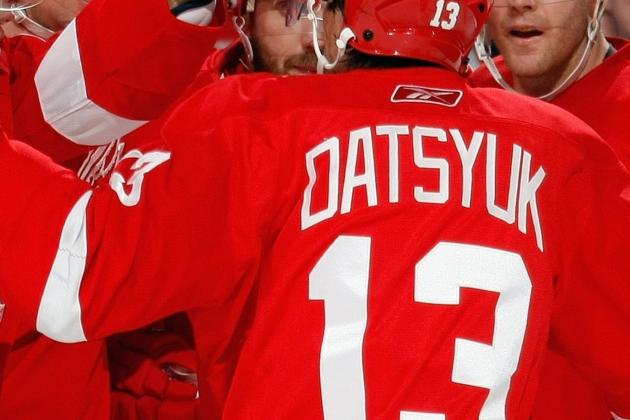 Gregory Shamus/Getty Images