Manchester City Transfer Rumours: Blues Saddled with Tevez After Pato Loss
January 13, 2012

Michael Regan/Getty Images
Manchester City will have to house that blight on its season a while longer as Alexandre Pato has recommitted to Italian side AC Milan. 
The Daily Mail reports that City's proposed deal for the Milan star has collapsed. The Brazilian international was supposed to leave for Paris St-Germain, but will instead stay in Italy where he feels he belongs. 
The hope for City was that Milan would take their malcontent, Tevez, off their hands once Pato's departure left Milan without depth up front. 
If you wanted to know who the polar opposite to the want-away striker would be, it's Pato, who has proven loyalty does exist. More than that, his club actually wants him back. 
That is far more than Tevez can say as his stay with City continues to put a pall on a season already rife with disasters. City may hold the top of the Premiership table, but have suffered some amazing defeats along the way. 
Their failure to stay afloat in the Champions League was a huge blow to a side that had big expectations for this season. And then there was Tevez who continued to defy his club's wishes.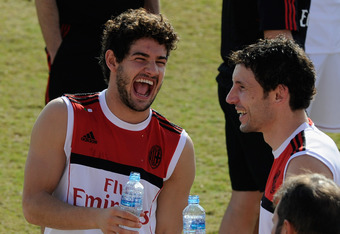 Claudio Villa/Getty Images
Milan offered them a safety valve where they could finally relieve themselves of a forward who had no wish to stay in Manchester. 
As the report states, "Tevez, who returned to his homeland in November without City's permission and is yet to report back to training, is under contract until June 2014."
While Pato stays with Milan to what one would assume is great fanfare, Tevez continues with his current club. Only his supporters and those that pay him wish he would just leave. 
No amount of talent or form can save Tevez now. The key is to find another sucker willing to take a chance that Tevez can regain some sense of loyalty on another team. 
Milan lucked out with Pato's change of heart. They get to keep their star striker and don't have to put up with any of the bull that would most likely be drummed up had they landed Tevez. 
For now, City remains the club for Carlos Tevez, against the better wishes of just about everyone.