Landon Donovan's Top 10 Moments for Everton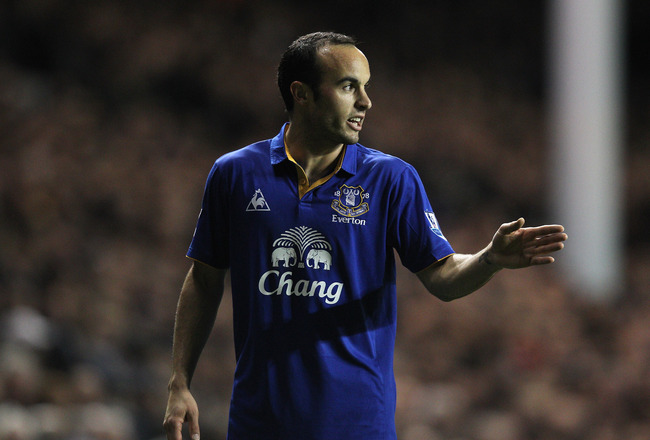 Dean Mouhtaropoulos/Getty Images
Already with two losses just three games into his short loan spell, Landon Donovan's return to Everton hasn't yet brought the kind of immediate success fans were hoping for. With this sour start in mind, perhaps it would be wise to consider the past and revel in Donovan's delights gone by.
To be fair, the man can only be expected to do so much on a side with this many offensive inadequacies. The 29-year-old American has shown flashes of the form that won him many Evertonian hearts back in 2010, but the crowd is still calling out for more.
While we wait for St. Landon to bless the team with his creativity, passion and hopefully goal-scoring ability, let us ruminate on his top 10 moments in Everton blue.
To set the mood, I ask each reader to play your favorite rendition of "The Star-Spangled Banner" in the background.
Everyone got one? Alright, let's begin, keeping in mind that this list is in chronological order. I leave the comments section for the lot of you to judge which particular moment was your favorite.
December 2009: Donovan Joins Everton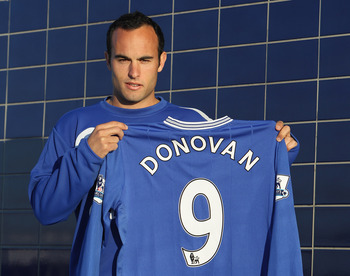 Alex Livesey/Getty Images
Every legend has a beginning, and on December 18, 2009, Landon Donovan began his at Everton.
With his star quickly rising in America, the then 27-year-old wanted another go at top-flight European football to erase the bitter memories of his time in Germany.
Whatever his reasons for joining the People's Club were, be it for the fantastic atmosphere at Goodison, love of Chang beer, or the chance to play with international teammate Tim Howard, is beside the point. Donovan's arrival brought Everton to the attention of many nascent American football fans, raising the team's international profile.
As Donovan kits slowly slid off store shelves, the stage was set for a memorable two and a half month loan.
January 9, 2010: Donovan Assists Leon Osman vs. Arsenal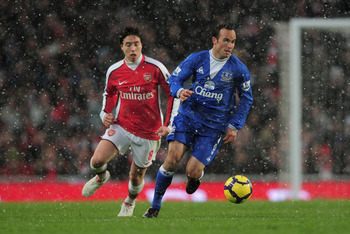 Shaun Botterill/Getty Images
In his first game rocking Toffee royal blue, Landon Donovan recorded his first assist on a Leon Osman goal during a 2-2 draw against Arsenal.
With the Emirates looking on, Donovan's scintillating corner found Osman's head well placed in the center of the box. The Englishman did the rest, beating the keeper and giving Everton a 1-0 lead.
Tomas Rosicky's second-half stoppage time goal deprived Everton of a hard-fought 2-1 win, but it was still a marvelous start for Donovan.
January 16, 2010: Donovan Debuts at Goodson Park vs. Man City
Alex Livesey/Getty Images
While he didn't produce much end product, Landon Donovan's first run around Goodison Park left a positive imprint in the minds of many Evertonians. A 2-0 victory will do that for a player.
But it wasn't just the result that pleased Everton onlookers. Donovan couldn't manage a goal or assist, but his admirable work rate and excellent up-field vision left fans salivating. He was unlucky not to finish off not one, but two chances on goal after some inspired combination play with Louis Saha around the 20-minute mark.
It wasn't his finest performance for the Toffees, but as first impressions go, Donovan couldn't have done much better.
January 27, 2010: Donovan Scores First Premier League Goal vs. Sunderland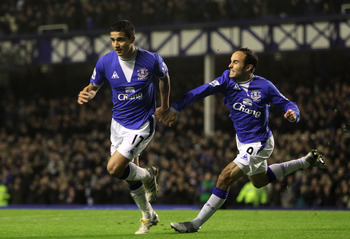 Mark Thompson/Getty Images
A classic moment in Landon Donovan's career at Everton, the American earned his first Premier League goal in a 2-0 win over Sunderland.
To a collective roar at Goodison Park, Donovan beat the opposing keeper with a coolly taken left-footed finish after a nice chest trap.
It would be the first of two goals he would score while on loan in 2010.
February 10, 2010: Donovan Assists Louis Saha V. Chelsea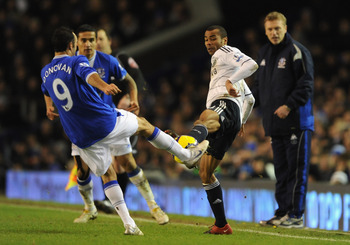 Michael Regan/Getty Images
Again bagging an assist from a well-taken corner, Landon Donovan found Louis Saha in the box to beat Petr Cech and tie Chelsea at 1-1 in Goodison Park.
It was Saha's first goal of the day, but not his last. The Frenchman scored again in the 74th minute to give the Toffees a 2-1 victory over the other Blues.
The margin could have been wider, and Saha could have had his hat trick. Donovan drew a penalty with an adventurous run into the Chelsea box, but Cech saved Saha's penalty.
March 7, 2010: Donovan Scores vs. Hull
Laurence Griffiths/Getty Images
Landon Donovan wasted no time scoring his second goal for Everton in a substitute role, finding the back of the net just 12 minutes after he took the pitch in the 69th minute for Victor Anichebe.
Leighton Baines sent a teasing cross in from the left that fell right to the feet of a streaking Donovan from the opposite side. Needing no further invitation, the American tucked the ball sweetly inside the far post, giving Everton a 4-1 advantage over outmatched Hull.
But even with only nine minutes of regular time to play, Donovan wasn't done…
March 7, 2010: Donovan Assists Jack Rodwell vs. Hull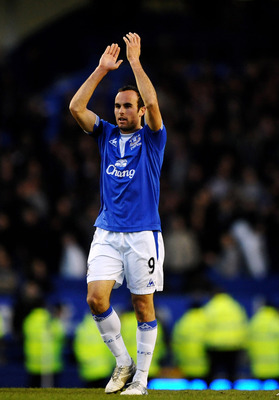 Laurence Griffiths/Getty Images
To complete his last game in front of the home fans, Landon Donovan followed up his 81st minute strike against Hull with an assist on Jack Rodwell's goal minutes later.
Collecting a ball played again to him on the right, Donovan calmly spotted young Rodwell maneuvering into the box. The American casually centered the ball to him and Rodwell did the rest with his right foot. The match finished 5-1, powered by Mikel Arteta's brace.
It was an excellent sendoff for Donovan and those memories probably influenced his return.
December 2011: Donovan Joins Everton (Again)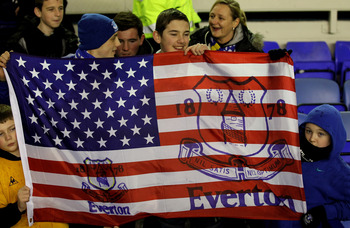 Alex Livesey/Getty Images
Many wanted it, but few dared hope that Landon Donovan would return. Fortunately, return he did, with his second coming heralded as the possible antidote for Everton's anemic attack.
It was initially unclear if Donovan would seek a second term with the club, after a grueling but successful MLS playoff campaign and World Cup qualifying just around the corner. But, like it is for most, the allure of Goodison was too much to keep the American at home.
Signed again for a two-month loan deal, Donovan brings balance to a midfield dominated by the electric Royston Drenthe. Now opposition will have to pick their poison with the two creators likely playing on opposite wings.
While the jury is still out on the success of this moment, one cannot deny that it brought an air of positivity to a struggling mid-table team.
January 4, 2012: Donovan Debuts vs. Bolton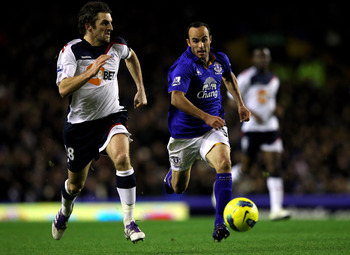 Alex Livesey/Getty Images
Landon Donovan's second loan spell debut was marked not by anything he did, but was done by his countryman Tim Howard. Rarely is one treated to the sight of one goalkeeper scoring on another, yet that's exactly what Howard did to secure a fleeting 1-0 lead.
Still, Donovan did not disappoint entirely. Despite the wind, his performance was fairly steady, with a couple of creative ideas that never fully materialized.
While the final 2-1 score line was disappointing, especially considering that Everton had already beaten the Trotters away this season, Donovan's presence balanced the bad with the good.
January 7, 2010: Donovan Assists Johnny Heitinga vs. Tamworth
Landon Donovan got a taste of F.A. Cup play against non-league Tamworth and immediately made an impact, feeding Mad Dog Johnny Heitinga in the fourth minute from the corner.
It was just another example of how effective Donovan has been for Everton from the corner, with three of his four assists coming from a corner set piece. Odds are that he'll be taking them from now on when he's on the pitch.
There are plenty of games left for St. Landon to add to his list of memorable Everton moments. Here's hoping that he creates an entirely new top 10 in the coming weeks.
Keep Reading

Everton: Like this team?