Chicago White Sox: Power Ranking the Franchise's Top 7 Prospects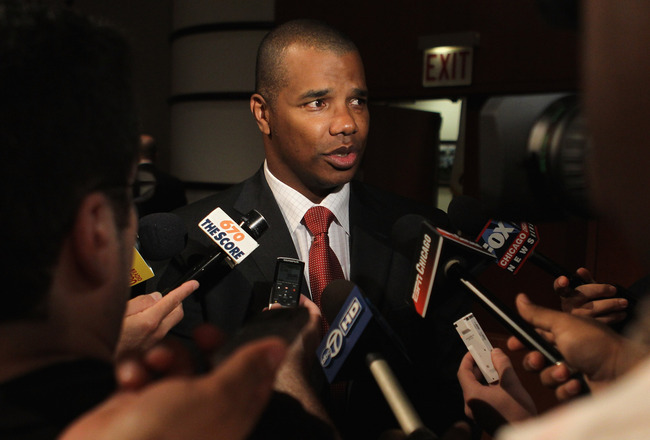 Kenny Williams has a tough task rebuilding a depleted system
Jonathan Daniel/Getty Images
Despite general manager Kenny Williams' espoused goal to rebuild in 2012, the White Sox's farm system looks bleak.
Organizational rankings everywhere have been painting a dismal picture. Although Bill James ranked the White Sox as being a top 10 team in his "Young Talent Index" in 2009, most of those young players now play at the major league level and their replacements in the minors look grim.
John Sickels' organizational report ranks only two prospects above a C+ grade and only 10 above a C. Kevin Goldstein's report for Baseball Prospectus is forthcoming, but is sure to follow suit.
And White Sox fan page Southside Sox's top-10 prospects rankings show an organization filled with marginal talent, even at its highest levels.
Does this spell doom for Williams' rebuilding project?
Not necessarily. The White Sox general manager has made a living out of making more out of less prospect-wise, and pitching coach Don Cooper thrives on reclamation projects.
The White Sox have also made recent moves to rebuild their flagging farm system, trading Carlos Quentin for pitching prospects and signing a 17-year-old Venezuelan, all in the last two weeks. They're also hotly rumored to be pursuing Cuban phenom Yoenis Cespedes.
But for now, the system is what it is.
In ranking the White Sox's seven best prospects, I tried to consider the team's needs at the MLB level along with the raw tools and potential of each player. What follows are the White Sox's best prospects as I see them.
7. Tyler Saladino, SS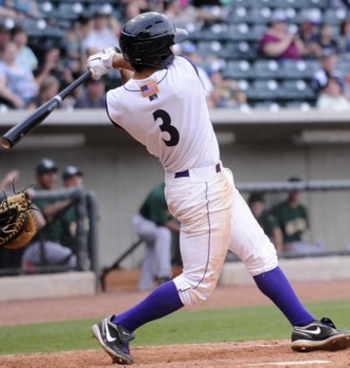 Saladino is a shortstop, but he may slide over to second before he reaches the show.
The White Sox have young players at the MLB level at both middle infield positions, but if he continues to show the power and patience he showed in 2011 for Winston-Salem, this could be a good problem for Kenny Williams, particularly if Gordon Beckham continues to struggle.
Some scouts see defensive issues, but his power and strikeout rates are promising for a middle infielder. He won't see big league time in 2012, but could be a September call-up candidate in 2013 if he keeps improving.
6. Kevan Smith, C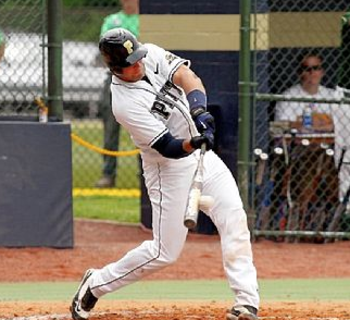 Baseball America and Southside Sox don't have Smith ranked, which is understandable given that he's 23 years old and just now seeing rookie ball, but considering A.J. Pierzynski's ever-increasing age, he seems a good bet to contribute at the major league level in the future.
Smith shows promising defensive skills, something the White Sox have traditionally valued behind the plate, Pierzynski notwithstanding. And Smith's 2011 numbers (.355/.448/.626) are something to build on, even if they represent just a small piece of the puzzle.
5. Trayce Thompson, CF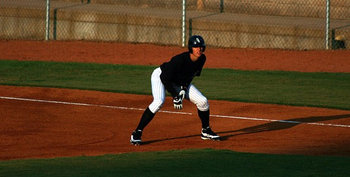 Thompson is the kind of player Kenny Williams loves. A former basketball star, Thompson is a bundle of tools and athletic ability.
Whether that bodes well for his major league future is unclear. Many of Williams' prototypical athletes (Jerry Owens, Jared Mitchell, Josh Fields) stalled in development.
But Thompson is 21, plays a position of traditional need in the White Sox organization and has great potential to grow.
Sickels calls him the "highest-ceiling bat" in the organization. His minor league numbers have been unimpressive so far, but watch for Williams to show patience and preference as his career proceeds.
If he can show pro potential, he'll get his shot. He strikes out a lot.
4. Hector Santiago, LHP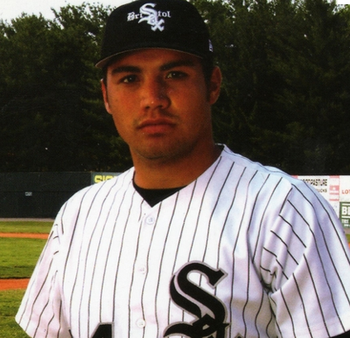 Santiago had a cup of coffee in 2011, striking out two and walking one in 5.1 innings in July. This doesn't mean much for his career, but it does show that his addition of a screwball to a plus-fastball in the low 90s has earned him Williams' favor going forward.
The loss of Sergio Santos and Jason Frasor and the much-discussed move of Chris Sale to the rotation means that the White Sox will be in need of middle relief, both to replace the loss of relievers and to spell young starters when they struggle.
It would be nice if Santiago could improve his changeup or slider to third-pitch status, but even as is, I wouldn't be shocked to see him get significant innings in 2012.
3. Simon Castro, RHP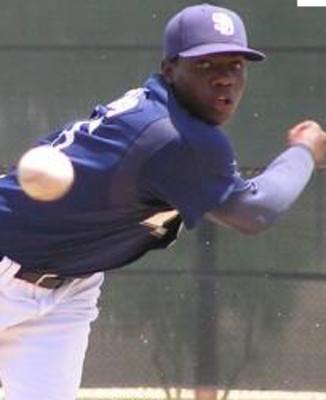 As has been the routine this offseason, Castro came to the White Sox in the Carlos Quentin trade only to vault to the top echelon of their talent pool.
Like Santiago, Castro's third pitch (changeup) is weaker than his plus-fastball and plus-slider, but the White Sox seem to see him as a starter, perhaps because of his frame (6'5", 210 pounds).
According to David Reiffer, that length gives his mid-90s fastball a strong downward bite, which can create swings and misses.
Castro has struggled with command in the PCL, but he seems like a strong candidate for a Cooper reclamation project, as he has a strong track record of straightening out pitchers with command and control problems in the past (Gavin Floyd, Matt Thornton, Bobby Jenks).
2. Addison Reed, RHP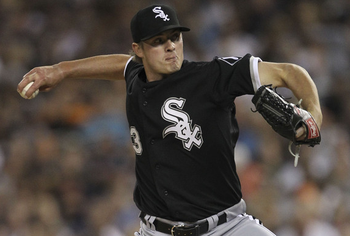 I have high hopes for Reed. I know, I know: There's no such thing as a pitching prospect. But Sickels called Reed "the best closing prospect in baseball," and his strikeout-to-walk ratio portends a successful relief ace.
His numbers as a September call-up (12 strikeouts, one walk) don't do anything to dispel the notion that Reed has exceptional command of an overpowering fastball that can touch 97 mph, and a plus-slider gives him a strong out pitch.
The fastball/slider combination is a powerful 1-2 for MLB closers (think Francisco Rodriguez) if a reliever can throw them both for strikes, and Reed's control and command have been outstanding at all levels.
Reed has an outstanding chance to make the major-league roster next season out of spring training and with Santos gone, he could very well play a key bullpen role for the White Sox in the upcoming season.
1. Nestor Molina, RHP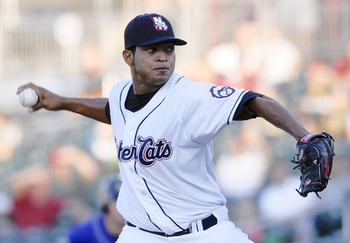 You could make a compelling case for Reed over Molina, and from a stuff standpoint, you'd probably be right. But for the time being, Molina is being discussed as a major league starter and the White Sox need starters. Badly.
Williams loves other teams' prospects, and his decision to trade the relatively under-priced and overpowering Santos in the midst of a rebuilding year seems to show that he really loved Molina. Although he's not an elite prospect, it's easy to see why Molina inspires confidence in Williams.
He's a ground ball pitcher with a deceptive delivery and exceptional control of his low-90s fastball. He can throw variations on his No. 1 pitch, including a heavy sinking fastball which should play well in U.S. Cellular Field.
His out pitch is his splitter and he is working to develop a slider, though it's still a work in progress.
The variation, control and ground ball tendencies should allow him to stay slotted at starter. If he can stay there, he could be a valuable part of the White Sox in a year or two.
Keep Reading

Chicago White Sox: Like this team?