Texans vs. Ravens: 5 Matchups Houston Must Exploit on Sunday Against Baltimore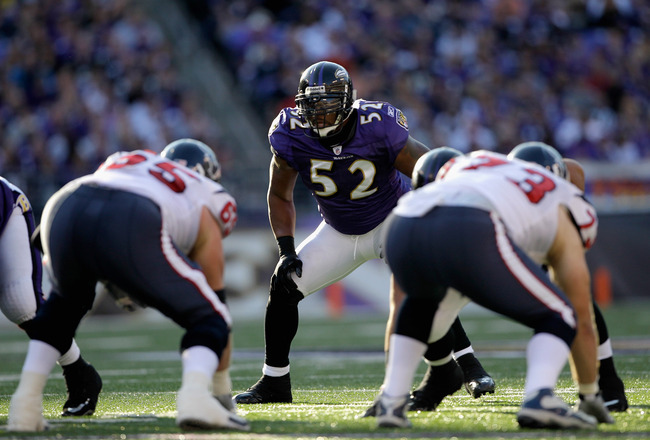 Rob Carr/Getty Images
Even if it is an extremely overused statement, it's safe to call this Sunday's game in Baltimore the biggest one in franchise history.
Headed into M&T Bank Stadium this weekend sees the Houston Texans as currently 7.5-point road underdogs, as expected. Houston is 0-5 all-time against the Baltimore Ravens and Baltimore has only lost once at this park in the past two seasons, including 8-0 this year.
But there are several matchups in this game to think the Texans have the advantage in and in fact, both of these teams are more comparable than one would think. For Houston to have a shot in this game, they're going to have to win a few of these matchups and we're going to take a look at some key ones now.
The Offensive Line Needs to Contain Ngata and Suggs
Rob Carr/Getty Images
In the recent past, I've been over how big of a fan and believer I am of Haloti Ngata. If I'm starting an NFL team from scratch and any player is available, I'm taking Ngata No. 1 overall to anchor my defense.
This also presents the idea that I am scared as hell of him in this game. Terrell Suggs isn't a slouch, either. With Duane Brown having an All-Pro-type season, I feel good about his matchup with Suggs, but Chris Myers and Mike Brisiel tried holding down Nagata in Week 6 and were pretty unsuccessful.
The bottom line on these two guys is that you aren't going to shut them down and completely stop them. Ever. But you can hope to contain them and run the ball well to keep them from killing your quarterback. If Houston can contain them enough to open up the run game a little, this give T.J. Yates the time and protection he's going to need to pull off this upset.
The Running Game Has to Exhaust the Linebackers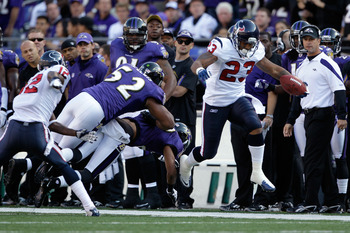 Rob Carr/Getty Images
By now, everyone knows that the Texans' bread and butter lies in their running game and namely on the legs of Arian Foster. But I expect to see a decent-sized dose of Ben Tate in this game for a change of pace and to keep Arian fresh from the pounding that the Ravens front line will surely be giving him.
We all know that Baltimore is extremely good against the run and gave Foster fits in their last meeting, but I believe we will see a different approach this Sunday. Much like the Monday night thriller that these two played late last year, Houston will try to wear out and exhaust the Ravens linebackers by running the ball to the outside and maybe even going no-huddle. I still will never forget the vision of seeing Terrell Suggs, Ray Lewis and Haloti Ngata on their knees sucking wind during that furious Texans comeback and I wouldn't mind seeing it replicated.
Sure, they tried to run it outside last time and it didn't work too well. But they were also able to stack the box without some guy named Andre Johnson keeping the safety honest. If Houston is unable to run the ball outside or between the tackles on just the front seven, it could be a long day for Houston. They need to wear out some of the older guys on the Ravens defense.
The Pass Rush Must Force Joe Flacco into Mistakes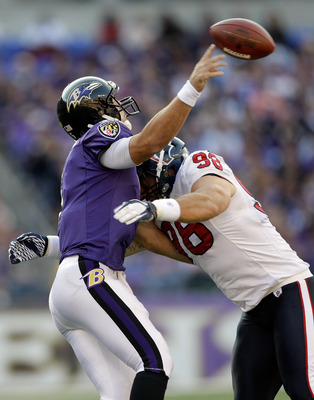 Rob Carr/Getty Images
It's no secret to anyone who has read anything I've wrote the past three years that I'm not a big believer in Ravens quarterback Joe Flacco. It's not really a bold statement anymore as even Ravens fans don't even attempt to defend him at this point.
But the fact remains that the last time these two met, Flacoo had a big game. He threw for over 300 yards and even beat Johnathan Joseph deep a couple of times. But to believe that will happen again is hard to swallow.
It seemed like that whole game the Texans pass rush was a second too late at bringing Flacco down and they still forced him into mistakes. The thing about Flacco is that he is a turnover machine. He doesn't always know when to throw the ball away, fall on it or hang onto it. He fumbles just as much as he is intercepted, and once in a while he has that "who the hell was he throwing to?" moment.
The pass rush must get to him consistently on Sunday and force him to make a bad throw that could change the momentum of the game, much like they did to Andy Dalton last week.
Win the Turnover Battle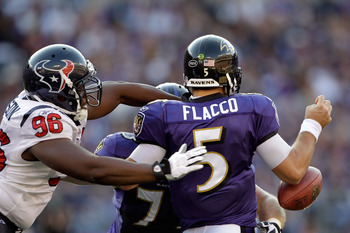 Rob Carr/Getty Images
As I mentioned in the last slide, Joe Flacco is responsible for a large number of turnovers this season, but the Baltimore defense is also one of the best at taking the ball away. For the year they were plus-two with 26 total takeaways.
In case you missed it though, the Texans were quite successful at turning the opposition over as well. They forced 27 turnovers (30 if you count the three last week) and ended the year at plus-seven.
When you're playing on the road in an environment as tough as M&T Bank Stadium, you aren't going to win if you lose the turnover battle. And when you have a rookie quarterback out there against the toughest defense he has yet to see at this level, there are going to be some mistakes and probably a turnover or two.
Again, it goes back to getting pressure on Flacco and forcing him into making a mistake or three. But it also means that Arian Foster or Ben Tate need to be running with the three points of pressure on the ball this week. They can ill afford to put the ball on the turf.
Andre Johnson Needs to Be the Primary Option on Offense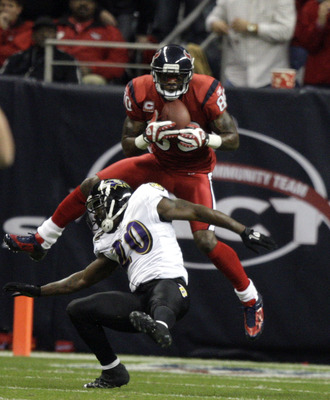 Bob Levey/Getty Images
We saw last week that Andre Johnson still had some rust to kick off. We also saw that a rusty game for Andre is a 90-yard day with a long touchdown reception. Johnson's worst day is better than most wide receivers' best day and if he has kicked off the rust and is back healthy and 100 percent, watch out.
The big difference in that game in Week 6 is that Johnson was on the sideline in street clothes, unlike this week where he will be in pads and making the Baltimore secondary nervous. He immediately stretches the field and gives T.J. Yates an option downfield that Jacoby Jones or Kevin Walter never did.
Even though I think that Arian Foster and the Texans running game are the key to winning this and giving Yates ample time to throw the ball, I just get the feeling that Andre is about to reintroduce himself to a national audience and the team needs to get him the ball against a suspect Ravens secondary.
Lord knows he's waited long enough for this day.
Mike Kerns is a Featured Columnist for the Houston Texans at Bleacher Report. Feel free to follow him on Twitter and catch his latest Texans podcast at State of The Texans.
Keep Reading

Houston Texans: Like this team?