New York Knicks Report Card: Early Grades for Team's Key Players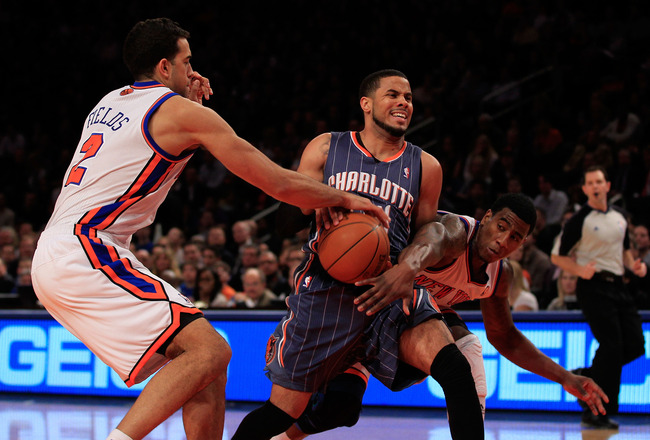 Landry Fields and Iman Shumpert received their grades today, but will their parents be proud?
Chris Trotman/Getty Images
Ten games are already in the books, with just 56 remaining, and, no, Dennis Green, the New York Knicks are not who we thought they were.
But at 6-4, things could be worse.
They've had their crowning moments, including a nail-biting victory delivered by Santa in Beantown; but there have been some low points as well—how about the uninspired blowout loss to the Andrew Bynum-less Lakers?
The Knicks were yo-yoing, and that yo-yo had just about hit the pavement when the first weekend of January came along. Having lost their last four out of five, panic mode set in; the crotchety Knicks faithful were calling for Mike D'Antoni's judgment day.
Completely outmuscled and outhustled by the Washington Wizards for the bulk of the contest, it appeared New York was heading straight for rock bottom. But none other than Carmelo Anthony bailed them out down the stretch, and the team narrowly escaped embarrassment in D.C.
Perhaps this was a wake-up call for the Knicks, as Saturday brought with it a 23-point walloping of the Pistons followed by revenge against Charlotte back home at the Garden on Monday. Last night's slugfest against the 76ers sure wasn't pretty, but the Knicks emerged triumphant, holding the 7-2 Sixers to a mere 79 points.
The first handful of games had been highlighted by typical D'Antoni-style defense, and it looked like fans were in for another long season. But suddenly, out of the blue, somebody lit a fire under their heinies. And evidently, Iman Shumpert was caught red-handed with the box of matches.
Having reduced their last four opponents to an average of 85.5 points per contest, the additions of Mike Woodson and Tyson Chandler are now beginning to make sense.
Sitting at second in the Atlantic Division and seventh in the Eastern Conference standings, no one would have predicted New York would be trailing teams like Indiana and Philadelphia. But then again, who would've thought Boston would be 4-5 and struggling to maintain its grip on that final playoff spot?
As is expected with an inconsistent team, the Knicks' rotational players have been shaky as well. While Anthony can always be counted on to score, the franchise will never reach its postseason goals if the supporting cast doesn't play its part.
An early ankle injury to Amar'e Stoudemire forced reserve Josh Harrellson into an unexpected major role off the bench. On the other hand, former star point guard Mike Bibby's on-court action has been minimized as a result of Shumpert's coming-out party.
While the season's still young and Baron Davis has yet to burst onto the scene, the first sixth of the schedule has provided a fairly good indication of where the key players stand. Rather than a report card, consider the following assessments as more of a progress report. As we proceed…
Toney Douglas (8.9 PTS, 2.5 REB, 2.8 AST, 1.1 STL, 0.0 BLK)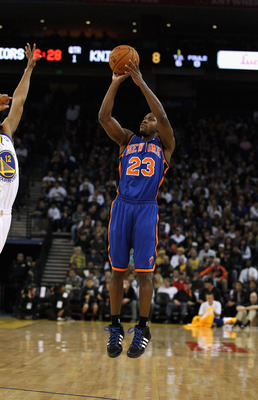 Ezra Shaw/Getty Images
If you've got any kind of soul, you have to feel bad for Toney Douglas.
Expectations coming into the season were sky-high for the third-year combo guard. He was the bridge to Baron Davis and would really have to assert himself and play out of character as a facilitator at the point for the Knicks to stay afloat.
The problem is Douglas is a shooter by trade, and penetrating the lane is not his forte—not exactly the recipe for replacing Chauncey Billups.
So when New York started losing and Douglas' cumulative field-goal percentage barely topped 30 percent, Mike D'Antoni threw rookie Iman Shumpert to the wolves and hasn't looked back since.
Having spent the offseason recovering from shoulder surgery, Douglas does not have the range of motion that he once did. As he battles through recovery, it's probably best he comes off the bench.
Besides, Douglas isn't a starter in this league, nor is he a point guard. From here on out, he should be utilized to provide an offensive spark with the second unit.
If Douglas can find his stroke, there's still plenty of time left for him to redeem himself and be an important asset as the season unfolds.
Grade: D-
Landry Fields (7.6 PTS, 3.4 REB, 2.7 AST, 1.5 STL, 0.3 BLK)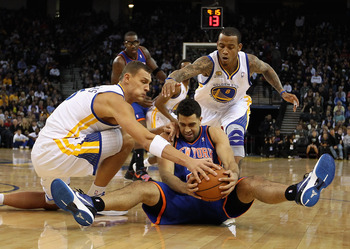 Ezra Shaw/Getty Images
Landry Fields is swiftly making a name for himself as the consummate role player—not that it's a bad thing.
Every team needs one. Someone who does a little bit of everything and isn't afraid to get his hands dirty on both ends of the floor. Many of Fields' accomplishments will go unnoticed, as they're invisible on the stat sheet, but they are the type of contributions that are invaluable in regards to the only numerical data that ultimately matters: the win column.
His scoring and rebounding are down from last year—attributed to playing alongside newcomers Carmelo Anthony and Tyson Chandler—but assists and steals are up. As long as Fields makes up for his lack of substance in some areas with increased production in others, he is still a serviceable asset on this roster and one that every championship-caliber team covets.
It'd be nice to see Fields take the reins more often offensively, as we grew accustomed to seeing last season. However, as long as number 7 is in the building, Fields' swag will not see the light of day. The sporadic spot-up three or fast-break jam will suffice.
If Fields can regain some of his mojo, he might make the honor roll next marking period.
Grade: C
Josh Harrellson (4.6 PTS, 4.3 REB, 0.5 AST, 0.7 STL, 0.6 BLK)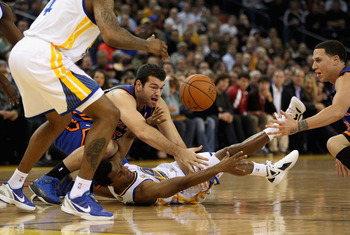 Ezra Shaw/Getty Images
Who's that giant white guy that Donnie Walsh must've tracked down in the backwoods of Appalachia? That's just Josh Harrellson, who only responded with 14 points (4-for-8 on three-pointers) and 12 rebounds in his first career start, which happened to be a blowout win at Sacramento.
Not even Nostradamus could've predicted Harrellson would've made an impact like that in only his fourth career appearance after playing a combined 29 minutes over the three prior.
The unheralded rookie out of Kentucky was essentially a draft-night gamble in which next to nothing was wagered to acquire his rights from New Orleans. The 6-foot-10, 275-pound Harrellson was a mountain of a man intended to fill the void of legitimate post players on the Knicks.
Nonetheless, the addition of Tyson Chandler and the re-signing of Jared Jeffries meant the probability of Harrellson hearing his number being called was slim to none. But in the blink of an eye, the stars aligned for Harrellson when Jeffries suffered an injury on opening day and Amar'e Stoudemire was sidelined soon after.
While Harrellson won't duplicate that performance versus the Kings on a nightly basis, he still has a significant role in the rotation even with a healthy Stoudemire, and he will likely steal minutes from Jeffries upon his return.
Harrellson is deceiving because he looks like he wouldn't be able to hit the broad side of a barn 10 feet from the basket, yet he is equally as comfortable knocking down a three as he is banging in the paint. Most importantly, he is an immovable object in the lane who can rebound and play respectable defense; Harrellson won't excite the crowd with devastating rejections, but he knows how to use his body to his advantage.
He still needs some polishing, but Harrellson is a true diamond, er, cubic zirconia in the rough.
Grade: B
Amar'e Stoudemire (21.0 PTS, 8.9 REB, 1.1 AST, 1.4 STL, 0.5 BLK)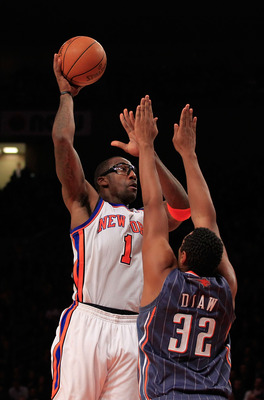 Chris Trotman/Getty Images
When Amar'e Stoudemire missed the fourth game of the season with a sprained ankle, the collective thought among Knicks fans was, "Oh no, here we go again."
After working so hard during the lockout to return from the back injury that immobilized him during the 2011 playoffs, the last thing Stoudemire needed was a bum ankle. In a shortened season, the Knicks can't afford to have Stoudemire lollygagging with Renaldo Balkman and Jeremy Lin at the end of the bench.
To everyone's delight, Stoudemire returned after a mere two-game absence without missing a beat. Although they lost to the Bobcats, Stoudemire's 25 points (52.6 field-goal percentage) and 12 rebounds were reassuring.
It appears that Carmelo Anthony competing for baskets with the "Renaissance Man" will have no bearing on Stoudemire's scoring output; last night, he notched his fifth consecutive 20-point performance in the win over the 76ers.
Over that same time span, Stoudemire is also shooting an adequate 45 percent from the field and hauling in almost 11 boards. On the downside, he has been less than stellar from a defensive perspective, but this is nothing we didn't already know.
As long as Stoudemire is cleaning the glass at that rate, his lack of defense is somewhat forgiven.
Grade: B+
Tyson Chandler (11.1 PTS, 9.0 REB, 1.1 AST, 1.2 STL, 1.7 BLK)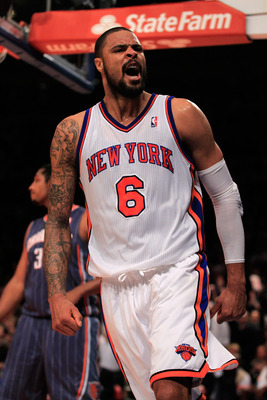 Chris Trotman/Getty Images
Tyson Chandler wasn't kidding when he said he would help restore the defensive attitude that has been so severely dormant that it—figuratively speaking—has caused Charles Oakley and Anthony Mason to roll over in their graves.
Chandler has become the quarterback of the defense—or middle linebacker—if you will, barking out commands and pointing to his teammates to make sure they're in the best possible position to keep their man from getting an uncontested bucket.
The center laid the groundwork from day one with his beastly six-block effort against the Celtics, and he hasn't sputtered since.
Apparently, as Chandler goes, so do the Knicks because during their current four-game winning streak, he has averaged 11.3 points and 12.5 rebounds. If Chandler can maintain a double-double with an ample side of blocks and steals, New York should be sitting pretty come spring.
Grade: A-
Carmelo Anthony (26.6 PTS, 6.5 REB, 4.5 AST, 1.4 STL, 0.5 BLK)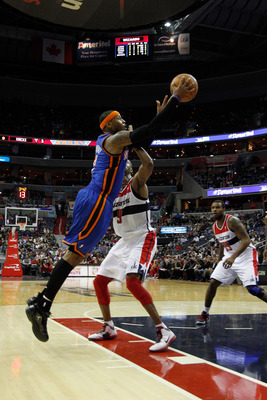 Rob Carr/Getty Images
We are well aware of the versatility of Carmelo Anthony's offensive skill set, but so far, he is staking his claim as the best all-around scorer in the NBA.
There are plenty of instances when even Anthony's teammates find themselves gawking as they forget this isn't some Sunday pickup game at the YMCA.
At this juncture, Anthony has been relied upon a bit too heavily to shoulder the scoring load. The Knicks are at their worst when a single pass is made to Anthony on the wing, and everyone watches in a trance until he makes a move.
On the other hand, the number of clutch shots Anthony has converted over the course of so few games is remarkable—almost making the argument against him going one-on-one trip after trip down the court a moot point.
Despite reaching a Kobe-esque 30 shot attempts twice this season, we've generally witnessed a new-and-improved Melo—one who is hyperactive on the glass and who's shown little hesitation in his willingness to involve his teammates in the flow.
And as much as we're mesmerized by his scoring prowess, the reality is the Knicks are at their best when Anthony spreads the love; he has managed a robust 5.5 assists per game, as New York has strung together four straight W's.
Anthony is also more active than ever on defense, which is a very encouraging sign. In fact, his average of 1.4 steals is higher than each of his previous eight seasons.
If Anthony plateaus at this level of play, success awaits as long as everyone surrounding him also exhibits such intensity.
Grade: A
Iman Shumpert (12.7 PTS, 4.0 REB, 3.5 AST, 2.2 STL, 0.5 BLK)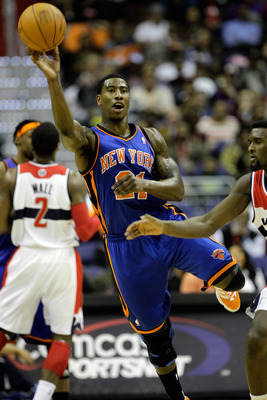 Rob Carr/Getty Images
Iman Shumpert's newest moniker should be "The Fire-Starter," because the Georgia Tech product has ignited a movement.
On Christmas Day, it became obvious former president of basketball operations Donnie Walsh had found something special in Shumpert that 16 other teams had overlooked at the 2011 NBA Draft. Prior to spraining his knee, Shumpert was simply a bolt of lightning—slashing to the basket, hounding his opponent on defense or soaring for a ball clanging off the rim.
Although Shumpert was carried off the court, his knee injury was not nearly as serious as it looked. After a two-to-four-week prognosis for recovery, Shumpert made his return in only 10 days and instantly breathed life into the team with a season-high 18 points and five boards in under 30 minutes of burn.
It was the next matchup against the winless Wizards that altered the course of the season; Mike D'Antoni removed an off-kilter Toney Douglas from the starting lineup and inserted Shumpert to begin the second half.
Shumpert rejuvenated the team, and they fed off his energy. He fulfilled the duties expected of a Knicks point guard—distributing the ball (seven assists) and playing smothering defense (five steals, one block).
Since Shumpert joined the starting five, New York has gone unbeaten, and it is not a coincidence. If he keeps this up and develops an undeniable chemistry with Anthony, Stoudemire, Chandler and Fields, Baron Davis might just be the honorary sixth man.
Grade: A+
Keep Reading

New York Knicks: Like this team?