Philadelphia Phillies: 3 Ways Amaro Could Have Spent Phillies' Money More Wisely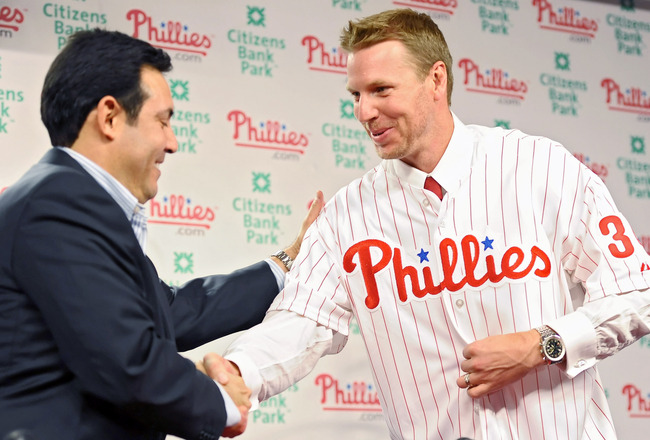 Among Amaro's best investments was Roy Halladay
Drew Hallowell/Getty Images
There is no doubt that Ruben Amaro has done what he could to get the best talent for his money. We have seen him bring in Roy Halladay, Cliff Lee twice, Roy Oswalt, Hunter Pence and Raul Ibanez, as well as allow Jimmy Rollins and Ryan Howard to remain icons of the franchise. The talent he has brought in is unprecedented in Phillies history.
Having said that, he could have spent it more wisely to maximize the talent he brought into the organization. This would have ultimately allowed him to of course bring in even more talent.
Here is a look at three key philosophy changes that would allow him to have spent more wisely.
Not Lock into Deals That Are Too Long in Years
Ibanez and Polanco are two guys the Phillies may have invested in for too long
Jonathan Daniel/Getty Images
Ruben Amaro will often give out a year too many on contracts for some of his signings, both off the free agent market and re-signing his own players.
Often times, they are aging veterans in decline. Raul Ibanez and Placido Polanco come to mind as candidates in this category. Each received a three-year deal, Ibanez's expiring last year Polanco's possibly expiring following this season, and each seems to no longer be worth the original value of the contract.
In theory, it makes sense for some teams that they would need to dish out maybe a year extra to reel in a free agent. But the Phillies are a different animal; they are a destination for players. Ibanez mentioned he got chills watching this team play. Polanco said he never wanted to leave after his first stint here. Jonathan Papelbon said he wanted to play for the Phillies and told his agent to do whatever he needed to make that happen.
Amaro has all the leverage; why does he need to throw in extra years to deals when the players want to come to him?
As far as re-signing internal players, Joe Blanton comes to mind as a deal that has been criticized, and probably deservedly so. In theory, it was nice to secure an "innings eater" with which the team had been familiar, but there really was no need to do so.
Remember, Philadelphia is a destination for players. For every Joe Blanton, there are 2-3 other Joe Blantons just in each of the other 29 teams' rotations. Should they need to move on, or Blanton not want to return after his arbitration years, the Phillies easily could have replaced him. Or they likely would have found Blanton wanting to return if there was no one better out there.
It is similar to how most of the supporting cast of the Miami Heat took huge pay cuts from their true value to come and join the team two summers ago. To them, that was the destination place to play, and it had the players with which they wanted to play.
That is what Philadelphia has become for the last five years or so, and Amaro seems to be spending as if he is general manager of the New York Mets.
Stop Being Market Setters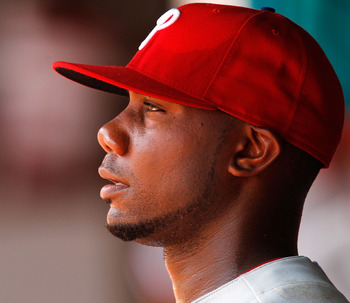 Ryan Howard's deal has greatly shaped what the market for slugging 1B is
Mike Ehrmann/Getty Images
For whatever reason, Ruben Amaro enjoys being the one the sets the market. No matter how far off the true value is in the existing market, Amaro has demonstrated a lack of concern for true value and that he often will sign a player to a deal that may be richer that the market would dictate.
An example of this is Ryan Howard's deal. Howard may have gotten that money anyway, but why did Amaro have to be the one to determine that the most productive first baseman in the game is worth $20 million, and as much as $25 million, annually?
Why was Jonathan Papelbon worth the richest closer contract? What made Amaro want to be the one to set this value?
Again, for some of these cases, the player may have gotten this money anyway. But why did Amaro have to decide this in what was in some cases, seemingly as rush?
Perhaps if he waited it out and saw a player's true value, such as Papelbon this offseason, Amaro could have saved millions each offseason. And remember, Philadelphia is a destination city.
Allow Young (Cheap) Talent to Emerge from System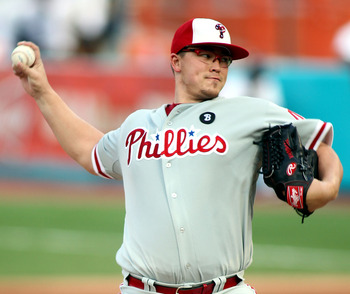 Vance Worley won an impressive 12 games making the major league minimum
Marc Serota/Getty Images
This is something they somewhat got back to doing last year. Vance Worley, Michael Stutes, John Mayberry Jr. (although not drafted by the team) and Antonio Bastardo are all guys who have come up from their minor league system. Not one of them made more than $419,000 last season, and most of them made the major league minimum. Furthermore, guys like Michael Martinez and Domonic Brown contributed at times making the minimum salary.
Young talent is cheap talent.
Worley, Bastardo and Stutes combined to win 24 games. Mayberry contributed to winning roughly three to five games himself with his bat. So the team got about 30 wins from players making the minimum salary.
Does this mean that the team should stop getting high-priced talents like Roy Halladay, Cliff Lee and Ryan Howard? Absolutely not. But maybe instead of spending say $6.5 million on a veteran third baseman, you develop one through your system, let a young promising player fill out your fourth outfield position and see what some young arms can give you on your pitching staff.
The Phillies farm system has become pretty depleted from all of the trades. Their resources on the system have been limited because of low funding dedicated to the system, which is believed to have led to Chuck LaMar's resignation.
Again, not every player needs to be pre-arbitration like the Marlins five years ago, but it would be nice to not have to spend big bucks on every single roster spot.
Keep Reading

Philadelphia Phillies: Like this team?