Can Jose Aldo Sell a Featherweight Main Event to Casual Fans at UFC 142?
January 12, 2012

This Saturday Jose Aldo defends his featherweight title against Chad Mendes in Brazil at UFC 142.  When he does he will face his ultimate test.
Seeing how much of a pay-per-view draw he is.
The card is a good one, but the only recognizable other than Aldo is Vitor Belfort.  Most of the fights on the card may end up being great, but they have unknown fighters in them.
Aldo is going to make his main event debut without much of a supporting cast ,and it will set the stage for how he is going to be marketed throughout his UFC career.
Defending the belt is something Aldo has done twice in the UFC successfully.  Mendes is a serious challenger and will push Aldo, but it isn't anything he hasn't faced before.
Trying to sell a PPV to casual fans will be a different story.
Traditionally in combat sports, it is the heavier fighters who can sell PPVs and events to the public.  In boxing, heavyweights were the biggest draw and even with the division in a less-than-interesting state the smaller weights haven't been able to make the difference needed.
There are always exceptions to this case, such as Urijah Faber, who will always draw well.  He is the Oscar De La Hoya of MMA and with one flash of a smile can make even fringe fans tune in.
Aldo hasn't proven that he can.  It isn't as if the Brazilian featherweight isn't fun to watch.  He is undefeated in his WEC and UFC careers and usually knocks opponents out.  His double-knee KO of Cub Swanson is a thing of beauty to watch.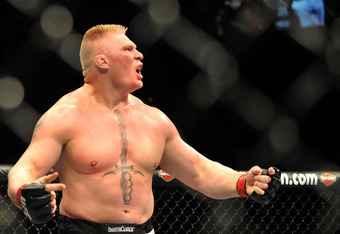 Jon Kopaloff/Getty Images
But Aldo can't speak English and he isn't someone who has been marketed seriously outside the UFC.
He may be a fan favorite, but it has yet to be seen.
Once the pay-per-view numbers become available fans will get to see what kind of fighter Aldo is and what impact the lower weight classes can make in MMA. If the numbers are healthy, Aldo is a proven draw and will get another main event slot and the money and prestige that comes with it.
If he fails he will return to co-main event status.
More importantly, it will show that lighter weights are going to have to deal with the same issues their boxing counterparts suffer from: the ability to put on fights and not have anyone watch them because they aren't big enough.
Hopefully, Jose Aldo and Chad Mendes get a decent buyrate this Saturday and show the world that not only is MMA growing, but fighters don't need to look like Brock Lesnar to succeed.