Arsenal Football Club: Why Martin O'Neill Should Be the Next Arsenal Manager
January 12, 2012

Scott Heavey/Getty Images
The fact that select groups of Arsenal supporters had called for the sacking of Arsene Wenger is something that still baffles me. It's pointless to go into all of Wenger's accomplishments at the club, as those can all be found here. Arsene Wenger is the best signing that Arsenal Football Club has ever made.
Unfortunately, Wenger seems to be nearing the twilight of his tenure with the Gunners. For some time now, there has been speculation on which man in football is the most suitable replacement for the Frenchman.
The likes of Pep Guardiola, Louis Van Gaal and Owen Coyle have all been mentioned. It would seem Coyle's name is now a comical inclusion rather than an actual candidate.
Guardiola and Van Gaal are both great managers. They have demonstrated tremendous success on both fronts, domestic and European. However, there is one man in football who, I believe, is more suited to take charge at the Emirates. But before I get on to him, let's lay out some facts.
Through the first 20 games of the 2010-2011 Premier League campaign, Arsenal had earned 39 points. Fast forward to September. The Gunners have now parted ways with Cesc Fabregas and Samir Nasri (who combined for 13 goals and 12 assists), and the Gunners have just endured their worst-ever start to a season.
Most will be surprised to know that in the same amount of games in the 2011-2012 season, Arsenal has earned 36 points; just three points less then last year's squad through the same amount of games. The job that Arsene Wenger has done this season, with the squad that he has, may be his greatest managerial achievement since the 2003-2004 "Invincibles."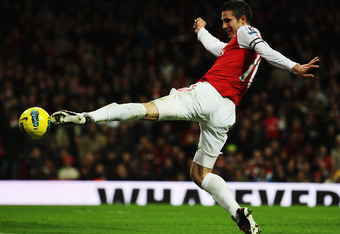 Clive Mason/Getty Images
Admittedly, it does help to have one of the most in-form goal-scorers in the world, but this is still an incredible accomplishment.
Arsene Wenger's greatest quality as a manager is identifying talent and squeezing it out of the most unlikely sources.
One of the more successful recent signings for Arsenal has been Andre Santos—a defender whose one major weakness is his ability to defend. But somehow, Arsene Wenger has found a way to turn Santos into a fan-favourite. More importantly, he's turned the Brazilian into a serviceable full-back.
From the glimpses we've seen of Kieran Gibbs this season, I'd start Santos over the Englishman every day of the week.
Another great aspect that Arsene Wenger brings to the table is his ability to purchase responsibly. This is, at times, a frustrating quality, but Wenger knows what's best for the club.
Laurent Koscielny moved to North London for a fee that is believed to be around £8 million. The Frenchman had a rough start to his Arsenal career, with the Apex coming in last year's League Cup implosion to Birmingham City.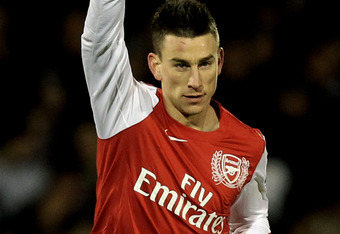 Clive Rose/Getty Images
This year though, Koscielny has been one of Arsenal's best defenders. He has impressed and demonstrated that he deserves to start alongside Thomas Vermaelen.
Wenger knows who to buy and what to pay. Of course he has made some mistakes, but what top managers haven't? (See Gael Kakuta, Bebe and Andy Carroll.)
Now I'd like to introduce the most popular man on Wearside, Mr. Martin O'Neill. Perhaps you've heard of him.
He enjoyed some success with Celtic in Scotland in the form of three Scottish Premier League trophies. He led that same team to the UEFA Cup final.
In 2006 he moved to Aston Villa. Aston Villa is a club with a great footballing history. The midlands outfit even has a European trophy to its name. At the time O'Neill moved to Villa, the club had found itself with limited resources.
In his first season Villa finished 11th, five places higher than the previous season. He would follow this up with three consecutive sixth place finishes.
In its first season without O'Neill at the helm, Villa finished ninth. In the current table the Midlands club is 13th.
On December 3, 2011, O'Neill was named the manager of Sunderland. At the time Sunderland had won two of 13 league matches. The Black Cats were two points and two places above the relegation zone.
Since O'Neill took over, the Wearside club has won five games out of seven. This includes a 1-0 victory over league-leaders Manchester City. 
It is difficult to deny that O'Neill is a top manager. In every place that he has gone he has been able to architect success without breaking the bank. His ability to get the most out of his squads is evident when you consider that Emile Heskey was one player that led the line for Villa in his time as manager. 
O'Neill is familiar with the Premier League, which can be invaluable when managing a top club. It would be a shame to see Arsenal's next manager emulate Andres Villas-Boas' struggles. 
O'Neill is perfectly qualified to take over for Arsene Wenger. So when the time comes for Stan Kroenke and his fellow board members to appoint a new man as the manager of Arsenal Football Club, Gooners everywhere should be praying for Martin O'Neill.