Josh Barnett's Issues with Dana White
January 12, 2012

As Strikeforce heavyweights start to make their way to the UFC, there are a few fighters who fans are intrigued to see compete in the Octagon.
Chief among them was Alistair Overeem, but another is Josh Barnett.
Barnett is a veteran of the sport, a winner of most of his fights, someone who has dabbled in pro wrestling and knows how to build up a fight, and someone who will never make it to the UFC.
On paper he has everything that the president of the UFC, Dana White, is looking for.  He should be an easily promotable heavyweight.
It's too bad that Barnett and White have such bad history.
Barnett is a promotable fighter, but he is also one that has gotten in trouble.  He has failed two different drug tests.
The second time was in his fight for Affliction against Fedor Emelianenko which lead to the company folding.  Affliction wasn't in good shape to begin with, but the loss of their main event hastened their demise.
The first time was when he beat Randy Couture for the UFC title.  There is no way to prove when White started disliking Barnett, but this could have been the beginning.
The UFC was still a fledgling promotion at the time and the heavyweight title has always been important in combat sports.  Having a fighter not only win the belt in the biggest weight class in MMA and then test positive for performance enhancing drugs hurt what little credibility the company had at the time.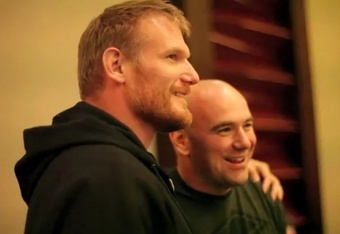 White seems to have a hard heart when it comes to repeat drug offenders as shown in the case with Nate Marquardt.  After having failed medicals, not for the first time in his career, Marquardt was cut and banned from the UFC.
It's obvious that White has little tolerance for repeat offenders.
And that was with Marquardt who is considered one of the nicer fighters outside of the cage.
White and Barnett have also traded verbal jabs in the media.  In an interview with Ariel Helwani, White admitted that he has zero tolerance for Barnett and wouldn't have him in the UFC.
Barnett responded on Helwani's MMA Hour show by saying a monkey could do White's job.
Recently, they seem to have buried the hatchet as Barnett put a picture on his Twitter of the two hugging.
But just because White is now in a truce with the heavyweight doesn't mean that Barnett will get back in the UFC.  White might have been fine with Barnett competing in a purchased Strikeforce, but nothing in the picture means that he will get a second chance in the Octagon. 
Otherwise, fans could already have seen Paul Daley or Renato Sobral get some fights in the UFC or at least take pictures with White.
There is one chance though.  If he wins Strikeforce's Heavyweight Grand Prix he will have some bargaining power and a status that might make White be willing to sweep their animosity under the rug.
If Barnett doesn't win, it doesn't mean his career is over.  It just won't be in the UFC.