Marian Gaborik: Why He's Finally Realizing Full Potential on New York Rangers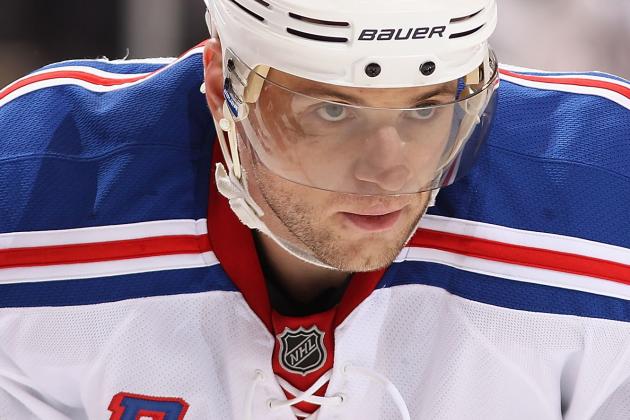 Christian Petersen/Getty Images

Marian Gaborik is finally returning to form as the player the New York Rangers signed prior to the 2009-10 NHL season; the right winger's team-high 34 points include 24 goals, also tops on the Rangers' squad. Gaborik's resurgence has propelled the Broadway Blueshirts to a 27-9-4 record, 58 points and a spot atop the NHL Eastern Conference standings.
Not only has his recent stretch of inspired play given the Rangers reason to believe a Stanley Cup title is within reach this year, but it has hockey purists believing that Gaborik is at last realizing his true potential.
There was once speculation that Gaborik wouldn't live up to the hype upon his arrival in New York City to play for one of the league's most storied franchises. After an injury-plagued 2008-09 season with the Minnesota Wild—not to mention contentious contract negotiations—Gaborik's move to the Rangers carried with it massive expectations from both the franchise and its demanding fan base.
Under the bright lights of Madison Square Garden, Gaborik's play was somewhat unfairly scrutinized by the New York media. Injuries during his second season with the Rangers limited his production, but those expectations weren't diminished.
Gaborik entered this season looking to prove his detractors wrong, and has accomplished that to date. He's already eclipsed his scoring total from last year and has Rangers fans whispering that 50 goals are within reach for the Slovak winger.
So much for the speculation that Gaborik might not live up to the hype.
It's possible that Gaborik is simply hitting his stride this season, or maybe he's in the zone—to which his SportsCenter highlights will attest—but it's easy to see that he's playing the game at a level he's never before achieved during his career.
Here's why Gaborik's reemergence as one of the NHL's elite players is taking place right before our eyes…
Begin Slideshow

»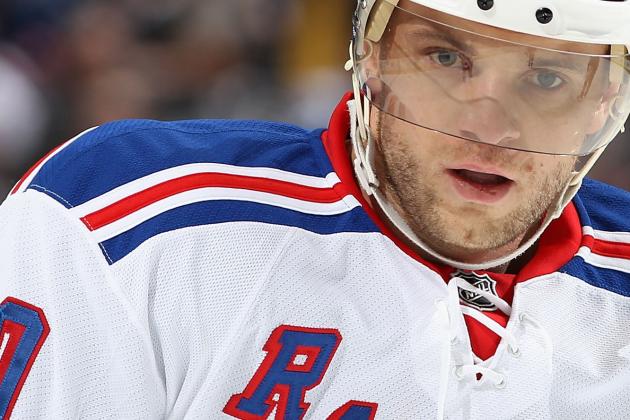 Christian Petersen/Getty Images

Is this common sense? Maybe. But that doesn't make it not true.
Double negatives aside, Marian Gaborik's career so far has been tagged with the injury asterisk.
Granted, he's never been in danger of retiring due to injury, but Gaborik's play hasn't been all-world quality because he'd struggled to remain healthy in the past. Now that he's been on the ice for an extended period of time this season, we're getting to see the skills that had scouts salivating before the 2000 NHL Draft.
Gaborik hasn't had to deal with recurring injuries this year like he did in 2005-06 (groin), 2006-07 (groin), 2008-09 (lower body) and 2010-11 (shoulder). It doesn't take a degree in physiology to determine that when he's healthy, Gaborik is as deadly a shooter as the NHL has to offer.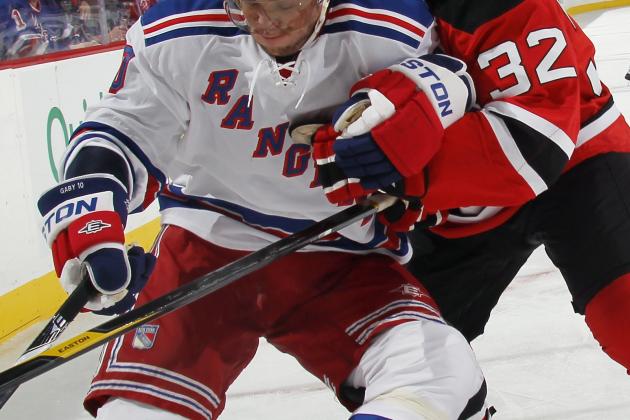 Bruce Bennett/Getty Images

With two full seasons as a member of the New York Rangers under his belt, Marian Gaborik has finally settled into his role on the Madison Square Garden ice.
While Gaborik is still expected to be one of the top Rangers players on a nightly basis—if not the top player on the ice in general—his play this season doesn't carry the tentativeness of his earlier seasons with the team.
No one can say for sure that the weight of his contract—$37.5M over five years—had a negative effect on his play when he first joined the Rangers, but it might have been in the back of his mind...
Especially after an off game when the New York media got hold of him for postgame interviews.
Besides, that's all in the past now. Other Rangers players have stepped up their level of play this season, which has served to alleviate the harsh glare of the spotlight focused on Gaborik.
Less thinking and more doing has Gaborik moving in the right direction this year—back among the NHL's elite players.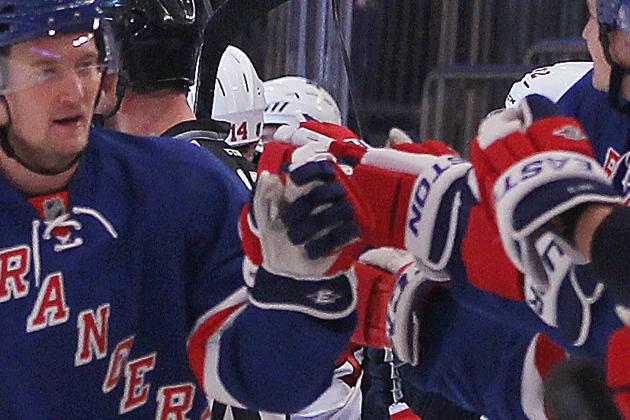 Bruce Bennett/Getty Images

No, this year's edition of the New York Hockey Rangers—to steal a phrase often attributed to the NFL's New York Giants—aren't among the best teams in NHL history, but the Blueshirts do have a formidable squad this season.
Not to take anything away from Gaborik as a player—seriously, check out some of his goals this year—but it's always helpful when a superstar has a strong supporting cast.
Simply put: on nights when Gaborik can't carry the team, it often turns out that he doesn't need to.
Star goaltender Henrik Lundqvist takes much of the heat off the Rangers offense; his 1.85 GAA and .939 save percentage this season are stats any NHL head coach would love to get from his starting netminder.
And I'd be remiss if I didn't mention Derek Stepan and his contribution to Gaborik's resurgence this season. Paired together on the top line, many of Stepan's team-high 18 assists have come off of passes directed at Gaborik.
I'm not saying Gaborik's level of play has skyrocketed solely because of Lundqvist, Stepan and his other teammates, but the presence of solid players on the ice around him won't hurt his chances at maintaining his current form.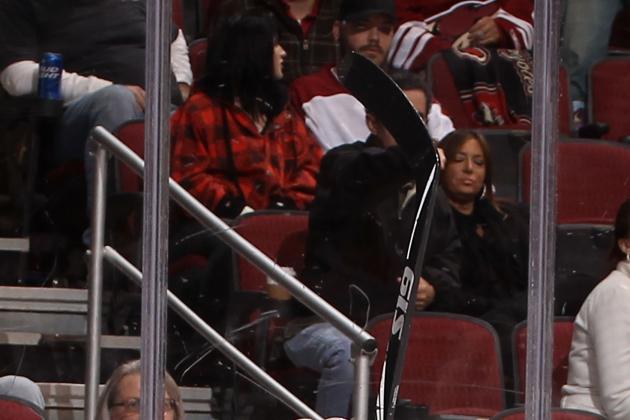 Christian Petersen/Getty Images

I might be a little late to the party, so I'll definitely take advantage of the whole "better-late-than-never" concept as I write this.
Marian Gaborik entered this season with 283 goals, 288 assists and—for those of us who struggle with basic addition—571 points in his career. As of the time this article's publication, Gaborik has already recorded his 300th NHL goal and is one assist shy of number 300 for his career.
Any competitive person can tell you that milestones—especially in a performance-driven atmosphere like the one found in a professional sport—are not meaningless numbers.
Although Gaborik doesn't strike me as a particularly selfish player, it would be reasonable to assume that he knows where his career numbers stand and that reaching the 300-goal, 300-assist and 600-point plateaus this season were motivating factors for him this year.
It's not necessarily a bad thing, either—I'm sure the Rangers front office, coaching staff and fans aren't complaining that one of the reasons for Gaborik's stellar play is of a personal nature.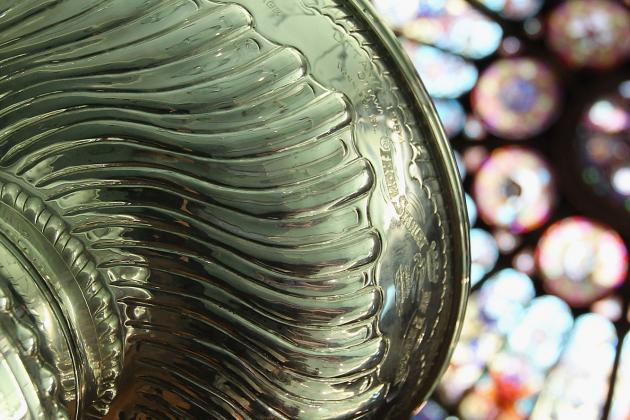 Bruce Bennett/Getty Images

Marian Gaborik spent his first eight NHL seasons toiling away in relative obscurity as a member of the (then) expansion Minnesota Wild. And while his contributions to the franchise were notable, Gaborik would never be able to score enough goals to win a Stanley Cup in Minnesota.
Ultimately, Gaborik's quest for hockey's Holy Grail led him to sign with a perennial contender in the form of the New York Rangers. As it is for most big-name NHLers, the opportunity to win a championship was strong motivation.
That motivation is still driving Gaborik this season.
Perhaps Gaborik realizes that this team is the best he's ever played on. He's probably been unable to get away from that fact since NHL analysts across the country are touting the Rangers as one of the league's top teams, and with good reason.
Besides the Boston Bruins, the Rangers have little to fear in terms of opposition in terms of which team will represent the Eastern Conference in the Stanley Cup Finals.
Gaborik's strong play this season is perhaps most easily attributed to the fact that this is the best NHL team he's ever been a part of his 10+ seasons in the league. Not only are the players around him elevating their level of play—which in turn elevates his own—but the clock is ticking.
Any number of players would trade places with Gaborik in a second (unless they're already on the Rangers, of course)—they know how lucky he is.
Gaborik certainly knows he has to take advantage of the quality of this particular team before that good fortune runs out.