Michigan Basketball: 5 Reasons the Wolverines Will Win the Big Ten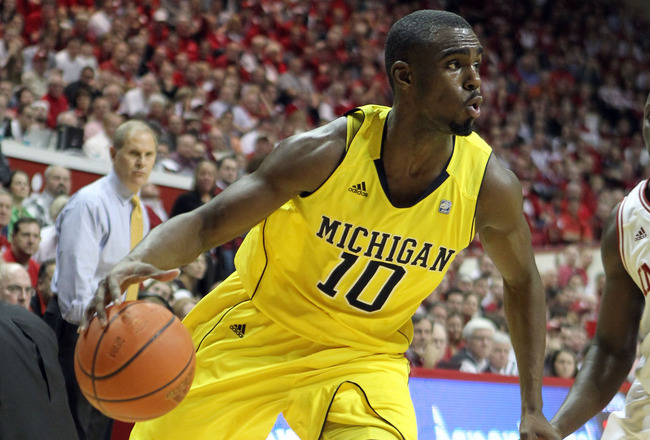 Michigan has impressed in the Big Ten so far, starting 4-1 in the conference. Here's why the Wolverines will take the Big Ten title.
Andy Lyons/Getty Images
The Big Ten has impressed this year, and is arguably the best conference in the country, with three teams currently in the Top 10.
With the bulk of the focus directed towards powerhouse Ohio State and resurrected Indiana, Michigan has remained under the radar.
However, the Wolverines have a significant chance to exceed the competition in the Big Ten. With the lack of a definite leader in the conference race, Michigan has a chance to emerge as the Big Ten's best team.
Here's why Michigan will win the Big Ten despite losing to Iowa on Saturday.
1. Strong Backcourt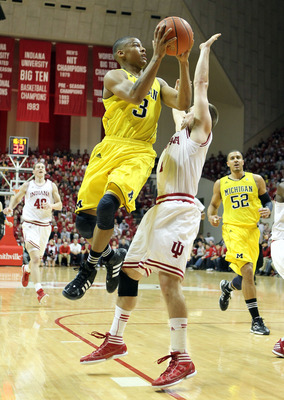 Trey Burke
Andy Lyons/Getty Images
With sophomore Tim Hardaway Jr. (16.1 PPG, 2.7 APG) and freshman Trey Burke (13.8 PPG, 5.0 APG), the Wolverines have arguably the best backcourt in the Big Ten.
Burke is a very agile and versatile guard and Hardaway Jr. is explosive and clutch. With these two guards leading Michigan's offense, the Wolverines have a chance to storm the Big Ten.
In addition to those two stellar guards, senior guard Zack Novak is a great shooter and completes the Wolverines' backcourt.
Michigan's heavy reliance on its backcourt is a mixed blessing, but if the Wolverines' backcourt can succeed as it has been, they will be at the top of the Big Ten.
2. Big Ten Road Performance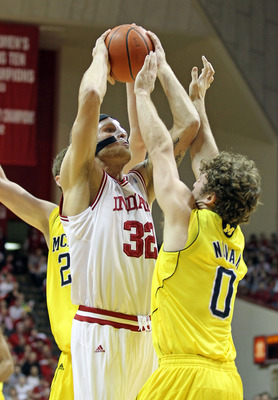 Andy Lyons/Getty Images
One is too small a sample size from which to derive conclusions, but Michigan's performance against Indiana on the Hoosiers' home court was impressive.
The Wolverines' lost the game by a mere two points. To put this seemingly strange positive observation in perspective: Bloomington is one of the hardest environments to play in on the road.
No. 1 Ohio State and No. 2 Kentucky were both upset by Indiana on its home court this year. The Wolverines' ability to nearly win against Indiana on its home court shows their ability to keep their composure on the road.
The ability to compete on the road is key in college basketball and will serve as a huge advantage for the Michigan if they can keep up their road performance, as the Big Ten is home to some of the rowdiest arenas in the nation.
UPDATE: Michigan recently lost to Iowa (10-8) on the road. The Wolverines' next two Big Ten road games against Purdue (Jan. 24) and Ohio State (Jan. 29) will give us a better perspective of how Michigan will fare on the road in the conference this year.
3. Consistent Offensive Producers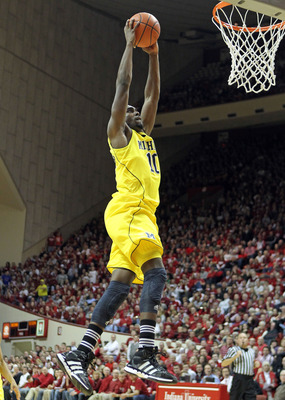 Andy Lyons/Getty Images
In 14 of the Wolverines' 17 games this season, Tim Hardaway Jr. has scored 12 or more points, averaging a steady 16.1 points per game for Michigan.
Hardaway Jr. has continued to be a consistent offensive threat for the Wolverines in Big Ten conference play, scoring 17 or more in Michigan's last three Big Ten games after scoring a season-high 26 in the Wolverines' conference opener against Penn State.
Having a consistent offensive producer who the team can count on is vital to a team's success. However, Hardaway Jr. is not the only constant producer on Michigan's squad.
Freshman guard Trey Burke has been just as offensively productive as Hardaway. Burke has scored in double-figures in 15 of Michigan's 17 games and also dishes out an average of five assists per night.
Michigan's two consistent producers give the Wolverines an edge not only in the Big Ten but will also put them at an advantage come March.
When one is having an off night, the other can come through, which was evident in Michigan's game against Minnesota, when Burke put up a season-high 27 points amid an uncharacteristically low seven points for Hardaway.
The luxury of consistent offensive production puts the Wolverines at a significant advantage in the Big Ten.
4. Michigan State Rivalry Edge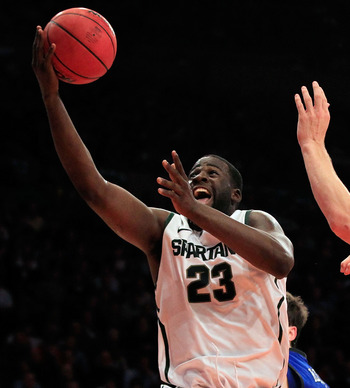 Chris Trotman/Getty Images
Michigan will play its biggest rival, Michigan State, at home in their first matchup this year. This serves as an advantage for the Wolverines, as having home-court advantage should give them an edge against their in-state rival.
Not only will home-court advantage factor in, but the Wolverines arguably have a better all-around team than the Spartans do.
Michigan State has a strong forward in senior Draymond Green; however, the Spartans don't have a very reliable backcourt outside of sophomore Keith Appling, and Michigan should prevail due to this mismatch of guards.
The Spartans are on a roll and have now won 15 in a row after losing their first two games this season; however, they showed vulnerability on the road when they struggled to beat an overrated Wisconsin team that has since dropped out of the Top 25.
If Michigan's edge against the Spartans can result in a win, the Wolverines will have a priceless sense of confidence throughout their Big Ten conference play.
5. John Beilein
Streeter Lecka/Getty Images
It would be a stretch to say that John Beilein is the best coach in the Big Ten with other great coaches like Tom Izzo, Tom Crean, and Thad Matta in the conference.
However, Beilein is one of the best coaches in the Big Ten and has the tools to carry Michigan to a Big Ten title.
After a disappointing inaugural season with a 10-22 record, Beilein turned the team around the following year and led the Wolverines to the second round of the NCAA Tournament.
Michigan returned to the Round of 32 last year, where they almost beat Duke (they lost 73-71) to advance to the Sweet Sixteen.
In his four-plus years as Michigan head coach, John Beilein has made it known that he is serious about winning and knows how to do it.
Is he the only coach in the Big Ten like that? Not at all.
However, Beilein's coaching ability is vital to Michigan's success.
There is no replacement for a man spearheading the team who wants to win and will do anything to make sure that happens.
The Wolverines have all the pieces in place to take the Big Ten by storm and outplay Ohio State, Michigan State and Indiana for the conference title.
Don't be surprised when Michigan brings a Big Ten title back to Ann Arbor.
Keep Reading

Michigan Wolverines Basketball: Like this team?