Indiana Hoosiers Gameday: An Up-Close Look at the Minnesota Golden Gophers
January 12, 2012

Andy Lyons/Getty Images
Thursday night, Indiana (15-1, 3-1 Big Ten) will look to keep the ball rolling as they welcome the Minnesota Golden Gophers (12-5, 0 4 Big-Ten) to Assembly Hall. The two teams split the series last season and Minnesota is 1-3 in Bloomington over the past four meetings.
The Golden Gophers have been reeling since they lost their star player,  Trevor Mbakwe, to a torn ACL in late November. The 6'8", 240-pound senior was averaging 14 points and nine rebounds before he went down against Dayton.
Minnesota has turned to junior forward Rodney Williams and junior guard Julian Welch to pick up the slack offensively. The duo are the only players on the roster that are scoring in double figures for the Gophers, each with just over 10 points a game.
Julian Welch is a junior college transfer from Yuma Community College in California and has been the best shooter on the Minnesota team this year. He is a combo guard that can also handle the ball, but Minnesota coach Tubby Smith prefers to use him off the ball. Welch is the best three-point shooter on the team, hitting 41.3 percent of his shots from long distance.
But Williams remains the most dangerous player on the Golden Gophers. He is by far the best athlete on the team, if not the Big Ten. Williams makes a living slashing to the basket and uses his lengthy 6'7" frame and incredible leaping ability to score in the paint. His ball handling still leaves much to be desired and he often gets trigger happy on his jump shot, which is still not consistent by any stretch.
The best-case scenario for the Gophers is if Ralph Sampson III can finally become a force on offense, but that just hasn't happened in his four years at Minnesota. The 6'11" senior's defense remains the best aspect of his game. Sampson III has at times showed a decent offensive game with finesse moves around the basket, but doesn't play with enough physicality to be consistent.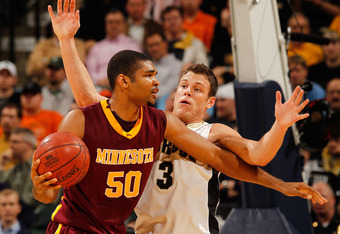 Jonathan Daniel/Getty Images
At the guard position, Tubby Smith has been mixing up the duties between Maverick Ahanmisi, Austin Hollins and Joe Coleman. None of these players are pure point guards or incredibly quick with the ball. Jordan Hulls will start the game on whoever Tubby goes with at the point between these three and shouldn't have much trouble defensively on them.
Oladipo will likely start the game on Rodney Williams, with Verdell Jones III on Welch. The gameplan for Minnesota will be to try and go inside to Sampson III early and get Zeller in foul trouble. Indiana can afford to get away with some help on Sampson, as the Gophers don't have many shooters that are going to light you up.
Offensively, the game may be a struggle for freshman Cody Zeller. Sampson III has a lot of length and is a good shot blocker, he also has enough size to try and muscle Zeller around. However, the matchup isn't enough of a problem to make Tom Crean shy away from going to Zeller early and often.
Minnesota biggest weakness defensively is guarding the three-point shot, where they rank last in the Big Ten, allowing their opponents to shoot 37.5 percent from long range. That should be very good news for the Indiana Hoosiers, who lead the nation in that category, connecting on 47.6 percent of their three-point attempts this season.
That should also set up very well individually for Jordan Hulls and Christian Watford, who are both over 50 percent from beyond the arc. Hulls's 58.2 percent three-point rate is the best in the country. Look for him to have a strong shooting night.
Nothing has been announced as of yet, but Thursday's game may also mark the return for Will Sheehey. The sophomore, who's been out for three weeks with an ankle injury, has been practicing the last few days and may be ready to give it a go against Minnesota. If Sheehey does make an appearance, it will be in a limited role until he gets back into the flow of things.
Minnesota had a chance to win its first three Big Ten games, but came up just short. They may not be as bad as their 0-4 record in conference play, but they certainly aren't a threat to make a run at winning the conference either.
The only thing working against the Hoosiers is the fact that they have a short break before their game against Ohio State in Columbus on Sunday, which could cause some teams to overlook an opponent like Minnesota. But there has been zero indication that this year's team is even capable of looking past their opposition.
Indiana should get their 16th win to improve to 4-1 in the Big Ten and it should be decided fairly early.
This article originally appeared on Hoosier Cafe