Bolton Wanderers: An Inside Look at USA International Tim Ream
January 24, 2012

After a month of speculation and negotiations with the New York Red Bulls, Major League Soccer and with the player himself, United States international defender Tim Ream finally received his work permit clearance to become Gary Cahill's successor at the heart of Bolton's defense, according to BBC.
As expected, his permit was approved via appeal, which included a testimony from US national team coach Jurgen Klinsmann.
The 24-year-old has enjoyed a meteoric rise in the last two seasons, going from an unknown second-round draft pick by the New York Red Bulls in 2010 to an international call-up and now a move to the Premier League.
As the New York Red Bull's team correspondent throughout the 2010 season I was able to take a front row seat and get an personable look at Ream as he was thrown in at the deep end at the professional level and develop into a seemingly accomplished center half over night.
Tim was pretty much unknown when he was drafted 18th overall from Saint Louis University, but an impressive preseason with the Red Bulls and a few injuries at the centre-back position saw Ream gain the start in a season opening friendly against Santos in a game which marked the opening of Red Bull Arena, New York's new 25,000 state of the art stadium.
Ream handled himself so well in that game (despite being up against Brazilian star Neymar) that he kept his place in the lineup for the MLS opener against Chicago the following week.
Tim went on to play in every minute of Major League Soccer play that season and in all competitions, stood up impressively to seasoned internationals such as; Alessandro Del Piero, Robbie Keane, Craig Bellamy, Emmanuel Adebayor, David Trezeguet, Landon Donovan and the aforementioned Neymar.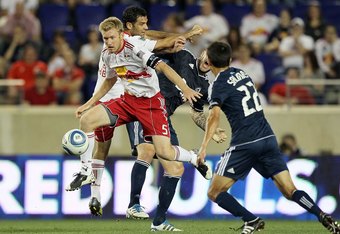 Jim McIsaac/Getty Images
Aside from outstanding aerial prowess and great timing in his tackling, what made Ream stand out more was his poise and composure on the ball and his maturity both on and off the field.
This outstanding debut season was rewarded by a second-place finish in the MLS Rookie of the Year and earned himself a call-up to the US National team, making his debut in the friendly against South Africa.
Ream's second season as a professional was not quite as impressive as his first as a few errors led to opposition goals, particularly when partnered with Mexican captain Rafa Marquez who failed to take the youngster under his wing and often left him exposed at the back.
Despite this, Tim's performance was still impressive for a player in just his second professional season, so much so that Arsene Wenger scouted the player and inquired about his availability after the Red Bulls clinched the Emirates Cup against Arsenal in the summer of 2011.
In an attempt to better himself during the MLS offseason, Ream trained with Premier League teams West Brom and then Bolton.
His performance while training for The Trotters convinced manager Owen Coyle that the young American is ready to fill the void left by England international Gary Cahill's move to Chelsea.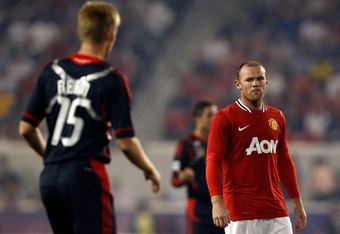 Mike Stobe/Getty Images
This sets up to be an exciting new year for Ream who married his college sweetheart on January 7th and now makes the move from Major League Soccer to the English Premier League.
But is this the best move possible for Ream?
While a high profile move to the World's biggest league and a huge pay rise seams on the surface to be a no-brainer, there are considerable risks for the player.
There is the obvious risk that this big move my be coming too soon for the young man, but the bigger issue would come if Owen Coyle, on the hot seat with Bolton still in the relegation zone, would lose his job. A new manager not knowing much about the new signing may not be willing to afford him an opportunity and leave him rotting in the reserves or shipped out on loan.
This is obviously a worst-case scenario for a young man in the midst of a huge learning curve.
Knowing Tim's confidence, determination and ability to cope with pressure, there is every chance he will once again raise to the occasion and turn a lot of heads.
He became a fan favorite in no time in New York with his play on the field and his dealings with supporters off it.
There's no reason we can't see a repeat of that at the Reebok.
It's just a matter of time before Premier League defenders discover what it is like to be "Reamed"!