Peter Mueller Activated by Colorado Avalanche: How His Return Affects the Team
January 12, 2012

Christian Petersen/Getty Images
Peter Mueller has been struggling with symptoms from a concussion ever since the playoffs back in 2010 which have caused him to miss a ton of games.
Mueller was ready to go in camp this season, but only lasted a few games into the season before the symptoms returned and he was once again sidelined.
Today, the Colorado Avalanche announced that Mueller has been activated off of injured reserve and will be available for the next game on Thursday against the Nashville Predators.
His comeback comes at a good time, as some injuries have hit the Avalanche.
Matt Duchene has been on the injured reserve for the Avalanche since December 30th, and Shane O'Brien was just put on injured reserve as well.
Erik Johnson has also been out for the last couple of games with an injured hand.
Mueller's return will likely send a small shift through the lines, depending on how coach Joe Sacco wants to use him.
The first line won't change. Ryan O'Reilly between Milan Hejduk and Gabriel Landeskog has been the best line on the Avalanche ever since it was put together.
The second line might be the place where we will see Mueller land. Paul Stastny has been between T.J. Galiardi and David Jones/Chuck Kobasew.
Mueller is a skill player and will most likely play on Stastny's right win.
Which players get sent to the third line will be the interesting choice. Based on performance, the player that deserves to stay the most has been Galiardi; he simply has worked harder and been more of a presence than anybody else on the line.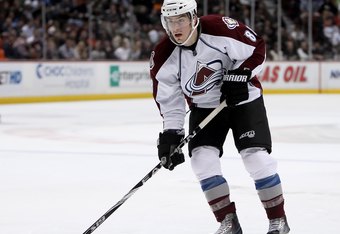 Jeff Gross/Getty Images
This would send both Jones and Kobasew down to a different line. Jones would likely play with Jay McClement and Daniel Winnik as he did when he came back from injury.
Kobasew might end up being a healthy scratch again even though his play has greatly improved from the start of the season.
Mueller's return marks what is probably his last chance to make good as a member of the Avalanche.
Mueller has been inactive almost his entire time in Denver and the Avalanche simply can't keep waiting on a guy who can't get healthy.
We've seen what he can do when he is healthy and playing well and he will have to be that same player if he wants to have a team next season.
I hope for nothing but the best with Mueller because you can't help but root for a guy coming back from an injury like this.
It would make such a great story for him to come back and score a bunch of goals and help propel his team into the playoffs.
At the end of the day, I just don't see it happening. Mueller has been out of the game for so long that we can't possibly expect him to come back and have the same kind of impact that he did when he first came to town.
Still, we can hope.
Kevin Goff is a Featured Columnist for the Colorado Avalanche and NHL on Bleacher Report. For more NHL news and discussion,