NFL Playoffs 2012: Players Who Must Step Up Big in Divisional Round
January 11, 2012

Jonathan Daniel/Getty Images
After an exciting Wild Card Weekend, the 2012 NFL playoffs are heading into the divisional round. For the eight remaining teams, the Super Bowl is only two short steps away.
But, only four teams will advance. And, for three teams to move on, they are going to need big performances from key players.
Getting big performances from these guys will swing entire playoff games and ensure that their respective teams will move on to the conference championship games.
Let's take a look at three players who need to step up and lead their teams to victory.
Jermichael Finley, TE, Green Bay Packers
Finley has been disappointing this season. He's been whiny and has had a bad case of the drops, costing the Packers dearly in their only loss.
If Finley can just focus on the task at hand and make the catches he's supposed to make, the Packers will be in great shape against the New York Giants.
Finley is too tall and too athletic to not be one of the best tight ends in the game of football. His attitude problems need to end so the Packers can get back to dominating the rest of the NFL.
He'll need at least five catches for 70 yards to give the Packers the edge against New York.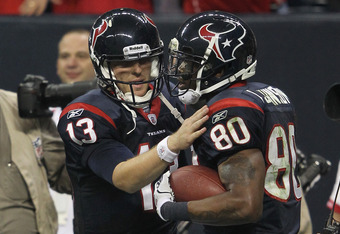 Jamie Squire/Getty Images
Andre Johnson, WR, Houston Texans
Johnson was slowed by a hamstring injury for much of the 2011 season. Now, he's trying to get back to his normal self and help the Texans win another playoff game.
With rookie quarterback T.J. Yates running the show, Johnson is going to need to be on the field and be effective for the Texans to have any shot against the Baltimore Ravens.
Yates is going to be looking to Johnson early and often. If Johnson isn't ready, the Texans will fall behind and won't be able to recover.
An eight-catch, 100-plus yard game would give Houston a fighting chance on the road in Baltimore.
Justin Smith, DE, San Francisco 49ers
Aldon Smith finished the regular season with 14 sacks. That means the New Orleans Saints will being focusing on stopping him from hitting Drew Brees.
Therefore, Justin Smith, who had 7.5 sacks in 2011, will need to step up and have a big game if the 49ers are going to slow down the Saints' high-powered offense.
If he can keep Brees uncomfortable in the pocket, the Niners might just be able to pull off the upset.
If either Smith can force a fumble or two, it'll tilt the momentum towards San Francisco.