MLB Rumors: 1-Year Deal Would Be a Win for Kerry Wood and Cubs
January 11, 2012
Rob Carr/Getty Images
Kerry Wood spent some time with the Cleveland Indians and the New York Yankees in 2009 and 2010, but the dude is a Chicago Cub. Through and through.
According to Jon Paul Morosi of Fox Sports, Wood is this close to being a Cub for at least one more year:
Additionally, Cubs president of baseball operations Theo Epstein spoke openly about signing Wood on Wednesday, and he made no secret of the fact that signing Wood is an easy choice to make.
Courtesy of Bruce Levine of ESPNChicago.com:
We said all along we want to get this done. We have a world of respect for Kerry and this should be a no-brainer, but sometimes during the winter things get a little more complicated. We have a lot of things going for us. Namely we want Kerry to be here. We surely want him to be here. And he sincerely wants to be a Cub. So if we can't figure this one out, something is wrong. I'll stand by that.
Epstein is not bidding against himself to retain Wood's services, as Levine pointed out that the Boston Red Sox, Philadelphia Phillies and the Detroit Tigers have also been in on him.
Still, my gut feeling is that Wood will sign on the dotted line in the very near future. Just as re-signing him is a no-brainer for the Cubs, signing with the Cubs is a no-brainer for Wood.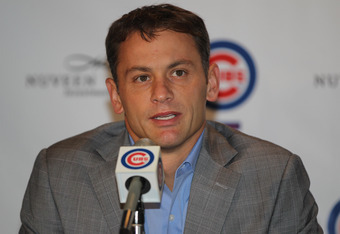 Jonathan Daniel/Getty Images
Money is a big reason why. Cubs GM Jed Hoyer said on Tuesday that Wood had been offered a "substantial raise" on the $1.5 million deal he had in 2011. Presumably, the deal on the table is worth at least $2 million, and the 2013 option is icing on the cake.
Beyond the obvious financial draw, it bears repeating that Wood is rather at home in the Cubs organization. The team drafted him fourth overall in 1995, and he has spent all but two seasons of his career with the Cubs.
A one-year deal is ideal for the Cubs in this case, too, as the last thing they want is to commit too much money and too many years to a 34-year-old reliever with a history of arm problems. Relieving has been good for Wood's career, but he is still much closer to the end of his career than he is to the beginning.
All things considered, it's hard to see what the holdup is. Wood and the Cubs need to wrap this thing up so the team can turn its attention to other business.
Last I checked, the Cubs have a lot of problems that need solving.