NHL All-Star Game 2012: Which New York Rangers Deserve to Be Selected?
January 11, 2012
Bruce Bennett/Getty Images
After their 2-1 shootout victory over the Phoenix Coyotes, the New York Rangers are sitting atop not only the Eastern Conference standings, but also the entire NHL. 
The Rangers' success has been a classic team effort, which can be directly attributed to John Tortorella's style of play. Within this collaborative team effort there have been three players that have really stood out this season and are worthy of playing in the All-Star Game later this month: Henrik Lundqvist, Marian Gaborik and Dan Girardi. 
Since coming to New York in 2005, goalie Lundqvist has been one of the Rangers' most important players. He is the team's MVP and has allowed the second-fewest goals in the NHL this season. 
Lundqvist has been a Vezina finalist three years since 2005 and this year should be no different. He is second in the NHL in both goals against average and save percentage. He is also in the league's top five in wins and shutouts and without him the Rangers would not be in the position that they are now. 
After coming off a moderately disappointing 2010-11 campaign, Gaborik has come out of the gates on fire for the Rangers. He has already eclipsed his goal total from last season in only 40 games. Gaborik has elite speed that adds a dimension to their lineup that would be seriously lacking without him. 
Not only is Gaborik tallying a high number of goals, but he is also scoring when the Rangers need him most. Gaborik has five game-winning goals this season, which puts him in a tie for the top three in the NHL. Gaborik's game has also improved in other areas as he's become a tough forechecker and an improved defender; again, with a lot of the credit going to Tortorella.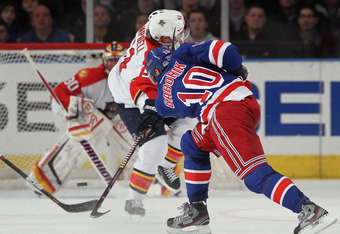 Bruce Bennett/Getty Images
Gaborik's tremendous play so far has been helped out by Derek Stepan and his team-leading 21 assists. This has allowed free-agent acquisition Brad Richards to move to a line with Ryan Callahan and Brandon Dubinsky, which gives the Rangers two very dangerous scoring lines.  
Another Ranger who absolutely deserves All-Star consideration is Girardi. The Rangers have played nearly the entire season without top defenseman and 2011 All-Star Marc Staal.
Most teams would struggle without their top defenseman, but the Rangers boast the second-lowest number of goals allowed thanks to great goaltending and great defense. Girardi has been the most crucial player in the Rangers defense, which has seen injuries to starters Mark Staal, Mike Sauer and Steve Eminger. 
Girardi is the NHL leader in average ice time per game at 27:18 yet only has eight penalty minutes the entire year. This shows his discipline of a defenseman and how important he is to the Rangers defense. 
Girardi also does a lot of things for his team that don't show up in the highlights. He is one of five players in the NHL that has blocked 100 or more shots and is the only player in the NHL that has recorded 100 blocked shots and 100 hits. 
Finally, Girardi plays a crucial role in the Rangers special teams. He is the teams top penalty-killer and is second on the team in power play assists. For one of the lesser-known Rangers, Girardi is absolutely an All-Star. 
Honorable Mention: Michael Del Zotto. Del Zotto is second to Zdeno Chara in the lead league in +/- for NHL defensemen. He is also tied for the team lead in assists with 18. Like Girardi, the 21-year-old Del Zotto is not one of the most well-known Rangers and does not put up flashy numbers, but is one of the most important pieces to this Rangers team and is worthy of All-Star consideration.