Ohio State Basketball: Can the Buckeyes Win the Big Ten After Loss to Illinois?
January 12, 2012

Joe Robbins/Getty Images
Ohio State (15-3; 3-2) was upset Tuesday night for the second time to receive their second Big Ten loss. With a spectacular performance from Illinois' Brandon Paul, who scored 43 points, the Fighting Illini upset the Buckeyes in Champaign 79-74. 
The Buckeyes were also upset by Indiana in their second Big Ten game, losing 74-70 on the Hoosiers' home court. 
So, what lies ahead for the Buckeyes' Big Ten hopes after they have fallen twice on the road to lesser opponents?
Let's first take a look at Ohio State's loss Tuesday night against Illinois. Forwards Jared Sullinger (21 PTS 5 REB 3 STL) and Deshaun Thomas (23 PTS 6 REB) both had solid nights, and guards Aaron Craft (12 PTS 7 AST) and William Buford (15 PTS 2 STL) both had double-figure scoring nights. 
So, how did they lose if four of their players had good scoring nights?
Ohio State scored 74 points, so offense clearly wasn't the issue, which would normally suggest that the culprit is defense; however Tuesday night's game was an anomaly. 
The anomalous figure of Ohio State's upset loss was Illinois' Brandon Paul, who scored more points on Tuesday night than he did in his first four games of the season. 
Check out Paul's insane stat line:
| | | | | | | | | | | | |
| --- | --- | --- | --- | --- | --- | --- | --- | --- | --- | --- | --- |
|   | FGM | FGA | FG% | 3PM | 3PA | 3P% | FTM | FTA | REB | BLK | PTS |
| Brandon Paul  | 11 | 15 | 73.3 | 8 | 10 | 80 | 13 | 15 | 8 | 4 | 43 |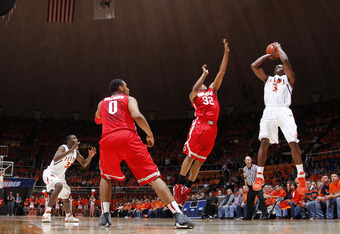 Joe Robbins/Getty Images
Not only did Paul score more than triple his season point average (12 PPG going into the game), but he also achieved an outrageous 73.3 field goal percentage and an unheard-of 80 percent from beyond the arc. 
We could easily blame the Ohio State defense for the loss; however, if you watched the game or saw highlights, it was clear that Paul was going to make shots no matter whose hand was in his face. 
"I've seen (former Wisconsin Badger) Jordan Taylor have one of those nights and I saw (former Purdue star) E'Twuan Moore have one of those nights, and then I saw this," Ohio State coach Thad Matta said. "You have to give him credit; he made plays."
Not to put a damper on Illinois' win, but Paul's electric performance was the sole reason the Fighting Illini won that game. Illinois has a great team this year, but they would not normally stack up well against Ohio State. 
Therefore, last night's upset can be attributed to extraordinary circumstance. A similar perspective can be taken in their first Big Ten upset loss against Indiana. 
Indiana's Assembly Hall houses some of the most loyal and excited basketball fans in the country. With Bloomington on the Hoosiers' back, Indiana is the hardest team in the Big Ten to beat at home. 
The Hoosiers won the game by their own merit, but the result might have been different if the game had been played on neutral ground or at the Buckeyes' home court. 
Which proves as a good segue into a look at Ohio State's upcoming Big Ten schedule. The Buckeyes will take on Indiana at home this Sunday (Jan.15, 4:30 ET) and will then later take on fellow ranked opponents Michigan (13) and Michigan State (7) at home. 
Facing these tough opponents (Michigan and Michigan State) at home in their first matchup serves as a decent advantage for the Buckeyes, who are now looking to build a significant win streak in the Big Ten. 
The Buckeyes may have been upset twice, but they scored 70 or more points in both of those games. They seem to struggle against tough opponents on the road, which may end up being their principal downfall, but the Buckeyes should be able to gain significant momentum in the Big Ten before they face No. 13 Michigan in Ann Arbor on February 18. 
The Big Ten has some stellar players spread throughout the conference this year, but Ohio State has the best starting lineup in the conference. They aren't a deep team, but if they can keep their starters healthy, they should have a good shot at winning the Big Ten.
To wrap it all together, Ohio State's upset losses were earned by their opponents but were a matter of anomalous circumstance. With the Buckeyes set to take on their toughest Big Ten contenders first at home, they still have a good chance to win the Big Ten. 
They may sink below Big Ten rivals Indiana and Michigan State in the rankings but the Buckeyes still have the best talent in the Big Ten with Jared Sullinger, Deshaun Thomas, William Buford and Aaron Craft. 
The question is: Will that talent prevail or will it be shadowed by "anomaly"?