George Mason Basketball: Previewing Their Matchup with Drexel
With CAA play at about the quarter pole, the George Mason Patriots are sitting atop the league at 4-0. The Patriots are empowered by strong defense, improved offensive efficiency and a general determination to win.
Mason has scored impressive victories at ODU, a place where they had not won in eight years, and against upstart Georgia State.
As many are starting to note, however, the CAA is getting very crowded at the top. Behind Mason, there are four teams sitting at 3-1 and three more teams at 2-2.
One of those 2-2 teams is the preseason favorite, Drexel, who meets the Patriots Thursday night at 8:00 on ESPNU. After a bumpy start, Drexel has come on strong of late, winning nine of their last 10 games, with their most recent victory coming over rival VCU.
This game is wildly important to both teams for a number of reasons. It is on ESPNU, and both teams want to impress in front of an audience.
For Drexel, winning this game would get them back in the hunt for the CAA title. For Mason, this game can give them much-needed separation from the rest of the field. This is also the only meeting between the two teams in the regular season, so the winner will hold the all important tiebreaker over the other team.
Here are a few key points for Mason if they are going to win this pivotal matchup between CAA powers.
Begin Slideshow

»
One of the major factors in this game is going to be the crowd in the Daskalakis Athletic Center. As the Drexel students proved Sunday night in the VCU game, they can get extremely loud when they want to and can alter the outcome of a game.
Add in that Drexel classes are back in session and the ESPN cameras that will be there, and you know that the DAC is going to be sold out and loud as can be.
In order to try and counter this home-court advantage, the Patriots need to control the pace of the game. Too many times this season, Mason has tried to rush their offense, leading to silly turnovers, easy points for their opponents and quick runs against them. If this happens Thursday, it is going to be hard for Mason to try and get back any momentum on the road.
Of late, Mason has done a much better job picking their spots to speed up the game. When they feel the momentum begin to swing to their side, as it did during an 11-3 run against Georgia State on Saturday night, they pushed the offense and went after getting quick points.
Aside from those times, the Patriots have played almost a half court style of offense, looking for high-percentage shots. This is what they will need to continue in order to be successful at Drexel.
An emphasis on high-percentage shots will help slow down the game and could help take the crowd out of it, as well as keep Drexel from going on a sustained scoring run to bury Mason.
If Mason can keep the pace to their liking and use their timeouts wisely,then they can control the game and come away with the victory.
Drexel's star player is the Philadelphia native and senior Samme Givens. With Chris Fouch still recovering from his offseason surgery, the load has been put squarely on Givens to help carry the team.
So far, Givens has done his job well. Givens has averaged 12.2 points per game and 7.1 rebounds in the early part of the season as he tries to repeat as the only player in the CAA who averaged a double double.
Needless to say, Mason will need to find some way to slow Givens down in order to win on Thursday. More importantly than stopping his scoring, however, Mason will need to stop his rebounding.
Much of Samme's points come off of second chance rebounds, and second chance points in general spells disaster for many of Drexel's opponents. By limiting the amount of rebounds from Givens, you limit his amount of points and Drexel's offense as a whole.
Luckily for Mason, their past two opponents, Old Dominion and Georgia State, are very physical teams who rebound well. This has forced Mason to learn to how be more physical on the boards themselves, and will be good experience when going up against a strong Drexel squad under the basket.
The guys who are going to have to step up for Mason on the boards and against Givens will be the old standbys Ryan Pearson and Mike Morrison, as well as the freshman Erik Copes. This is the type of game the 6'8", 244 pound Copes was brought in for. With the game taking place in his hometown of Philadelphia, you know that Copes will be excited to play well.
If Copes, Pearson and Morrison can combine to contain Givens, the entire Drexel offense will struggle and Mason will have a major leg up on the game.
As much as I hate to do this, I'll give VCU credit for one thing: they showed how to hurt Drexel. VCU put Drexel into deep foul trouble, causing Givens and sophomore forward Dartaye Ruffin to foul out of the game. With the big men gone, VCU managed to hang in the game despite a rough shooting night from three-point range and a woeful free throw shooting performance.
Mason needs to take this information and use it against Drexel. The Patriots boast a number of players who specialize in slashing towards the basket and drawing fouls, particularly Ryan Pearson, Sherrod Wright, Andre Cornelius and Bryon Allen among others.
The Patriots need to use these guys to drive into the paint and get Drexel's forwards, who have proven to be a bit foul happy, to send the Patriots to the line.
This will help Mason in a number of ways. This season has shown a huge boost in Mason's free-throw percentage, so the more free throws Mason attempts, the better. By drawing fouls on Drexel's big men, Mason will also open up the paint, which will allow leading scorer Ryan Pearson to impose his will.
Pearson has proven before that he can take over a game. Without guys like Givens to slow him down, Pearson could be set up for another big day, which Mason may need playing in a hostile environment.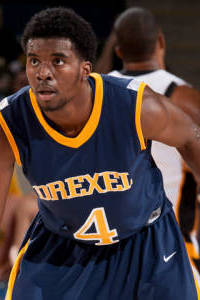 Going into the season, everyone said that the men to watch out for on Drexel were Samme Givens and Chris Fouch. They said that Drexel didn't have enough jump shooters to be competitive. They said that Drexel had no three-point shooters. Then Frantz Massenat happened.
The sophomore from Ewing, New Jersey has taken the CAA by storm. His clutch three-point shooting has added a dimension to Drexel's offense that they haven't had in a number of years. Massenat has been so hot of late, that his 12.7 points per game actually leads his team in scoring. Just last Sunday, Massenat dropped 24 points, including going 4-4 from three-point range, to help bury VCU.
Considering that Mason has struggled defending the three all season, what are the Patriots supposed to do about Massenat?
Mason will need to make a concerted effort to not allow Massenat to take any open shots. Too many times in Mason's victory over George State on Saturday the Patriots allowed GSU's top shooter, Jihad Ali, to spot up and take an uncontested jumper. More often than not, the ball found the bottom of the net.
If Mason lets Massenat run free, there will be no way they can keep up with Drexel. Mason will have to rely on guys like Andre Cornelius to play strong man-to-man defense and not give Massenat an open look.
If Frantz gets hot and starts hitting contested threes, then there's nothing Mason can do about it. But the Patriots have to at least try to make Massenat's night more difficult than taking shots in practice, otherwise it will be a long night for the Patriots' defense.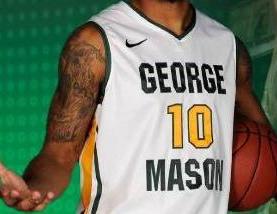 We all know that guys like Ryan Pearson and Mike Morrison need to perform well for the Patriots to succeed, and during the past few games both seniors have performed marvelously.
One guy who has gotten a bit lost in the shuffle offensively lately has been Sherrod Wright.
The past five games, Sherrod scored five points or less, and looked almost timid on the offensive side of the ball. To his credit, however, Wright has done a very good job on the defensive end, including chalking up three steals in the big game against ODU.
Wright has proven at times this season that he is an extremely good jump shooter, but an even better slasher. Wright is at his best when he is driving to the basket and taking on defenses one on one. Unfortunately, we haven't seen that a lot from Sherrod of late, causing him to almost disappear on the offensive side of the floor.
If Wright can get that confidence back and start to find his scoring touch again, he can be as dangerous as anybody in Mason's lineup. That would make Mason's offense that much more explosive.
For the Drexel game in particular, Sherrod is key because of his skill set. Sherrod can drive the basket and draw fouls on Drexel's bigs. He can help defend Massenat and limit his offensive production. He can be as physical as anyone else on the boards and can help swing the rebounding advantage to Mason.
Sherrod has hit a mini slump of late, but if he finds a way to break out of it against Drexel, Mason may be impossible to stop.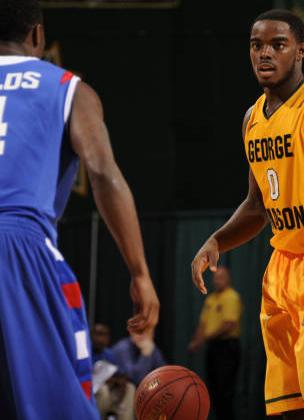 This game is going to be a slugfest between two of the CAA's best teams this season, so of course it is going to be close.
Drexel will obviously have a slight edge playing at home. Both teams are playing extremely well right now, making this a tough game to call.
Honestly, I feel that Mason is the better team at this moment. Their defense has played as well as anyones in the CAA these past few weeks, and I think that their defensive advantage will help propel Mason all night. Mason have proven time and time again this season, their offense performs better when the defense is generating turnovers.
If Mason's defense continues to stay strong, if they can keep Drexel's second chance points down and if they can keep Drexel's shooters from getting hot, then I think Mason can escape Philadelphia with the victory.
Regardless of the outcome, I think that the CAA will be the big winners here. The ESPNU televised game should be a good one, and should bring back respect to the entire conference.
I'm going with Mason on this one, 67-62.