Matt Garza Trade Rumors: Can New York Yankees Make Play for Right-Hander?
January 11, 2012
Scott Boehm/Getty Images
Since Chicago Cubs pitcher Matt Garza's name is floating around Yankees Universe again, I thought he was worth taking a look at.
Back in late November, it was reported that the Cubs were supposedly willing to hear trade offers for the right-hander, according to Tom Loxas over at Cub Insider; and also confirmed via tweet from ESPN's Buster Onley.
Here are Garza's numbers from 2010-2011 (all stats compliments of baseball-reference.com):
IS A GARZA TRADE WORTH THE YANKEES TIME?
The Yankees, along with the other 29 MLB teams, were trying to shop in this off-season's tough pitcher's market, and by no means were there any Black Friday or Cyber Monday sales this off-season.
In terms of Garza, his age is right on as he just turned 28 years old, but can he handle the heavy-hitting AL East now?
Garza spent his first two seasons in Minnesota until the Twins traded him to the Tampa Bay Rays, where he was from 2008-2010.
Any baseball fan knows that 2008 was the year the Rays went from bottom feeders to AL East champs. Garza went 11-9 with a 3.70 ERA while throwing 185 innings during the regular season, and in the 11 wins, his ERA was 0.64.
The Rays made it to the World Series in 2008, and Garza took home the ALCS MVP honors after he beat up the Boston Red Sox. Also, last season the Rays avoided getting swept by the Rangers the night Garza took the hill, so he definitely has exhibited postseason success.
So, how has Garza fared vs. the AL East teams from 2008 till now?
Take a look (all stats compliments of baseball-refernce.com):
Garza's numbers are just so-so against the AL East, but scouts say that he should be better but just hasn't been. He features a two- and four-seam mid-90s fastball, a curveball that is wicked far less than hittable, a decent change-up and a slider.
Garza improved from being a pop-up to a ground-ball pitcher before coming into hitter-friendly Wrigley Field, but in even more batter-friendly Yankee Stadium, without more improvement, it could spell disaster.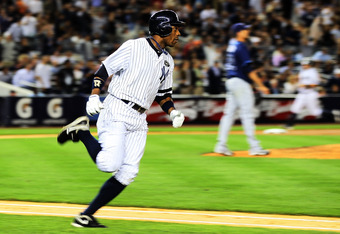 Jim McIsaac/Getty Images
He does have youth on his side; remember that Cliff Lee did not come into his own till age 28-29.
Still, Garza's baby steps are only slightly reassuring because he did fast track from the minors in one season. He is entering his seventh season in the majors and still hasn't made that huge leap forward yet.
It would seem as of today that Garza is just an innings eater, who has allowed 86 home runs in his last four seasons, but only 14 were from 2011.
Garza doesn't excite me at all, but that seems to be the trend for pitching this off-season.
Do I need to lower my standards?
HOW MUCH IS GARZA GOING TO COST?
Looking at the Cubs, my guess is GM Theo Epstein's price would start with Eduardo Nunez to fill a hole either at third or second base.
Well, too bad for Theo, as Yankees GM Brian Cashman has Nunez penciled in to take over at shortstop for Jeter; and Cashman also texted ESPN's Wallace Matthews "Don't waste your breath," when asked about Nunez being traded.
Epstein can cross-off pitching prospects Dellin Betances and Manuel Banuelos off the list too, as both have star potential that is too ripe to give up.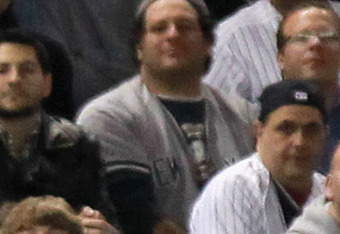 Nick Laham/Getty Images
Too bad that Jesus Montero, who the Yankees are willing to part with, doesn't make sense for Chicago. The Cubs already have a starting catcher named Geovany Soto, and with no need for a DH in the NL, Montero stock becomes obsolete.
Brett Gardner's name has been speculated by a lot of Cub fan hopefuls, but who would not love to get their paws on him?
I mean who wouldn't want the guy (Gardner) that Phillies skipper Charlie Manuel described as, "…. a little guy, a speed guy. He knows how to play. He gets up, guy throws him a fastball out away from him." 
With a weak Cubs farm system, my guess is Theo's first priority will be to restock it with young talent and the Yankees have a ton of it.
Whether the Yankees' top prospects are Garza-worthy is a whole different story.
I am not sold on giving up any of the elite Yankee prospects for a mid-level pitcher, who essentially is still waiting to hit his real potential.
What about a package of second-tier guys?
Doubtful knowing the lack of pitching on the market, as the Yankees like any other team will get screwed and have to give more than normal for Garza-types.
That scenario doesn't sit so well with me now.
Look, trading Garza is not like trading for Curtis Granderson, so my opinion on this is negative.
PLEASE feel free to try to convince me otherwise, as I know that the Yankees do need Garza but nothing seems to fit.