Tim Tebow vs. Stone Cold Steve Austin: The Reclamation of 3:16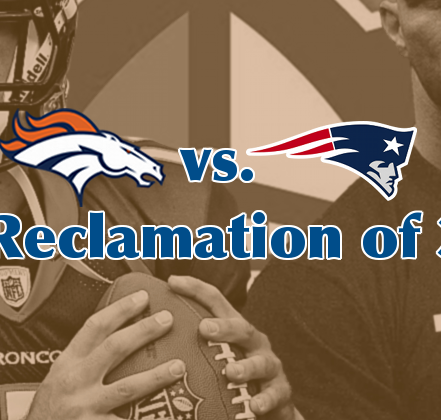 "If Tebow can throw for 316 yards again this weekend, then hell, he can have the numbers and I'll have no problem with it."
WWE legend Stone Cold Steve Austin laid down the gauntlet for Tim Tebow's rematch against the Patriots, challenging the Broncos quarterback to repeat his 316 passing yards and NFL-record 31.6 yards/completion performance against the Steelers.
Austin is known for his "Austin 3:16" catchphrase turned merchandise-empire, having coined the term in 1996 in response to fellow wrestler Jake "The Snake" Roberts' bible-preaching character.
Tim Tebow is on the side of returning 3:16 to John, as shown on his eye black many times throughout his college career. Now with interfering NFL rules, the Christian Warrior has found a new way to get the message of the bible across.
As the largest culture icons attached to the 3:16 verse (sorry Rainbow Man), Tebow will attempt to surpass Austin's impact on 3:16, along with beating the Patriots this Saturday.
Here's a look at the two cultural icons in "The Reclamation of 3:16!"
Begin Slideshow

»
"Golly" (see video at 0:46)
"I've got to thank my Lord and Savior, Jesus Christ."
"I've got to thank my teammates."
"Austin 3:16 says I just whooped your ass"
"And that's the bottom line, 'cuz Stone Cold said so."
"Gimme a hell yeah!"
Tim Tebow's "Friar Tuck" from the 2010 Denver Broncos Training Camp was a breath of fresh air in hazing ingenuity. Stepping outside the bounds of taping rookies to a goal post, Tebow's teammates gave the much-heralded rookie an ego-busting introduction to the NFL.
Stone Cold Steve Austin hasn't always played it close to the scalp during his wrestling career. As "Stunning" Steve Austin in WCW, his long golden locks matched the Flair's and Hogan's of the day.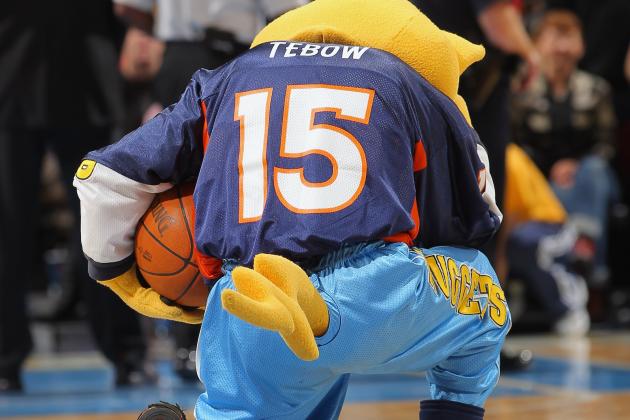 Doug Pensinger/Getty Images

Everyone knows of "tebowing", but I'll offer up this bold prediction:
The first presidential candidate found "tebowing" will be the next president.
It must be my inner-college self that makes cracking open two beers, drinking a quarter of each, pouring the rest on my shirt, clanking them together, throwing them and flicking off anyone around that makes this celebration the winner.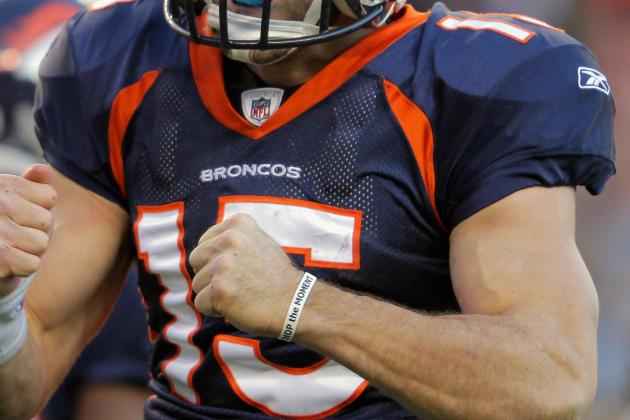 Doug Pensinger/Getty Images

At 6'3", 236 pounds, Tim Tebow is in the new generation of quarterbacks today in the NFL. He's also jacked up on FRS, throws tires, and axes down trees in his spare time.
Austin weighs in at 252 pounds at a height of 6'2", providing an even match for this heavyweight battle. Stone Cold's long career in professional wrestling should provide an edge in familiarity with hand-to-hand combat, but a neck injury that forced the legend out of wrestling could limit his physicality.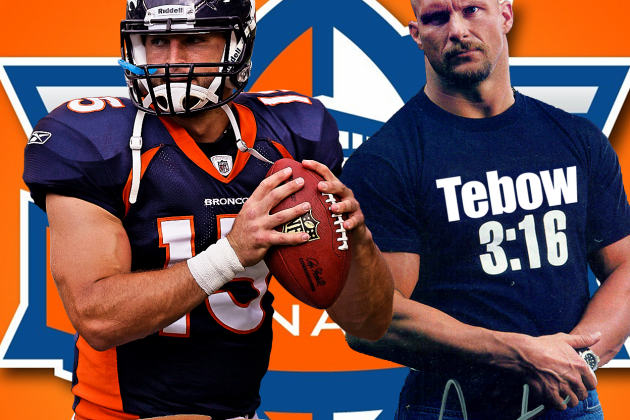 In one corner we have a bona fide star basking in the fruits of his labor. Stone Cold was at the epicenter of wrestling's resurgence in the late 90's, competing and defeating anything popular at the ticket gates, from wrestling opponents to South Park.
In the other corner, we have the promising upstart, promised nothing by losing and everything by winning. Tim Tebow is the role model to replace all role models. Where Tiger Woods' promiscuity and LeBron James' loyalty fail us, Tebow holds the ideal of practicing what he preaches.
Best Catchphrases: Stone Cold
Best Haircut: Tebow
Best Celebration: Stone Cold
Who Wins in a Fight: Tebow
Tiebreaker: Tebow decides his fate in Foxborough