College Football: What Barry J. Sanders Means for Stanford and Other Schools
January 11, 2012
Doug Pensinger/Getty Images
Think about it.
Stanford just signed a blue-chip recruit who picked Palo Alto over his Heisman-trophy-winning father's alma mater, which just happened to have beaten the Cardinal in the Fiesta Bowl a few days before.
Takes a moment to sink in, doesn't it?
When he arrives at Stanford next summer, Barry J. Sanders will be joining his fellow freshmen as they start to learn how to search for meaning. So let's get a head start and find some here.
This isn't the first time Stanford has landed a top recruit (think Andrew Luck, John Elway, Jim Plunkett, et al.). What Stanford has lacked in recruiting has been continuity. It's been one big star followed by another—maybe seven or eight years later. In the interim, the team has habitually sagged.
Not so this time. As Luck departs, along with offensive linemen David DeCastro and Jonathan Martin, in comes Sanders. For the first time in recent memory, the beat goes on.
The reasons are pretty easy to spot: Two BCS bowls and 23 wins in two years, including, for awhile, the nation's longest winning streak. And don't forget two Heisman candidates (Luck and Toby Gerhart) covering three years.
That translated into lots of national TV coverage, lots of sport-talk buzz and something that Stanford hadn't seen maybe since its back-to-back Rose Bowl wins in the early 1970s: Two straight years of being taken seriously at the highest level of Division I football.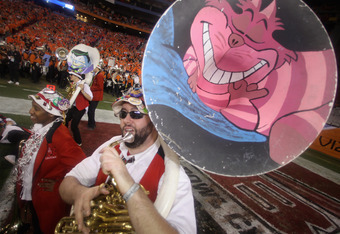 Donald Miralle/Getty Images
When head coach David Shaw and his assistants sit down in a recruit's living room, that's a sales pitch that until now has been unavailable. 
To wit:  "When you choose Stanford, you're coming to a winning program that competes nose-to-nose with the best teams in the country, gets lots of television exposure and has players considered for college football's top awards.  And it isn't going away, because first we had Andrew Luck, now we have Barry J. Sanders, and next year we'll have you."
In Sanders' case, perhaps the most impressive thing is this: He probably won't start higher than third on the depth chart, behind Stepfan Taylor and Tyler Gaffney.
Think about that. Sanders chose an academically elite school where he won't be handed a starring role the minute he steps onto the practice field. What he will get—and I'm sure this registered with Sanders—is an opportunity to settle in, learn the system and acclimate himself as a student without immediately having to carry the load for the Stanford offense.
To me, one of the most noteworthy aspects of Sanders' decision, as reported by The Oklahoman, was his desire to be anonymous on campus. 
Top-echelon athletes have a way of blending in at Stanford, a place where your roommate might be as talented a cellist as you are a running back.  It's a big plus for someone who doesn't want to be known as just a jock and doesn't want to be harassed by autograph hounds every day.
The opportunity to be surrounded by other gifted people is a big part of Stanford's appeal, both to student-athletes and just-plain-students.  That, combined with Stanford's challenge of rigorous academics, has always been a big part of the pitch.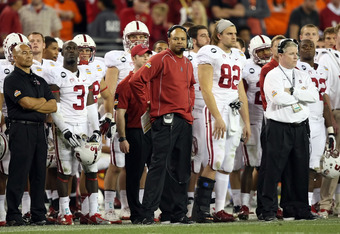 Christian Petersen/Getty Images
What's been missing, until now, has been the ability to say with a straight face that Stanford is a consistent winner where top-notch football players who also have brains can find a rewarding home on the field as well as the classroom. 
The signing of Barry J. Sanders changes that.  What Shaw and his assistants can say now is that the best of the brainy athletes are starting to flow to Stanford—that it's a place where you can not only get your degree in physics but also have a credible shot at a BCS bowl.
Stanford's growing continuity also takes away ammunition that opposing coaches have almost always been able to use against the Cardinal.  Namely: "Sure, you'll get a great education, but you're not going to win, you're not going to get on television, you're not going to get noticed. And with all that going against you, you're not going to play in the NFL."
Assuming Sanders pans out—along with the 90 or so other players around him—that's an argument that Stanford's competitors are going to be hard-pressed to make in the future.  Because with two major-league winning seasons, two BCS bowls, two Heisman candidates and a big signing, Stanford has, in the words of the old song, simultaneously been able to accentuate the positive and eliminate the negative.
Which is why, if you happen to bump into David Shaw, he'll probably be smiling.