NBA Rumors: Is Larry Brown Looking to Get Back to the NBA?
January 11, 2012
Streeter Lecka/Getty Images
Larry Brown is a Hall of Fame basketball head coach who started his career at Davidson back in 1972 and worked consistently up until the Charlotte Bobcats fired him in 2010.
After taking some time off, he's apparently ready to get back into coaching, according to Sam Aggrey of ComcastSportsNet.
The two were talking about Richard "Rip" Hamilton and his fit with the Bulls, as well a variety of other topics pertaining to the Chicago team.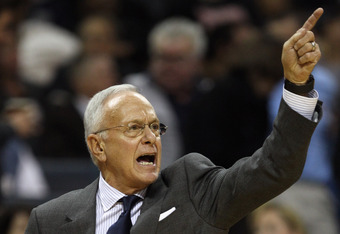 Streeter Lecka/Getty Images
However, one of the more interesting discussion points came up when Aggrey asked about the 71-year-old coach's future.
Brown stated many times that he "badly" wants to get back into it and constantly helps out with a number of his former pupil's programs.
"I've been to Villanova; I go there all the time. Mark Turgeon, who played for me and coached with me, is at Maryland. Bill Self coached with me; he's at Kansas. John lets me come to Kentucky. Tad Boyle's at Colorado. I've got so many guys that are in college and pro that have included me and kind of used me as a resource without me pushing myself on them. I don't want to ever do that. I want to get back badly"
However, Brown does realize the chances of him getting another NBA job are slim with the way the league is currently going.
He acknowledged that the trend is to find younger, former players to fill positions and there are a lot less Gregg Popovich's and Rick Adelman's holding down head coaching jobs around the league.
While Brown is one of the most respected coaches in the game's history, he's not going to lobby or use his influence in the NBA to earn a job.
"I won't politic for it. I hope it happens, but I don't want to see somebody lose their job to get another job, so that's always sensitive."
It's hard to picture the older coach getting another job in the NBA, especially with so much young talent in the league that he is generations away from understanding.
The league is changing so rapidly and just last season, the two coaches that made the NBA Finals were 51 and 40 years old at the time.
It's highly unlikely that someone from the "old guard" will find success in this league if they aren't already established, and Brown would best be served lending a helping hand to the many coaches he helped launch careers for if he still wants to be around the game.