Texas Football: Bright Future Ahead for the Longhorns
January 11, 2012
The Texas Longhorns may have just finished an 8-5 campaign, but the future is as bright as ever down in Austin.
In its first rebuilding season under Mack Brown's "Brick by Brick" mantra, Texas came away with a convincing Holiday Bowl win over Cal 21-10, an effort that saw the Longhorns defense slam the Bears offense throughout the night.
Offensively, Texas left much to be desired. But for a squad that will lose just one starter from that side of the ball, the atmosphere in Austin come spring time will be exciting.
As a matter of fact, the Longhorns expect to lose just five starters from their base packages on either side of the ball, leaving the program in the arms of a handful of talented veterans and youngsters who received a ton of looks in 2011.
The future is bright for Texas, but it does not stop in 2012.
Manny Diaz Building a Reputation

When Brown hired Manny Diaz as his new defensive coordinator, many questioned the short resumé that Diaz brought with him to Austin. But a full season later, Diaz has made Texas fans forget about the former head-coach-in-waiting, Will Muschamp.
Under the former Mississippi State coordinator, the Longhorns posted one of their most successful defensive seasons in recent memory, finishing the season-ranked tops in the Big 12 in total defense, rushing defense, pass efficiency defense and pass defense. And with the kind of talent that Texas has stored in its cupboards, there is little doubt that the Longhorns can put in a repeat performance, if not better, in 2012.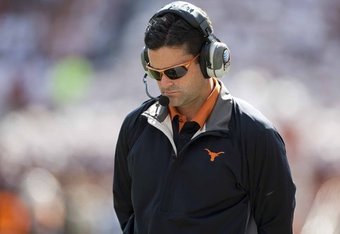 As the 2011 season wore on, Texas seemed to become more and more comfortable under Diaz's wicked schemes, bringing pressure from every which direction and getting hits on the quarterback.
For the Texas faithful out there, you have every reason to believe there will be even more of that next year.

Offense Work In-progress

While the Longhorns will lose just one player on offense, David Snow on the offensive line, Texas is in a position to be much better in every position next season.
Josh Cochran has filled in nicely at left tackle as a freshman. Donald Hawkins, a JUCO transfer, looks to get the nod opposite to Cochran at right tackle, which will allow will-be junior Trey Hopkins to move back to his natural position at guard. Dom Espinosa will enter his sophomore season with invaluable experience at center, and Mason Walters should round out the starters as the unsung vocal leader in the trenches.
Both running back and wide receiver will benefit from some rest during the offseason and a boost from the recruiting class.
With Malcolm Brown and Joe Bergeron fully healthy, the introduction of Johnathan Gray can make the Texas running game one of the most dynamic in the Big 12. Add in D.J. Monroe and the Longhorns have the look of a powerful ground attack that will rival most in the country.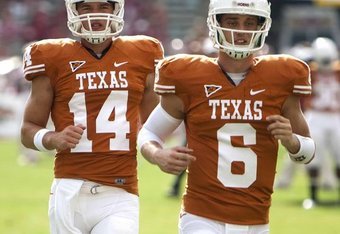 At receiver, Texas needs work, but it can be compounded with better play from the quarterback position, leading us to David Ash and Case McCoy.
Neither put in a memorable season in 2011, but both flashed some instances of brilliance under center. Ash got the nod in the Holiday Bowl and performed nicely, but will have to become more of a game manager for the Texas offense really to take off next season.
The pieces are there on offense, and that is without mentioning the kind of talent the Longhorns are bringing in as part of their 2012 recruiting class.

A Step in the Right Direction

Following its 5-7 season in 2010, Texas took a big step in the right direction by clawing its way to an 8-5 finish in 2011. By no means are the Longhorns back to prominence, but they are very much on the cusp of something special.
Brown and his staff have pieced together a healthy combination of talented veterans and youth who will be able to compete for a conference title next season.
There was plenty of cautious optimism floating around the program before and during the 2011 season as the young Longhorns were given keys to a shiny convertible and simply tried to keep it clean. With a season under the belts of a slew of fiery, young assistant coaches, Texas will take to the road again in 2012 without that "cautious" tag hanging around.