Texas A&M Football: How Do the Aggies Match Up with Alabama and LSU in 2012?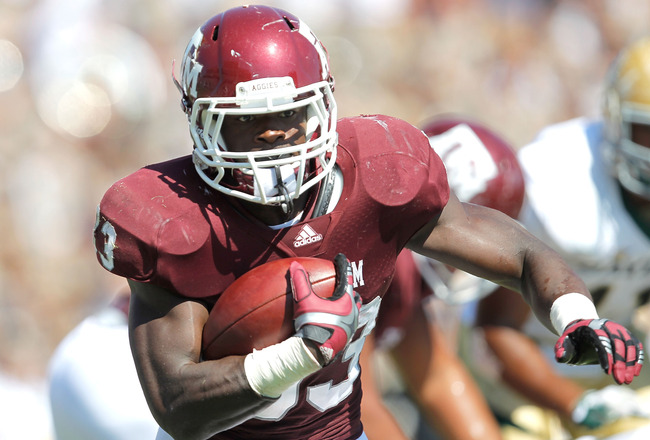 Sarah Glenn/Getty Images
The nation watched two Southeastern Conference teams square off in the BCS National Championship Game in New Orleans.
Alabama and LSU faced off in a defensive showdown. Alabama's defenses dominated in a 21-0 triumph. It was a national showcase for physical football and exceptional defensive play. It was an example of why the SEC is the dominant conference in college football.
These two teams were far and away the best two teams in college football in 2011. They set the standard that all other teams should be measured by.
Texas A&M will play football in the SEC in 2012 and will face both Alabama and LSU. The question is, how do the Aggies match up with those two teams and what do they have to improve on the field so they can measure up?
This is a position by position breakdown of how A&M matches up with Alabama and LSU.
Quarterback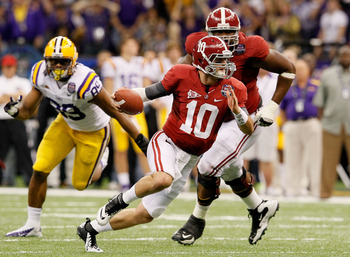 Ronald Martinez/Getty Images
Alabama, LSU and the SEC in general features caretakers and not playmakers at quarterback. Other than Georgia and Arkansas, no one in the SEC asks their quarterback to win or lose the game. Most are content to have the quarterback hand off the ball, throw safe passes and play defense.
A&M under Mike Sherman ran a West Coast offense that put a great deal on the quarterback. Kevin Sumlin will run an offense based on West Coast and spread principles. The Aggies must replace Ryan Tannehill who has graduated and will play in the NFL in 2012.
LSU will likely replace Jordan Jefferson and Jarrett Lee with Zach Mettenberger. Alabama's quarterback A.J. McCarron will return for his junior year.
Sumlin will have to decide who the starting quarterback is between Matt Joeckel, Jameil Showers, Matt Davis and Johny Manziel.
The Aggies are fine at quarterback as they head to the SEC. They match up favorably with what Alabama and LSU will put on the field.
Running Back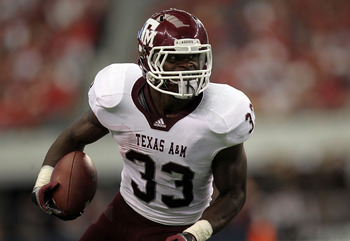 Ronald Martinez/Getty Images
In the SEC you need three to four running backs to get through a season because of the physical nature of the league. You can almost guarantee that your starting running back will miss some time due to injury.
The Aggies have Christine Michael returning from ACL surgery and Ben Malena coming back. Will Randolph also returns after seeing very limited action at running back. Trey Williams is expected to sign with the Aggies on Feb. 1 and will help in the fall.
Do not be surprised if Randolph is moved outside to slot receiver.
Alabama and LSU can both go four deep with 220-pound running backs who can pound you. A&M does not have that kind of depth yet. A&M does not compare to LSU and Alabama at running back right now.
Wide Receiver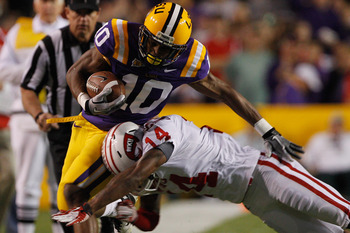 Chris Graythen/Getty Images
Both Alabama and LSU feature a nice mix of size and speed at the wide receiver position.
The Aggies offer the same type of skill at the position. They will return Nate Askew, Mike Evans, Brandal Jackson, Malcome Kennedy, Kenric McNeal and Uzoma Nwachukwu at wide receiver in 2012.
It is still up in the air whether Ryan Swope will enter the 2012 NFL draft or return for his senior season.
Kevin Sumlin signed junior college wide receiver Derel Walker during the early signing period for junior college players who will enter school in January. He is a 6'2" wide receiver with great speed and should be able to help stretch the field immediately.
The Aggies compare favorably to Alabama and LSU at the wide receiver position.
Tight End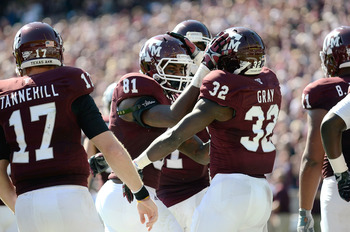 Sarah Glenn/Getty Images
The Aggies return Nehemiah Hicks, Hutson Prioleau and Michael Lamothe at tight end.
Alabama and LSU feature big tight ends who excel at blocking and are used sparingly in the passing game.
The Aggies tight ends are a little smaller than the average tight end you would find at LSU or Alabama, but they offer the same skill set.
The Ags compare favorably to Alabama and LSU at tight end.
Offensive Line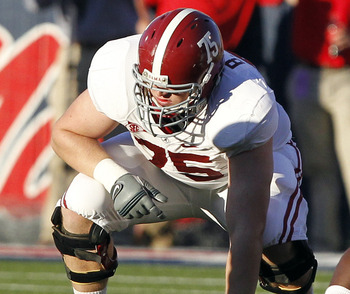 Butch Dill/Getty Images
The Aggies return all five of their starting offensive linemen in 2012. Luke Joeckel will be an All-American candidate at left tackle.
The Aggies rushed for 381 yards against Arkansas in 2011 behind this offensive line. In the 2011 Cotton Bowl the OL paved the way for Cyrus Gray to rush for over 100 yards against LSU.
The A&M offensive line will be a veteran unit in 2012 and matches up well with anything LSU or Alabama will put on the field. They compare favorably to LSU's and Alabama's offensive lines.
Defensive Line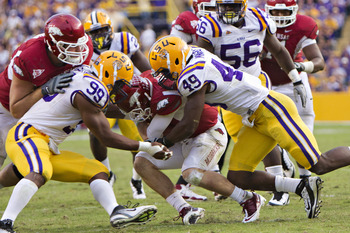 Wesley Hitt/Getty Images
The Aggies return Spencer Nealy and possibly Jonathan Mathis on the DL in 2012. The Aggies will move to a 4-3 under defense under new defensive coordinator Mark Snyder. Expect Ben Compton to step up into the nose tackle position.
You will likely see Damontre Moore move to a DE position on the line.
This is where there is the most glaring difference between the Aggies and LSU and Alabama. At LSU and Alabama, they are three deep on the DL with big guys who can run.
Tony Jerod-Eddie just graduated from A&M after starting for the past four years as a defensive end. He will be taken in the NFL draft in April and will play in the NFL. LSU and Alabama have 12 players on their DL as good or better than Jerod-Eddie.
The Aggies are going to have to make huge leaps forward in recruiting on the defensive line before they can compare to what Alabama and LSU have on their roster. Right now they do not compare at all.
Linebackers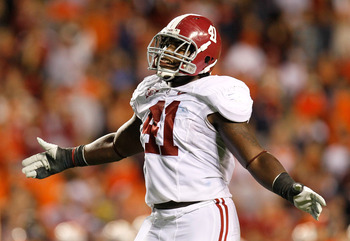 Kevin C. Cox/Getty Images
Alabama has huge linebackers who can run like the wind in Courtney Upshaw and Dont'a Hightower.
LSU's linebackers are closer in size to the A&M contingent but are extremely athletic.
A&M returns all four of their starting linebackers from 2011. Expect Damontre Moore to move down to the DE in Snyder's 4-3 scheme.
The Ags actually beat out Alabama in recruiting for MLB Jonathan Stewart. Sean Porter returns at OLB as one of the best in the nation. Steve Jenkins returns at the other ILB spot for the Ags, but it is unclear where he will play in the new defensive scheme.
The Ags do not match up with Alabama at LB, but there is no shame in that because no one else in the nation does. LSU has a definite advantage in overall athleticism and depth.
The Aggies do not match up with LSU or Alabama at linebacker.
Secondary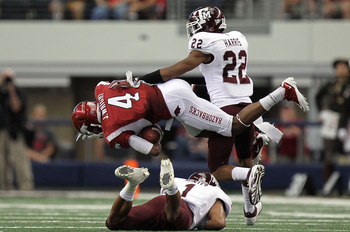 Ronald Martinez/Getty Images
The Ags return four defensive backs who have starting experience in 2012. Dustin Harris has started at corner, and Steven Campbell, Steven Terrell and Howard Matthews split time starting at safety in 2011. The Ags had one of the worst secondaries in the country in 2011.
Alabama and LSU put the two best secondaries in the country on the field in 2011. Even with early defections to the NFL draft, both units will be very strong in 2012.
The Aggies do not compare at all in the secondary to Alabama and LSU.
Overall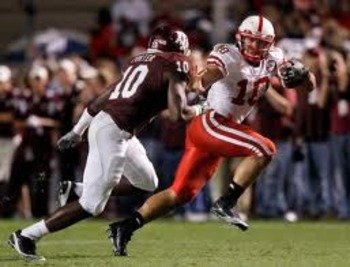 It is obvious that while the Aggies for the most part have the athletes to compete on offense in the SEC, they are woefully lacking on defense.
LSU and Alabama have tremendous defenses, and the Aggies do not measure up on that side of the ball at all. It will take three to four years of strong recruiting on the defensive side of the ball to come close to matching up.
There is no shame in not being as good as the top two defenses in the country, especially when the Alabama defense will be considered one of the best to ever take the field in college football history.
Kevin Sumlin and Mark Snyder are going to have to do a great job recruiting on the defensive side of the ball before the can build an elite defense in the SEC.
Keep Reading

Texas A&M Football: Like this team?