NFL Playoffs: Can 49ers Defense Stop Saints' Secret Weapon?
January 10, 2012
Scott Cunningham/Getty Images
Brees, Brees, Brees.
That's all we're hearing about the New Orleans Saints.
And if I were the Saints, that's the way I'd want it. Because the more people talk about phenomenal quarterback Drew Brees, the more they're overlooking a critical aspect of the Saints offense.
I'm not talking about the wide receiving trio of Marques Colston, Robert Meachem and Devery Henderson, who combined for 13 catches, 295 yards and two touchdowns on Saturday against the Detroit Lions.
I'm not talking about tight end Jimmy Graham, who caught 99 passes during the regular season and finished second in receiving yards to the New England Patriots' Rob Gronkowski. He too registered a TD reception against Detroit.
I'm also not talking about running back Darren Sproles, who scored two touchdowns on Saturday and is both a rushing and receiving threat.
I'm talking about the hidden cog in New Orleans' underappreciated rushing machine—the player who consistently set up Brees and his receivers with second-and-short and all kinds of options to torment the Lions' defense.
Think of his name yet?
It's Pierre Thomas. And if you missed the game on Saturday, you missed something special—and worrisome.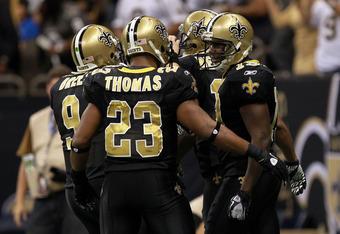 Ronald Martinez/Getty Images
I swear, Thomas must have smeared pig lard on his uniform. He carried eight times for 66 yards, actually outgaining the more heralded Sproles. He spun, juked and danced his way through the Detroit line and made the Lions look like seventh graders playing flag football. 
Often, he did it on first down, picking up eight or nine yards at a crack. When that happened, Brees was free to throw long on second down, knowing that a first down would be almost automatic (if even necessary) on the next try.
Along with Sproles and Chris Ivory, who combined for 98 yards on 23 carries, Thomas prevented the Lions defense from over-blitzing. That kept Brees comfortable and able to complete 33 of 43 passes for 466 yards and three TDs. 
In fact, although you heard mainly about Brees, the Saints attack on Saturday was fairly balanced.  New Orleans rushed 31 times against Brees' 43 passing attempts.
Those passes were often spectacular. But here's what you have to remember about the Saints rushing attack.  It may not be terribly potent, but it gets the job done. 
And the job is to keep the defense honest so that Brees can throw.
In other words, people who are gesturing toward the 49ers merciless rushing defense and saying "no problem" are missing the point. 
Guys like Pierre Thomas don't generate a lot of headlines or statistics. What they do accomplish is a lot of valuable setup work that helps the guys with the big names to cash in.
You can bet the 49ers are taking note of Thomas' excellent game on Saturday and will emphasize stopping him cold this weekend. He may not have the numbers or the name recognition. But he's the kind of under-the-radar player who can cause all kinds of problems if you're looking past him.