Alabama and the 10 Greatest College Football Programs of All Time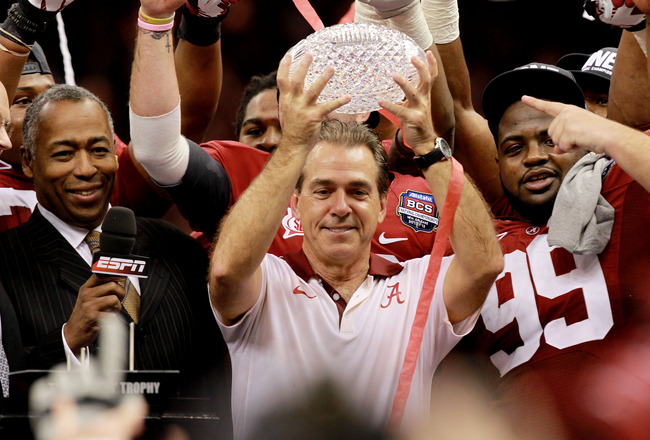 Alabama won its 14th national championship last night
Ronald Martinez/Getty Images
Last night, Alabama took home its 14th national championship, which is the most all time for any FBS school. The Tide did so in dominant fashion, as Nick Saban's squad routed No. 1 LSU, 21-0, and solidified its spot at the top of the college football mountain for the 2011 season.
Alabama will now be the reigning king of college football for the next year, but the question is, have the Tide now done enough to be considered the greatest college football program of all time?
Here's a look at where I think Alabama ranks among college football's top 10 programs of all time.
10. Tennessee Volunteers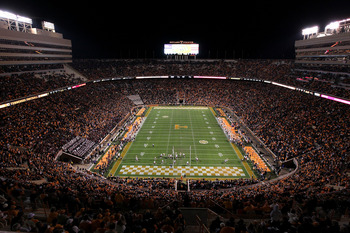 Andy Lyons/Getty Images
Tennessee has endured a few rough seasons since the turn of the millennium, and coach Derek Dooley hasn't exactly won over the Vols' fan base by going 11-14 in his first two seasons, but the lack of recent success can't take away from the history that Tennessee has.
792 total wins, six national championships and 16 conference titles is a pretty nice resume for any program to have.
102,000-plus seat Neyland Stadium is one of the most iconic and recognizable college football venues in the country, and it's also one of the loudest and toughest environments for an opponent to have to play in.
9. Penn State Nittany Lions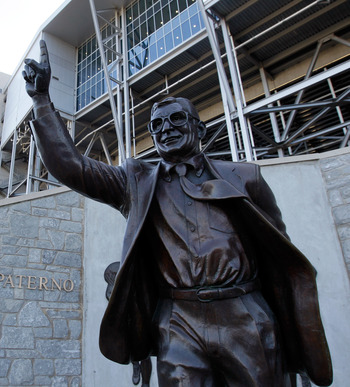 Rob Carr/Getty Images
The Penn State program has to prepare itself for a few rough upcoming years, as the Jerry Sandusky scandal is certainly going to take its toll on both the team and the school.
The foreseeable future may look bleak, but the past certainly isn't, as the Nittany Lions have accumulated 816 wins; before the scandal rocked Happy Valley, the Nittany Lions were one of the most celebrated programs in all of college football.
Legendary—and now disgraced—coach Joe Paterno has had his legacy forever tarnished, but there's no arguing with the results he produced on the field during his time at the helm of the Nittany Lions.
8. Ohio State Buckeyes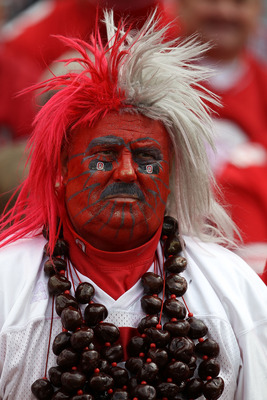 Jonathan Daniel/Getty Images
Like Penn State, Ohio State is another Big Ten powerhouse that had to deal with a scandal this past year, one which ultimately cost the team its head coach as well.
Still, the Buckeyes will be in good hands with Urban Meyer, and he should be able to have the team back on top of the Big Ten sooner rather than later.
The Buckeyes have one of the best overall winning percentages in college football (.716), and they also happen to be one of the most prestigious programs in the sport.
Ohio State is one of the most recognizable brands in college football—one that should keep flourishing under Meyer.
7. Texas Longhorns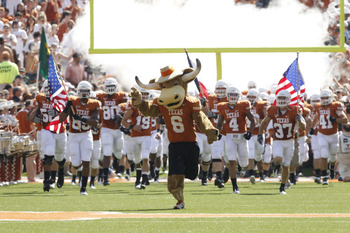 Erich Schlegel/Getty Images
Not only is Texas one of the most financially lucrative programs in college football, but the Longhorns are also one of the most successful teams of all time.
Texas ranks second among FBS teams with 858 total wins, and they also rank second with 50 total bowl appearances.
The Longhorns have won four national titles—including one in the 2005 season—and they have been one of the winningest programs in college football since the turn of the millennium.
After a disappointing 2010 campaign, coach Mack Brown seems to have Texas back on track and ready to compete in the Big 12 once again.
6. Nebraska Cornhuskers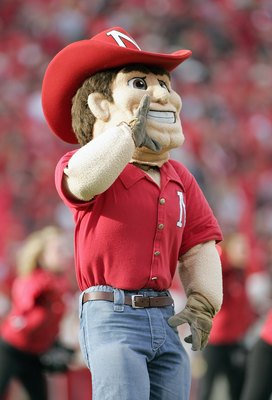 Brian Bahr/Getty Images
What Tom Osborne managed to do at Nebraska was nothing short of remarkable, as he built the type of winning culture in Lincoln that has lasted for four decades.
The Cornhuskers rank fourth all time among FBS teams with 846 wins and they've won five total national championships.
During Osborne's tenure, there were only four years in which Nebraska didn't finish ranked in the final Top 10 of the season.
Current coach Bo Pelini is trying to get the Cornhuskers back to the same type of national level that they were at during the Osborne era, but he hasn't quite gotten them there yet.
5. Oklahoma Sooners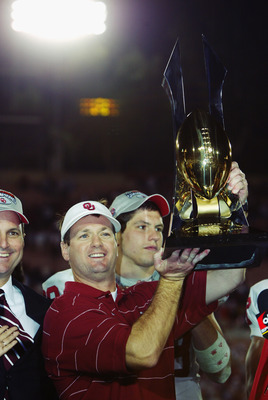 Jeff Gross/Getty Images
Oklahoma may not have lived up to the "Preseason No. 1" hype this year, but the Sooners still have plenty to be proud of from their past.
Numbers like seven national championships, 805 total wins and five Heisman winners speak for themselves.
The Sooners are one of the most successful teams in college football history, and they've produced plenty of NFL players and All-Americans over the past few decades.
4. USC Trojans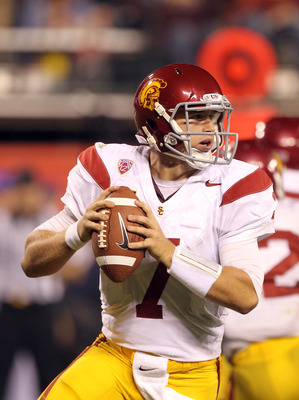 Ezra Shaw/Getty Images
There have been plenty of legendary football players that have donned a USC Trojans uniform, including Troy Polamalu, Ronnie Lott, Frank Gifford, Lynn Swann, Junior Seau, O.J. Simpson, Bruce Matthews, Marcus Allen, Sam Cunningham and Anthony Munoz.
Now it looks like there's a new legend in the making at USC and his name is Matt Barkley.
Barkley is ready to restore order in L.A. after the Trojans were forced to sit out the postseason the past two years due to the Reggie Bush mess. The scandal was a black eye for the program, but it wasn't enough to tarnish its image.
USC has won 11 national championships (one was vacated) and produced seven Heisman trophy winners (one was also vacated), and the Trojans have certainly done enough in the past to earn a spot on college football's Mount Rushmore with the other elite programs in the sport.
3. Notre Dame Fighting Irish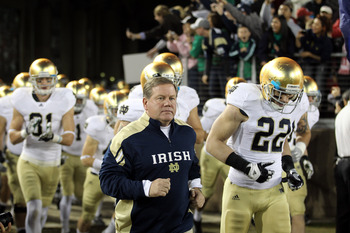 Ezra Shaw/Getty Images
Notre Dame is probably the most loved—and most despised—team in college football. Few fans have an indistinct feeling toward the Irish, as they're seemingly either a team you love or hate. And it's been a fun past few decades for Irish haters, as Notre Dame has lost a bit of its luster and has struggled through its fair share of mediocre seasons.
Still, the tradition in South Bend is hard to argue with, and paying a visit to Notre Dame Stadium and seeing "Touchdown Jesus" is something that should be on every true college football fan's bucket list.
2. Michigan Wolverines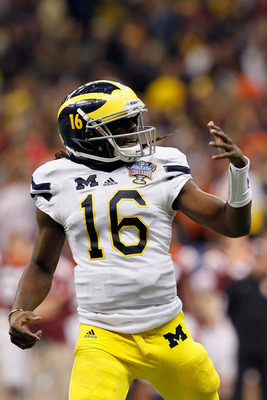 Denard Robinson
Kevin C. Cox/Getty Images
After falling on some hard times during the short-lived Rich Rodriguez era, Michigan returned to the spotlight in 2011, as the Wolverines managed to add 11 wins, including a BCS bowl victory, to their total of 895, which is the most in college football.
Michigan is one of the most iconic and storied programs in the history of the sport, and it looks like the Wolverines are once again ready to compete for Big Ten titles and BCS championships in the coming years under coach Brady Hoke.
1. Alabama Crimson Tide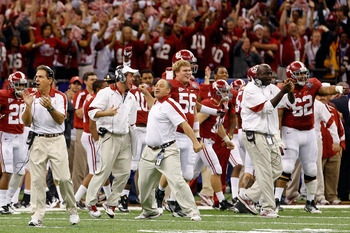 Chris Graythen/Getty Images
Fourteen national championships. That pretty much tells you everything you need to know about Alabama football. After last night's beatdown of LSU, the Tide have now won a national championship in eight different decades, as the program's history of success dates all the way back to the 1920's, when coach Wallace Wade first got the title train rolling.
The legendary Bear Bryant is the one that turned that title train into a powerful locomotive, though, as Bryant racked up 232 victories, including six national championships, during his 25 years in Tuscaloosa.
Nick Saban still has a long way to go to catch the Bear, but he's already won two national championships in just five years on the job, and he's managed to build the Tide back into a true powerhouse program.
Keep Reading